WOOT! New for Fall 2021: Whitman Outdoor Orientation Trips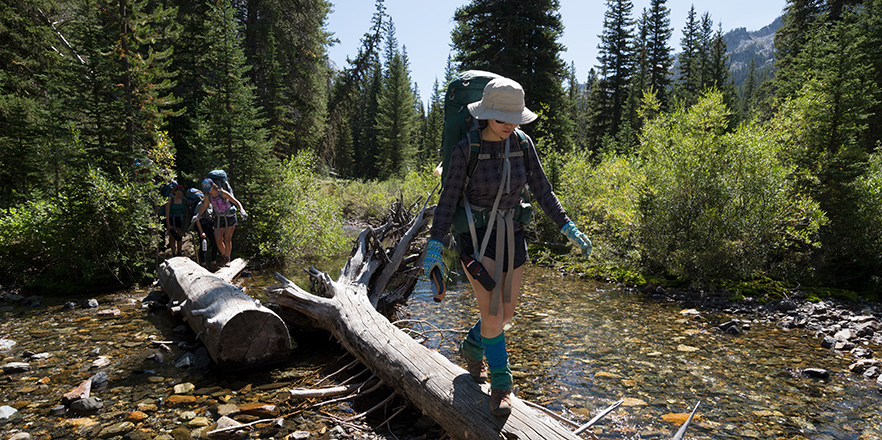 The Whitman College Outdoor Program (OP) is excited to introduce the Whitman Outdoor Orientation Trips (WOOT) Program.
WOOT is sponsoring a number of trips during Fall Break weekend (Oct. 7-10, 2021). These outdoor adventures are designed for first-year students to get out into the wilderness with fellow Whitties—and there are options for everyone, no matter your experience or skill level.
An Experience You'll Long Remember
You'll have the opportunity to explore the Pacific Northwest and meet new people, including the seasoned Whitties who will lead each WOOT.
Together, your group might raft the lower Deschutes River, hike in the Umatilla National Forest, explore the Wallowa Mountains or scale Smith Rock in Oregon.
Cost
FREE—thanks to the Bob Carson Outdoor Fund (BCOF). The fund gives every student at Whitman the opportunity to participate in an Outdoor Program trip, regardless of their ability to afford the cost of the trip! The BCOF is made possible by generous donors and named in honor of retired Professor of Geology Bob Carson, a strong supporter of the Outdoor Program.
Registration and more details availabe soon!
Fall 2021 WOOT Options — Oct. 7-10, 2021
Two hiking groups will explore the North Fork of the John Day River in the Umatilla National Forest, one starting from the Granite Trailhead and the other from the Crane Trailhead. These groups will then hike toward each other and cross paths to take the other's route back. Strenuous.
This group will camp at Wallowa Lake State Park in Northeastern Oregon and do day hikes in the Wallowas. This trip is perfect for those who don't want to carry a heavy pack and want to ease into outdoor activities. Mellow.
Enjoy hiking in the Blue Mountains, the scenic peaks you see on Walla Walla's eastern horizon. You'll be close to home with out-of-this-world views! Strenuous.
Take in the geologic features, vegetation and wildlife as you raft the lower section of the Deschutes River in Oregon. This spring-fed river is located four hours from campus and is filled with many Class I to III rapids that are a great introduction to rafting. Mellow to Moderate.
Smith Rock is a world-class climbing area in Central Oregon with more than 2,000 routes for all ability levels. On this fun camping trip, you'll get a few days of guided rope climbing before returning to campus. No experience necessary. WOOT leaders will teach you the basics or help you further your skills if you're already a climber. Mellow to Strenuous.
Tip: You can get a head start and practice at Whitman's Climbing Center.