Whitman Connect
Whitman Connect is is Whitman's online community, where you can find your friends and classmates and network with fellow Whitties.
Visit Whitman Connect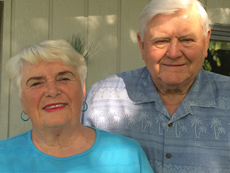 Gordon Scribner Award
The Gordon Scribner Award honors Gordon Scribner '42, former dean of students and director of alumni. Recipients for 2015 are Wilber Pribilsky '55 and Karen Elder Pribilsky '58.
Read more about the award
Chastity Belt - 2012 Alumnae Rock Band
Starring Gretchen Grimm, Lydia Lund, Julia Shapiro, and Annie Truscott. Their latest album, "Time To Go Home," recently made several Best Albums of 2015 (so far) lists. Photo courtesy of Hardly Art.
Chastity Belt's Facebook page
Give to Whitman
Gifts from alumni, parents, and friends are integral to the financial strength of Whitman College, improving the overall quality of the liberal arts education we provide.
Make an online gift now
W Club/Alumni Baseball Trip
Join members of the W Club and the Alumni Association for a trip to Seattle Mariners Spring Training in Arizona, March 9-12, 2016.
Spring Training trip details