Whitman Connect
Whitman Connect is is Whitman's online community, where you can find your friends and classmates and network with fellow Whitties.
Visit Whitman Connect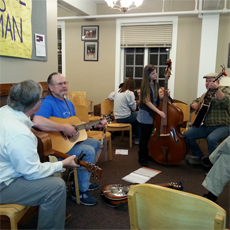 Monthly Bluegrass Jam at Lyman Hall
Every third Friday, Lyman House comes alive with the sound of music. Specifically, bluegrass music. This monthly bluegrass jam is the product of a partnership between Lyman Resident Director Louise Fix '14 and Kate Hockersmith from The Mythical / Movable Blue Mountain Bluegrass Jam.
Read about the Bluegrass Jam
Winnifred Collier Ringhoffer '50 Sally Rodgers Award for Lifelong Achievement
Winn Collier Ringhoffer '50 graduated from Whitman with a degree in music, then earned a master's degree from Boston University and a Soloist Certificate in Voice. She has spent her life since bringing music into the lives of audiences and students alike, providing service through song at a local, regional and national level.
Sally Rodgers Award for Lifelong Achievement
Give to Whitman
Gifts from alumni, parents, and friends are integral to the financial strength of Whitman College, improving the overall quality of the liberal arts education we provide.
Make an online gift now
Oregon Shakespeare Festival 2016
Join Theresa DiPasquale, Professor of English Language and Literature, and Whitman alumni, parents and friends for a weekend of play going and discussions. Come for the weekend or for a day. August 12-14, 2016
Oregon Shakespeare Festival 2016 trip details