Scholarship Supports Small-Town Students Pursuing Big Dreams
By Andrew Faught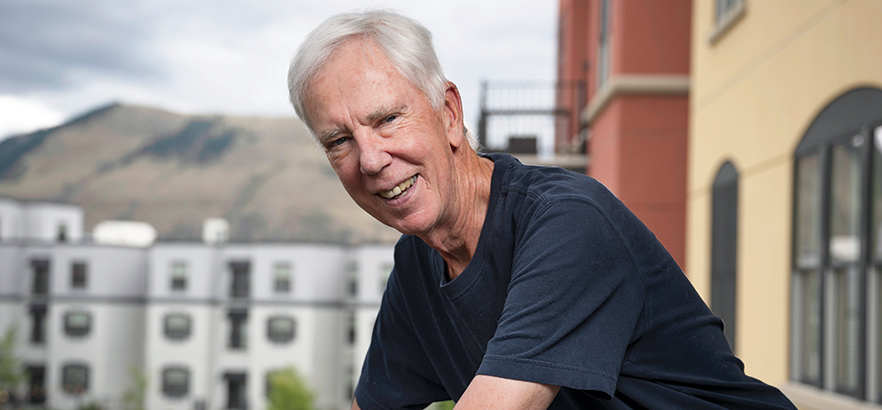 For a kid growing up in rural Libby, Montana, going to college can easily feel like a distant and implausible notion.
Not for Darrell Baggs '67. His mother, born in 1908—just 19 years after Montana was admitted to the Union—never imagined otherwise for her only child.
"The message from a very early age was you will go to school, and you will get a degree," Baggs says with a laugh. "This was not a suggestion."
A Mother's Dream Becomes Her Legacy
Frances Jane Ford Baggs grew up on a ranch outside tiny Troy, Montana, where she dreamed of knowledge and new vistas. A high school valedictorian, she always wanted to pursue a higher education at a time when few women did. But her working-class parents couldn't afford tuition in the face of other financial necessities and an austere economy.
"Her dream of an education went by the wayside as other things mounted up," Darrell says. "There was just no money." During the Depression, Frances secured a job at the post office, augmenting her husband's income as a heavy equipment mechanic in Montana's mines. Later, after Darrell's father took a job as a mechanic for the Missoula Streets Department, his mother went to work as a bookkeeper for a local business.
Frances' impact on her son remains profound. "She was the driver in my life," Darrell says. In 1988, he honored his mother's legacy by establishing the Frances Jane Ford Baggs Scholarship at Whitman, carrying on her unstinting support for higher learning. Scholarships are targeted to students from rural communities, with a focus on Montana residents. "The kids I'm trying to reach, I'd say are the current version of my mother growing up in Troy," says Darrell, who now lives in Missoula. "I wanted to give the Whitman experience to other Montanans. I want them to have opportunities, and provide some funding for them to do that."
"They're smart kids, they're ambitious and they want to have an impact on the world," he adds. "Sometimes pursuing a liberal arts education would be discouraged, as in, 'No, you've got to stay on the ranch and feed the cows,' and all of that. I wanted to give the kids from small towns the incentive and method to go out on their own and find themselves. These kids have the courage to take these scholarships and go do something totally different."
Growing And Giving Back
Darrell, the first in his family to attend college, has never hesitated when it comes to supporting his alma mater. "Whitman opened the world to me. I am eternally grateful because I always wanted to keep growing." With a recent contribution to his mother's scholarship fund, Darrell earned induction into the Stephen B.L. Penrose Society, which recognizes those who have given $1 million or more in cumulative gifts to Whitman. His commitment extends beyond the financial: Darrell served for 13 years on the Board of Overseers (now the President's Advisory Board).
In 2007, he created the Darrell W. and Katherine Jane Baggs Chair in Economics Endowment, named in part for his wife, who died in 2003. The couple had been married since 1971. The endowment supports a teacher and scholar in the Economics Department and subsidizes supplies, equipment, research expenses and professional development.
He credits Whitman Economics Professor David Stevens with helping to nurture in him an interest in the field. "He was very approachable, and I was able to learn the basics of economics," he says. "I was exposed to really good teachers and worked with a lot of really bright people. It was such a good experience that I wanted to give back to this institution that I really care about."
Life Lessons
Darrell got an earlier economics education in Libby and later in Missoula, where his family moved when he was 10. In Libby, Darrell made a few bucks mowing neighbors' lawns, but in Missoula he found an even bigger market for lawn care. "We lived over on Fifth Street, where my primary clientele was the university district. That's where the money was, and there were older people who wanted or needed the help."
After earning his degree in Economics at Whitman, Baggs enlisted in Navy Officer Training School in Newport, Rhode Island, after which he was a division officer on a destroyer and an intelligence officer on the Pacific Fleet commander's staff. After leaving active duty, he completed an MBA at Harvard. He went on to serve as a financial manager and chief financial officer for a number of companies, including several Silicon Valley technology startups.
Darrell's liberal arts grounding proved beneficial beyond his economics acumen.
"I developed interpersonal skills to deal with Silicon Valley types that I wouldn't have gotten with just a technical degree," he says.
Whitman played a critical role in his professional success, but it also served an important geographical function when he was a teenager. Attending high school in Missoula, just eight blocks from the University of Montana, Darrell was resolute about one thing. He would not attend the University of Montana. "I made that decision in 30 seconds," he says. "It was too close. So I enrolled at Whitman, which offers communal living in a very positive way. Everybody before senior year either lived in a dorm or with a fraternity or sorority.
"In my case, I was in Sigma Chi, which was a positive experience. I met a lot of people who ultimately turned out to be lifelong friends."
His time on campus was an economics lesson in itself. To pay for college, he worked at a dining hall washing dishes and then ascended to head waiter. Beyond the compensation, the job was beneficial in two other ways. "You're interacting with the student body, and I ate free, essentially lots of leftovers," he says.
Though his own student days are long past, the memory of Darrell's mother and her ongoing commitment to education is never far from mind. He sees her in the accomplishments of the scholarship recipients who are testimony to her belief in the transformative power of learning. "She would say to me, 'I'm proud of you, and I thank you for this recognition,'" Darrell says of the scholarship that he created. "She would be very pleased." 
Published on Oct 31, 2023