Generational Threads: One Family's Journey of Fortitude and Generosity
By Heidi Pitts '01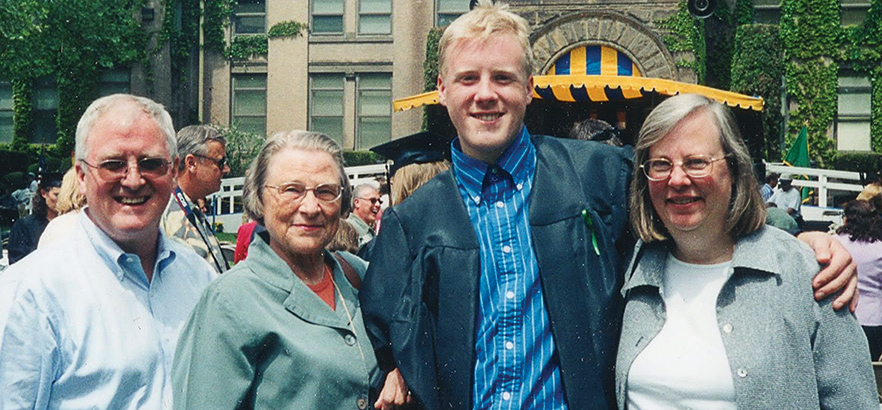 Esther Hook Milnes '73 has a connection with Whitman College that transcends generations. Her mother, Laura Rodgers Hook Kurtz '45, enrolled at the start of World War II, while her son, Douglas Hook Milnes '02, graduated in a new century.
Despite many differences in their educational experiences, one commonality persists throughout the family's decades of engagement with Whitman: a commitment to giving back to the college. For nearly 50 years, their generosity has provided scholarships and encouragement to generations of students.
Beacon of Hope
Escorted by her two brothers, Laura first came to Whitman for a visitor's weekend in May 1941. She entered as a member of the Class of 1945 that fall, but the pall of World War II and the deaths of both her father and grandmother profoundly impacted her college experience.
When Laura's brothers left to serve in the military and her uncle's support waned as he questioned the value of educating women, she was left with severely limited financial resources. Despite these hardships, Laura completed her first year at Whitman, but the scholarships that had supported her throughout her first year did not extend additional years. She returned home with only $2 in her purse, and her dream of continuing her education at Whitman came to an end.
However, Laura's year at Whitman left an indelible mark on her, cultivating a deep and lasting loyalty to the college. She wrote in a class 50th Reunion letter, "The college was a stabilizing, comforting and supportive place for me in a turbulent year."
She responded with devotion that manifested through unwavering support, both financial and personal. In 1976, Laura made the first donation in what would become 30 years of giving to Whitman, resulting in more than $70,000 of support by the time of her death in 2012.
Laura was also a fervent promoter of the college. Completing her education at Portland State University while raising her children in the early 1960s, Laura earned a teaching certificate and a master's degree in teaching foreign languages, going on to encourage decades of high school students to pursue a liberal arts education. Esther remembers, "Mom was always trying to get people to go to Whitman!"
Her mother's experience left a lasting impression on Esther, igniting her determination to create change. Following her mother's death, Esther established the Laura Rodgers Hook Kurtz Scholarship Endowment with an initial $50,000 stock gift inherited from her parents. Now valued at more than $180,000, this endowment provides a scholarship of approximately $8,000 a year to a student who faces financial obstacles after their first year of college, ensuring financial hardship does not prevent them from completing their Whitman education as it did Laura.
Shattering Glass Ceilings
Surprisingly, Laura's enthusiasm for Whitman wasn't what ultimately convinced Esther that it was the college for her.
In high school, a chemistry teacher suggested Esther apply to an eight-week summer program at Whitman. Sponsored by the National Science Foundation, Esther and a select group of around 25 other high school students lived in Anderson Hall, ate in the Prentiss dining hall and took Computer Science and advanced Math courses in the Hall of Science. This brief taste of the Whitman experience led three of that summer's cohort, including Esther, to enter the college together in the fall of 1969.
As a Math major in the early 1970s, Esther found herself part of a small group of women students who challenged traditional norms. While society was still grappling with gender stereotypes, Whitman began shifting toward equality. Esther and her female Math major peers flourished in this environment, laying the groundwork for futures that defied limits.
"In 1973, when we graduated, none of us were activists. We were just well prepared to do our jobs and stick up for ourselves. And we were actually breaking glass ceilings all the way through!" recalls Esther.
Esther's own journey exemplifies the thoroughness of this preparation. When she entered the actuarial training program at Prudential Financial, Inc., only about 5% of the participants were women. By the time she retired, half of the program's participants were female and Esther herself had advanced to the role of Vice President and Chief Actuary, Individual Life Insurance, for the Fortune 500 company. She credits Whitman's liberal arts education with equipping her with the adaptability and critical thinking skills needed to navigate an ever-changing world.
Gathering at their 50th Reunion, Esther and her female Math major peers marveled at the directions their lives had taken. From actuarial science and computer engineering to school administration, all had advanced professionally in ways groundbreaking for women of their times.
Leading by Example
In addition to bolstering her professional success, Esther has applied the lessons she learned at Whitman to benefit the college as well. Embracing the ethos of giving back, she participated in various roles throughout the decades, from serving on the 25th Reunion Committee to being on the Board of Overseers (now the President's Advisory Board) for 14 years.
She's also been a dedicated financial supporter. While Esther doesn't recall the year of her first gift, she does remember the circumstances. "Our class representative asked me to write notes on letters encouraging our classmates to give, and it seemed like if I was going to be writing notes, I should also be making a gift!"
Esther now has a lengthy tradition of generosity with gifts made every year since 1986. Primarily directed to her mother's scholarship endowment and The Whitman Fund, her giving underscores a primary philanthropic priority: Every student should have the financial support to be able to stay and complete their Whitman education.
The family practice of giving back to Whitman is now on to its third generation. Doug has followed in his mother's footsteps by serving as a class representative and establishing a regular habit of financial support for the college. He too recognizes a direct correlation between his education and professional success, saying, "My Whitman experience prepared me to succeed in graduate school and to adapt to the changing career opportunities I've had in startup companies and entrepreneurial environments."
Doug recently joined his mother as one of the initial donors to Harvey Hall, a project that attracted their attention due to their own significant experiences at Whitman. Esther is a strong supporter of on-campus living, believing that who you live with plays a major role in forming your connection to Whitman. Doug's interest in the building project stems from memories of living off campus his senior year in what was (in his mother's words) "a really disgusting, horrible house."
As the torch of philanthropy passes to the next generation, Esther's family story illustrates the power that education and community support have. Their joyful, dedicated generosity is creating ripples of positive change that extend far beyond the bounds of any single lifetime. 
Published on Oct 23, 2023