Whitman's Vision for a Junior-Senior Village
Building a Vibrant Community
By Heidi Pitts '01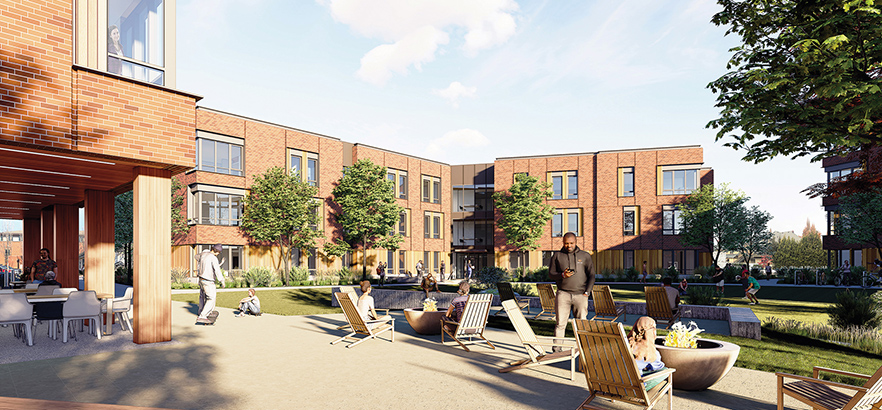 Whitman is setting the stage for a transformational addition to campus: a junior-senior residential village. The Board of Trustees, along with dedicated alumni and friends of the college, made initial gifts of $10 million to begin to realize this innovative plan for enhancing student life, promoting community engagement and providing a bridge to a more inclusive future. A total of $30 million in gifts is needed to break ground on this exciting project.
A Vision Takes Shape
A primary aim of the Junior-Senior Village is to forge stronger bonds within the Whitman community and enhance the academic and co-curricular experiences of its students. While Whitman was founded as a residential liberal arts college, in recent decades only 15% of juniors and 5% of seniors have lived in on-campus housing, with the result that many students experience increased isolation and disengagement from college activities in their final two years.
Board of Trustees member Nancy Serruier and her husband Greg made a $5 million gift toward the new housing project. "The pandemic showed us that students living and supporting one another in community is more important than ever at Whitman. We were delighted to invest in this vision."
This substantial investment serves as the cornerstone for the envisioned Junior-Senior Village. Comprising three state-of-the-art buildings, the village will house apartment-style residences along Boyer Avenue and Marcus Street, forming a connective space between the campus and downtown Walla Walla.
This endeavor also addresses a critical issue faced by many juniors and seniors—the challenge of finding affordable, quality housing in the Walla Walla area. Eric Gantt '24 says, "Students want to live in Whitman-owned off-campus housing, but there isn't enough and it gets snatched up pretty quickly." Navigating application systems, complicated lease agreements and high move-in costs also creates difficulties in considering non-Whitman properties.
After researching student housing struggles in their Problems With Privilege class, Gantt, Lucky Khoza '24 and Alice Lanier '26 formed the Access to Off-Campus Housing Team to give peers the support they need to find housing, including a website and listserv. "The Junior-Senior Village is definitely an exciting way for the college to continue to expand its housing choices," says Lanier, noting that she would consider living there with friends when it is completed.
Designing for Community and Connection
Collaboration has been at the heart of shaping the Junior-Senior Village from its inception. Beginning in 2018–2019 and reinvigorated in 2022–2023 following the pandemic, students, faculty, administrators and trustee leaders engaged in a comprehensive process to conceptualize solutions for reinforcing community and residential life at Whitman. The resulting concept utilizes location and human-centered design concepts to plan spaces that will draw people together in the village and on campus.
Comprising a total of 112,000 square feet, the village will provide housing for 210 juniors and seniors. The design centers around apartment-style accommodations, which will provide a sense of belonging, comfort and autonomy. These units, ranging from two- to four-occupant layouts, are thoughtfully equipped with kitchens and living spaces, negating the need for a college meal plan.
The vibrant community-focused design will also attract first- and second-year students to visit the village, creating opportunities for cross-year interactions and informal mentorship. "Younger students like to go to off-campus houses, to just come and chill and eat, watch a movie or play sports or things like that," says Khoza.
Spaces to encourage fun and interaction factor into the design. The village will feature multipurpose common areas, designed with student input to cater to a variety of activities, performances and events. Moreover, carefully curated outdoor spaces will grace the landscape, including a central lawn and College Creek terrace adorned with seating and fire pits perfect for a s'mores roast.
With proximity to Reid Campus Center and other hubs of activity, living in the new village will also make it easier for juniors and seniors to attend on-campus events outside of classroom hours. "Where you live during your junior and senior years makes a difference in our students' experience and the vitality of the campus community," says Jim Robart '69, Emeritus Trustee. "Building the village will expand the options available to junior and senior students and strengthen their connection to the college."
Promoting Inclusivity and Sustainability
The ethos of inclusivity and sustainability pervades every aspect of the Junior-Senior Village. When Tony Ichsan, Assistant Vice President of Facilities Services, led multiple conversations with students during the planning process, several key concerns came to the forefront and were consequently addressed in the final designs.
Specific considerations prioritize the ease of use for people of varying mobility in buildings and outdoor spaces. Wheelchair-friendly units include low-pile carpet and wide doorways for ease of movement, while onsite laundry facilities will feature front loading machines and low shelving. Wide, smooth pathways will ensure the prominent outdoor spaces can be easily traversed by wheelchair, bike, scooter, etc.
Environmentally friendly choices are evident in the selection of building materials, prioritizing efficient performance and environmental health. Rooftop solar installations and the pursuit of LEED certification further underscore Whitman's dedication to creating a space that aligns with its commitment to sustainability and protecting the environment.
Voices of Support
This visionary project builds on the momentum of investments in residential and community spaces, including Cleveland Commons and Stanton Hall. However, the ambitious goal of raising $30 million in gift funding emphasizes the importance of collective support in realizing this new construction.
The initial contributions of more than 50 donors demonstrate strong encouragement for the Junior-Senior Village. Their deep connection to Whitman exemplifies the commitment of the college's extended circle of champions in shaping its future.
"We believe that building this residential village is important for strengthening a supportive community at Whitman," said Emeritus Trustee Richard Hunter '65 and Janet Green Hunter '67. "We were pleased to make an investment toward realizing this vision."
Whitman's Junior-Senior Village will be an embodiment of the college's dedication to holistic student development and connection-building in support of academic excellence. As the college raises the remaining funds for this transformative housing project, the community's continued support will play a pivotal role in building this space and providing a vibrant Whitman experience for generations of students to come. 
The hope is that Whitman's current class of first-year students—the Class of 2027—will have the opportunity to call the village home.