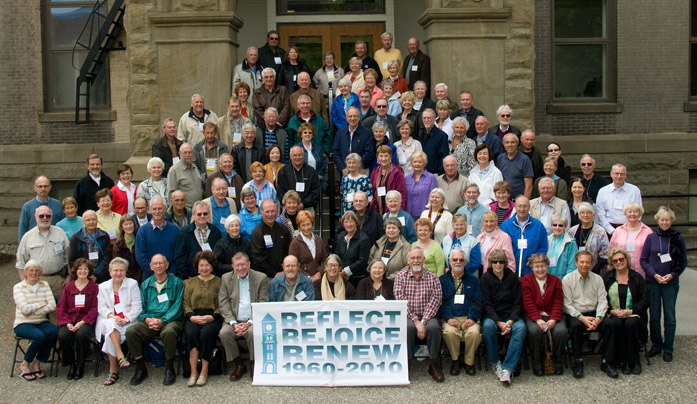 Class of 1960
50th Reunion
May 20--23, 2010
Row 1: Marion Arnstad Chenaur, Valerie Logan Hood, Connie Wagner Bourquein, Gene Bourquein, Dallas Christiansen Pasco, Allan Pasco, Bill Goff, Janet Guthrie Goff, Mary Samuel Ricks, Bob Ricks, Paul McKown, Marcy Wilson Dudley '63, Marietta "Hank" Stark, Herb Schoenfeld, Marlene Schoenfeld.

Row 2: Dick Bruce, Dick Williams, Gretchen Briegleb Williams, Gary Davis, Mike Keane, Judy Norgard Keane, Glen Grodem, Sandy Carley Varco, Marianne Boncutter Lorenz, Joann McGillivray Mines, Susan Bartleson Warn, Mary Jane McKown, gloria dale Lewis, Jim Dudley, Jean Wallace Donaldson, Marqui Young Bury, Elaine Moss, Patricia Hansen.

Row 3: Larry Edison '58, Diane Minkler Edison, Lorna Coe Roebke, Louis Roebke, Van Scranton, Alex Sumeri, Susan Gardiner Sumeri, Tina Pomeroy Grodem, David Carlisle, Barbara Elliott Carlisle, Barbara Davidson, Mel Davidson, Christine Sellers, Jim Hite, Deborah Hite, Alfred Moss,

Row 4: Theodore Stylianopoloulos, Faye Nicon Stylianopoulos, Nancy Rudy, Jack Hart, Morrie Shore, Donna Shore, Patti Kihara (behind Donna), Terry Lofsvold, Jan Johnson Bollermann, J.J. Parker Shannon, Edy Kelp Howard, Kel Howard, Carolyn Wilson, Larry Wilson, Irene Watt, Jim Watt.

Row 5: Jack Thomas, Harold "Rock" Allen, Vic Kihara, Marilyn Matzen Dodge '64, Tim Washburn, Nancy Greenawalt Washburn '61, Carol Roraback Kight, Mike Kight, Rhoda Daly Jensen, Robert "Bob" Jensen, David Nygren, Nick Hansen, Rebecca Nygren.

Row 6: Alan Haselwood, Chan Weisel, Harold Dodge, Jim Martine, Bud Varty, Stuart Johnston, Joyce Cooper Johnston, Lynda Horney Orr, Robert Orr.

Row 7: Joanna Haselwood, Jim Stutz, Jon Lounsbury, Sylvia Smith Martine, Ann Parsons Dark, Pat Moore Creighton, Dorothy Hill, Dick Hill.

Row 8: Robin Beck, Bob Chrisman, Linda Chrisman, Donna Dahlke Davis, Linda West, Rick West (behind Linda), Bob Clark, Norma Clark (in front of Bob), Paul Davis.