Welcome to Whitman College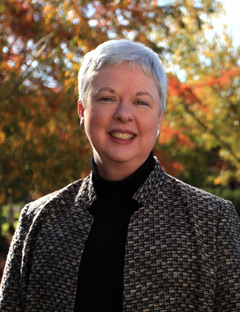 Kathleen M. Murray
Let me be the first to welcome you to the Whitman website! As a newcomer myself, I've discovered that Whitman offers an extraordinary liberal arts experience-one that students describe as being very supportive and communal, while also being challenging and designed to bring out your best.
Among some of our proudest features you'll find a low student-faculty ratio of 9:1 and lots of opportunities to work closely with faculty, collaborate with other students, and do undergraduate research. For example, our annual Whitman Undergraduate Conference, only one of two such conferences in the entire nation, showcases the work (usually in collaboration with faculty) of nearly 200 students to the entire campus community.
Yes, academic expectations are high, but so are levels of support aimed at helping each student succeed in this residential learning community. In the words of one student: "People genuinely want to help you here. When faculty and staff members ask how you are, they really mean it. They stop and listen to your response and ask questions."
You'll also discover lots of ways to get involved on campus and in the community: 70 percent of our approximately 1,500 students volunteer in the community, nearly 150 internships were awarded last year, and 80 percent of students play intramural sports.
Each month the Looking@Leadership series brings leaders from a variety of industries to campus for an intimate lunch and dialogue with 10 to12 students. This is just one example of how Whitman builds bridges between the liberal arts and the professions. Of course, there are lots of other opportunities to explore. Whether by visiting this website or our campus in the beautiful Northwest, we hope you'll discover "The Whitman Way" and just how great a liberal arts education can be when everyone works together to succeed.
With warm wishes and best regards,
Kathy Murray
President
Introducing Kathleen Murray, 14th President of Whitman College
On July 1, Kathleen Murray became the 14th president of Whitman College. Previously she was provost and dean of the faculty at Macalester College, where she led the academic program of one of America's finest liberal arts colleges, planned a new $70 million fine arts center and played a key role in the development of Macalester's strategic plan. Prior to Macalester, she was provost at Birmingham-Southern College in Alabama for three years.
President Murray received her Bachelor of Music degree from Illinois Wesleyan University in 1979, then obtained her Master of Music in piano performance from Bowling Green State University in 1982 and her Doctor of Music in piano performance and pedagogy from Northwestern University in 1989. Over the course of nineteen years, she was a member of the piano faculty, dean of the Conservatory of Music and dean of the faculty at Lawrence University in Wisconsin. A frequent performer, she is also a clinician and adjudicator both nationally and internationally, as well as the author of numerous articles on music and music education. She is recorded on the CRI label.
Dr. Murray is a passionate advocate of the liberal arts and the residential learning experience. She firmly believes that her undergraduate years in such a setting developed her potential as a scholar and artist, laying the foundation for her rewarding career and life.
Bradley McMurchie '84, Chair of the Board of Trustees, recognizes these strengths. "As a teacher, scholar and administrator, Kathy has the experience and character that will allow Whitman to achieve great things. She is also an incredibly kind, funny and engaged person."
Jack Percival '16, a student member of the presidential search committee, agrees. "Kathy embodies Whitman's values, and I am confident that she can keep in mind the core themes of what makes Whitman such a unique and special place while taking our college and our community to new and unanticipated heights."
As president of Whitman College, Kathy looks forward to close connections with the entire community. She loves to travel when she has the opportunity and recalls a hike up Mount Kilimanjaro as being one of her high points, literally and figuratively.
Office Information
Memorial Building 304 @Html.Raw(ele)>
(509) 527-5132 @Html.Raw(ele)>
President's Office Staff:
Jennifer Casper, Senior Assistant to the President
Joanie Lucarelli, Administrative Assistant to the President