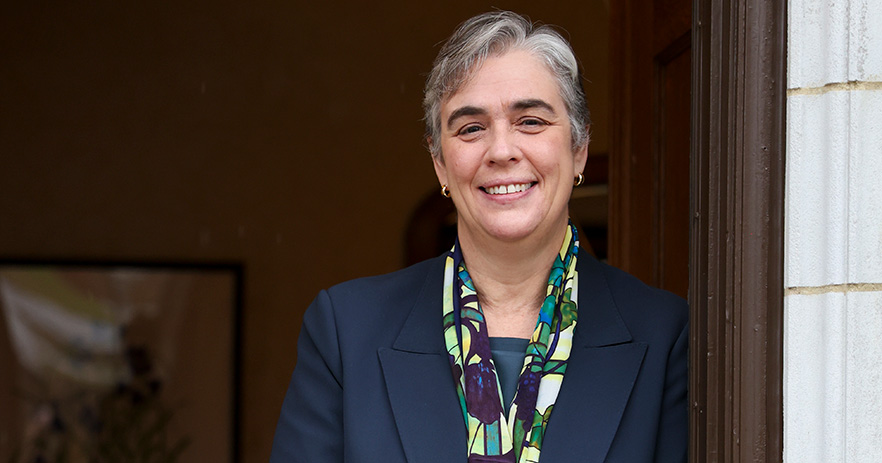 Dr. Sarah Bolton was unanimously selected by the Whitman College Board of Trustees to be the college's 15th President. Bolton is a physicist, professor and administrator with more than 25 years of experience in higher education and a long-standing commitment to the liberal arts. She succeeded President Kathleen M. Murray upon her retirement at the end of the 2021–2022 academic year. Bolton assumed the presidency in July 2022.
Bolton will be Whitman's first president in many decades to come from an academic career in science. She was encouraged to pursue physics from an early age thanks to a middle school teacher and later mentors who encouraged her to believe in her capacity to engage and explore in a field of study where there were very few, if any, other women at the time. This practice of making space to actively include and listen to voices from all backgrounds remains a guiding principle in her life and career.
Bolton earned a Bachelor of Science in physics and biophysics from Brown University, followed by a Master of Arts and a Ph.D., both in Physics, from the University of California, Berkeley. Her years as a teaching assistant at Berkeley sparked her love of teaching and a passion for engaging with students. "What I got to do as a graduate student TA, which was meeting individually with students, helping them get unstuck on their homework or the laboratory experiment they were doing, helping them find ways that they could solve problems that they didn't think that they could solve, I thought was having all the fun," reflects Bolton.
Beginning her faculty career at Williams College, a small liberal arts college in Massachusetts, was a delight. "An educational setting where I could actually both be the person designing the course and be the person working personally with the students and helping them grow in their sense of their own capacities and abilities and futures was tremendously exciting to me."
Bolton came to Williams as an assistant professor of physics in 1995 and was promoted to associate professor in 2001 and full professor in 2007—the first woman to reach this milestone in physics at Williams. She served as chair of Williams' physics department from 2007 to 2010 and won the college's Outstanding Mentor Award for Fostering Inclusive Academic Excellence in 2009.
Following fifteen years as a physics professor at Williams, Bolton moved into the role of Dean of the College, overseeing many aspects of student life, chairing the Faculty Steering Committee and mentoring women in science. Bolton remembers her time as dean as an incredible opportunity to think even more holistically and in a bigger way about what the college could do, expanding her relationships with faculty and students while developing a deeper understanding of and appreciation for the staff who provided essential services that made the college a wonderful and safe place for students to learn and grow.
In January 2022, the Whitman College Board of Trustees announced the unanimous selection of Dr. Sarah Bolton as the institution's 15th president. Hear about her journey in her own words.
In 2016, Bolton became the President of The College of Wooster and began leading what has become Ohio's most global institution, where, she says, "every classroom, every team, every club, every choir performance includes voices from around the world." During her first year at Wooster, Bolton collaborated with faculty, staff and students to create the college's first-ever diversity, equity and inclusion strategic plan. She has partnered with faculty on core curriculum revisions to build in discussions of diversity and justice, including development of a global engagement component and a diversity power and privilege component along with broadening the religious studies component to include social justice explicitly. Bolton also initiated work to add new majors and minors in vibrant emerging fields, many of which are interdisciplinary.
In 2018, Bolton collaborated with Wooster's board, alumni and campus community to successfully complete a historic and record-setting campaign built around a set of promises that the college made to students and the ways that those promises can evolve for the future. That campaign resulted in 71 new scholarships, three new endowed professorships, 34 new endowed funds to support faculty, student research, and academic departments, and the creation of 10 endowed funds to support APEX, Wooster's integrated center for student academic and career advising, planning and experiential learning.
Reflecting on her tenure at Wooster, the thing that stands out to Bolton the most is the people. "I'm very proud of Wooster's students, staff and faculty and the ways that they've innovated and continued to move forward and to create wonderful things over the last six years, including the last two which have been so challenging."
The recipient of multiple teaching awards and fellowships, Bolton has authored more than a dozen articles in science journals and been invited to present at conferences across the country. Her research explores the properties of novel, nanostructured materials, which have features made up of only a few atomic layers.
Bolton has served on the boards of Wayne Economic Development Corporation, Culture of Respect, the Association of Presbyterian Colleges and Universities, as well as the Five Colleges of Ohio and Great Lakes College Association.