Sally Rodgers Award for Lifelong Achievement 2007
Sally Rodgers Award for Lifelong Achievement
The Sally Rodgers Award for Lifelong Achievement was created in 1999 to honor Sally Rodgers, long time director of alumni relations. This award is given every other year by the Alumni Association to "an individual/or individuals who graduated from Whitman College over 50 years ago and whose life exemplifies the qualities of a liberal arts education." This award is presented at the 50-Plus Reunion.
The two recipients for 2007 are:
Mary Shuham Dore '50 and John Keil Richards '40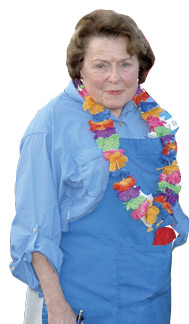 2007 Sally Rodgers Award for
Lifelong Achievement Recipient
Mary Shuham Dore '50, who passed away Nov. 6, 2007, and her husband Fred, a lawyer, state senator and later state Supreme Court justice, turned their grief over the 1961 "crib death" of their daughter, Christine, into a lifelong prevention crusade against what is known today as Sudden Infant Death Syndrome and its devastating effect on parent
The Dores believed all parents deserved to know why their babies had died of what pediatricians then vaguely referred to as crib death. "We were in a situation where these sudden unexplained deaths had been occurring for 2,000 years, and yet no one was doing any research. People would talk about pneumonia and polio, but people avoided talking about sudden unexplained infant death even though at that time nearly three out of every 1,000 babies died suddenly."
The Dores spent their lives (Fred died in 1996) fighting for legislation to recognize and research these deaths, and comfort the parents of SIDS babies. They raised money for the necessary medical research to prevent SIDS, and they tried to comfort bereaved parents like themselves who had lost a baby to the mysterious ailment.
In 1987, years after the Dores began their battle, the National SIDS Foundation newsletter "The Leaflet" ran an article noting that "Although family, business and friends claim Mary's time, her concern for SIDS parents never lessens. A personal note from Mary often finds its way to the home of newly grieving SIDS parents. Her main role now: Giver of Peace."
"Every death must be looked at," says Dore today, "and every parent counseled. Even though there are many things in our modern society that are not good for babies, in most cases of SIDS, the death is due to a condition which could not have been recognized beforehand. There are also instances today that are recognized as creating a higher risk for causing sudden death, for example tummy-sleeping and even in some cases infant furniture. We should be willing to look at and recognize any threat that raises the risk factor." One thing that can certainly be done is to make sure parents recover from their loss and the medical profession gets an accurate count and study of these occurrences, she says. "In Washington, we have a pretty good method; the program has a tremendous background."
Early legislation that the Dores worked to establish created a central location where all SIDS victims would be autopsied and researched. Originally this was the University of Washington Medical School; later the school transferred the base of the research project to Children's Orthopedic Hospital and Medical Center. One of the leaders in research there was Dr. J. Bruce Beckwith '55, who ultimately identified the syndrome now known as SIDS.
Some of the important developments in this fight that Dore helped pioneer were:
1) The passage of groundbreaking legislation that became the National SIDS Act of 1974;
2) The formation of the parent groups that joined together in the common cause of identifying the deaths and helping parents cope — eventually leading to the formation of the National SIDS Foundation;
3) The inclusion of Sudden Infant Death Syndrome in the International Classification of the Causes of Death; and
4) The passage in 2001 of additional Washington state legislation that mandates SIDS training for first responders and consistent child death protocols for every county statewide.
Dore, who lives in Bellevue, Wash., said she is "very pleased about the award; it's nice to be recognized. But I most want the babies to be accounted for. Parents cannot recover without knowing why, and that's why it's so important that each occurrence is properly handled and classified."
John Keil Richards '40 was inducted into Idaho's Hall of Fame Association in 2001, decades after he left Payette, Idaho, to attend Whitman College in the fall of 1936. During the intervening years between those landmark dates, Richards has distinguished himself as a musician, music historian and college administrator.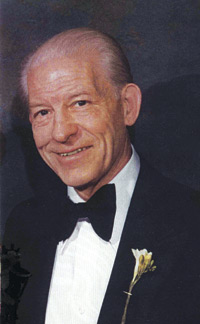 A longtime member of the Oregon Symphony (1947-1999), where he was principal tuba player, Richards has for many years conducted the Portland and Salem Tuba Christmas events to an audience of ardent fans. For many years, he directed and arranged music for the professional Portland Symphonic Band, as well as conducting research and arranging for a host of projects such as Civil War and post-period music written by Northwest composers between 1854 and 1889. More recently, he has founded the Polished Brass ensemble, but confesses that his favorite recreational music outlet is jazz. Richards is conductor of the Metropolitan 100-plus Youth Symphonic Band and has toured with them in Russia, Scandinavia, Finland, Austria, Hungary and Italy. The band will visit China in July 2007.
A collector as well as an historian, Richards' collection of historic instruments was legend in his days at Lewis and Clark College where he served as director of instrumental music, chairman of the education department and associate dean of the faculty.
As for his experiences at Whitman, Richards says, "Whitman was and is the major influence upon my concepts of life in general. It afforded the opportunity to explore and come to appreciate history, philosophy and those subjects and experiences that breathe life into all activity. But, most of all, the faculty and the administration knew our names and with that, our faults and our individual potential, which they nurtured."
"Where but at Whitman could I have had experiences such as private times and walks with persons such as Dr. Penrose or Dr. Lang, Dr. Charles Howard, Dr. Bratton, or Herr Santler. These are but a few of those who caused me to be curious about those things which impinge upon and give meaning to seemingly unrelated concepts."
"Why, at the present time and for the past several decades, am I searching for 'real' knowledge about gravity and what will be the ramifications if I truly discover 'what it is.' In short, Whitman and its mentors continue to make a difference in the lives of many, including mine. I am deeply touched and flattered by this award and pray that I may be worthy of it."