Letter from Alumni Board President to New Alumni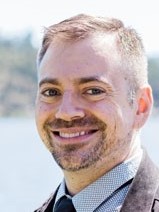 Dear Member of the Class of 2020,
Welcome to life as an alumnus/a of Whitman College! Congratulations on completing your Whitman journey, you're joining nearly 18,000 living alumni who have come before you, embarking on lives of purpose. Many of us had challenging journeys — I moved to upstate NY twelve days after graduation and settled into NYC a week after 9/11. And look, I'm still here. I know it's a bit scary, especially given what we've all been through the past four months. We're all living through a major moment in history, one that Whitties are well equipped to weather. Whitties adapt. They "live to swerve." You have the tools to do anything, and if you feel unsure or need a guiding hand, you have a dedicated, ready, and willing community here to help you. We want to share our knowledge, so many of us (myself included) got to where we are today because of a connection that an alumnus forged for us. I can trace a certain major music award I won directly back to the path my Whitman education put me on.

Write to me on Whitman Connect and I'll send you the infographic that shows that path. The directory makes it extremely easy to connect with Whitties who are eager to mentor and advise you, please take advantage of this tool. You never know who you'll find there, I'd love to hear from you on the platform, I've already connected with some amazing contacts.

We are here to support you and want you to stay connected and active through the programs and events we sponsor and organize, including:
Career Networking – aka Whitties Helping Whitties
Social Events
Faculty and Staff Presentations
Sporting Events
Outdoor Recreational Opportunities
Reunions
If you have suggestions for alumni events in your area or ideas for improving communication, please let me know whitmanaabpres@gmail.com, contact the Alumni Office at alumni@whitman.edu or 509-527-5167, or any member of the Alumni Board.
My parting gift to you is a piece of advice that came to me from my advisor following graduation: it was that you can't really screw up your life until you turn 27. This means you have a grace period starting now, before you have to settle down. You have time to try things, and if they don't work out, the opportunity to refocus and pivot to something else. Hearing this took a huge amount of pressure off me, I had thought I needed to have it all figured out the moment I received my diploma. Learning that I still had chances to screw up and reboot was one of the best things anyone could have ever told me.
Don't be shy, reach out and ask for our expertise. We're here for you! And congratulations again, you're going to do GREAT! I hope to see you soon at an alumni event and can't wait to hear what comes next for you, especially if it comes through Whitman Connect, hint-hint-nudge-nudge).
All my best,
Aaron Blank '01
President, Board of Directors
Whitman College Alumni Association
P.S. Please be sure to keep Whitman updated with your contact information so we can keep you informed of the events and programs organized near you.