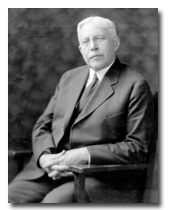 Stephen B.L. Penrose, third president of Whitman College tenured from 1894-1934, wrote the lyrics and melody of the Whitman Hymn in the summer of 1914, and Professor E. Blum wrote the harmonization. It is sung at every convocation and commencement ceremony. It premiered at the Fall Convocation of 1914 and was finalized and officially published in 1915.
When the morning light is breaking
O'er the eastern mountain's rim,
And the world to work is waking,
Let us sing our happy hymn: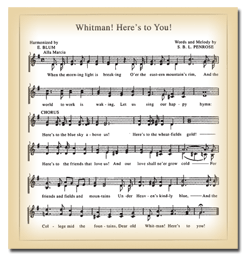 Refrain-
Here's to the blue sky above us!
Here's to the wheatfields gold!
Here's to the friends that love us!
And our love shall ne'er grow cold -
For friends and fields and mountains
Under Heaven's kindly blue,
And the College mid the fountains,
Dear old Whitman! Here's to you!

With the joys of life before us,
And life's battle stern and grim,
With a kindly heaven o'er us,
We will sing our happy hymn:
(refrain)
Whitman Hymn Sheet Music with Second Verse pdf
Whitman Hymn Audio File
Whitman College Music Department - 2005
Special thanks to Robert Bode, Peter Crawford and the Whitman Chorale.


< Previous - Whitman Colors Next - Waiilatpu >

Contact Us
Alumni Office
364 Boyer Ave

Baker Center, 2nd Floor

Walla Walla, WA 99362

509-527-5167