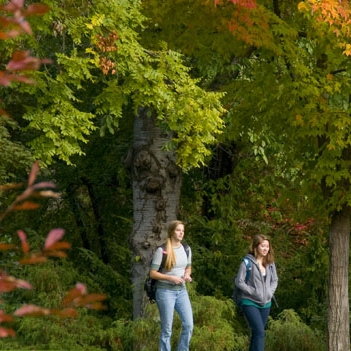 Fall Visitor's Day
Each fall, we welcome prospective students and their families to experience the Whitman community in action. We hope you will join us November 9!
Athletics
Women's Lacrosse visits the Confederated Tribes of the Umatilla Indian Reservation
Read the full story
The Downwinders
The "Green Run" of 1949 saw a cloud of radioactive iodine and xenon sent into the atmosphere by Hanford rain down on Walla Walla. Associate Professor of Anthropology Jason Pribilsky writes about the nuclear plant's legacy and our culture's relationship with cancer.
"Refraction" by Ai Weiwei
Whitman College is honored to be the home of Ai Weiwei's sculpture "Refraction" for the next year. Click through to view the video of the sculpture's installation and listen to Associate Professor of Art Michelle Acuff's thoughts about its meaning and message on campus and in Walla Walla, WA.