Faculty Award for Service 2010
Faculty Award for Service
The Whitman College Alumni Association Faculty Award for Service is given yearly to a faculty member who has distinguished himself/herself in service to the Alumni Association. Although this service may take any number of forms, the underlying theme involves strengthening and maintaining ties between the College and its alumni. Examples of service include participation in alumni gatherings, both on and off campus, and assistance in the planning/implementation of alumni events.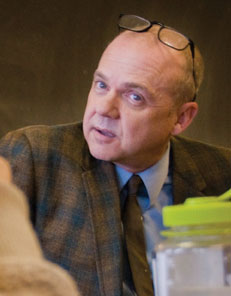 2010 Faculty Award for Service Recipient
It might seem like the long lost past when legendary Whitman College Professor Louis F. Anderson taught the classics. It was the late 1800s and early 1900s, an era when Latin and Greek were at the core of all formidable liberal arts colleges — among them Whitman. But Anderson is still at Whitman, by a thread. An unbroken thread.
Anderson served the college from 1882 to 1946, but his influence didn't stop there. During his tenure, a young English professor, Thomas Howells, came to Whitman in 1939. Howells, imbued with Anderson's influences, carried the legacy forward.
And then came Dana Burgess.
In 1986, one year before Howells retired, Burgess came to Whitman to teach the classics through an endowment created from Anderson's estate. Burgess joined Howells, team-teaching with him.
"I was working with Tommy Howells, taking me back to a period when Louis Anderson was at the end of his career — so I was working with a professor who had worked with a professor when Whitman was strongest in classics," said Burgess, professor of classics and the recipient of the Alumni Association's 2010 Faculty Award for Service for his ongoing lectures and programs for alumni.
From Anderson to Howells to Burgess. The thread.
"I was being exposed to a Whitman culture from before the Second World War in my first years of teaching, and it gave me a sense of the college's values and a connection to that time between the world wars when classics was more important in Whitman's curriculum than it is in any small, private liberal arts college today," Burgess said.
Colleges are deeply conservative in the true sense of the word in that "they preserve themselves," Burgess said. They stay the same. They conserve their values. The things that matter.
"Those values — liberal arts education, broad learning, lifelong learning, breadth of learning — that's the sort of connection I have with alumni because we share that culture of the college."
Burgess, who since 1987 has given lectures and programs in venues across the country to alumni, said, "You are meeting people who are somewhat like-minded. Not to say there is complete homogeneity within the group, but there are shared values."
In presenting the award, Polly Schmitz '83, assistant vice president for alumni relations, said that Burgess "provided me wise counsel early in my tenure here about the alumni and Summer College audiences — how they learn best, what types of subjects are of interest and how best to reach these diverse audiences."
Burgess, who expressed gratitude for the alumni award, said he is pleased to work with alumni who are "always very interested and interesting."
He believes it's good for him and them — "and for the program of classics. I want the alumni to know the classics program is an ongoing part of the college."
Burgess has provided alumni with such opportunities as a week-long Summer College program on a "Tale of Two Cities," a study of classical Athens and Elizabethan London. Each day was devoted to a particular aspect of each city — such as art, history or dramatic literature — with Burgess as the scholar on Athens. Burgess said "by the end of the week alumni were familiar with a broad range of materials … and could participate richly in discussions."
Reaching the more outdoorsy Whitties, Burgess participated in a multiday kayaking trip in the San Juan Islands. Each evening, around the campfire, he would give presentations about Seneca, a Roman author he was researching.
Burgess' 2008 talk at the Seattle Art Museum was meant to give alumni some context as they viewed a Roman art exhibit. An alumna remembers the impact it had on her.
"Particularly fresh in my memory was his reading of his translation of a poem by Catullus," wrote attendee Kyra Nourse '92. "The beauty of the translation, the effectiveness of the reading and the connections he was able to draw between the text, the exhibit and Roman society all confirmed in my mind that Whitman has been extremely fortunate to have the services of such a remarkable scholar and teacher."
Burgess said at these programs alumni are "revisiting" college and having fun experiences because, "that's the thing about learning, it's not only a moral obligation, it's also fun.
"How rare is that, that we have moral obligations that are fun?"