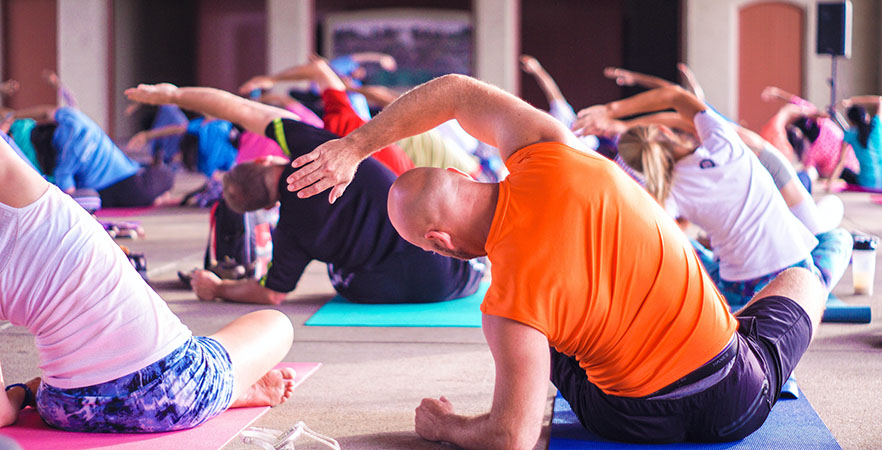 Movement That Matters (MTM) promotes good health and camaraderie and gives you a healthy break!
Let movement help soothe and cure what's ailing your body, mind and soul.
Fall 2023 Session
Monday–Friday
12:10–12:50 p.m.
Sherwood Athletic Center, Multipurpose Gym
Cost: $25 for a 12-Week Session
Monday
Pilates
Gain strength, stamina, and stability—this workout is a great way to kickstart your week with major muscle moves, core strength, and more.
Tuesday
Melt
Work your fascia by kneading, rubbing, and stretching tissue in the hands, feet, legs, back, and shoulders. Enhance mobility, stability, and performance.
What is fascia? Fascia is a thin casing of connective tissue that surrounds and holds every organ, blood vessel, bone, nerve fiber, and muscle in place.
Wednesday
Stretch & Strength
Build your strength, challenge balance, and improve flexibility in a dynamic and safe way. This class is a non-impact class.
Thursday
Step, Weights & Aerobic Training
Get your blood pumping, give your brain a boost and strengthen your immune system with light cardio and hand weights.
Friday
Yoga
Enjoy time to stretch and relax. Warm up, move through Hatha yoga and balance poses, and end with time for relaxation.
MTM sessions are designed for currently employed staff and faculty and retired staff and faculty who have current Whitman I.D. cards. For more information, please contact Laura Cummings.
Resources
"The Flexibility Regime With a Distinctive Focus"
A Fitness & Wellbeing Book by Holly Phillips
Hollibert E. Phillips is a Whitman College Professor of Philosophy, Emeritus, 1988–2006. The content of this book is the opinion of the author alone. It should not be used as a substitute for professional advice. Consult your medical professional prior to beginning a new diet or exercise regime.