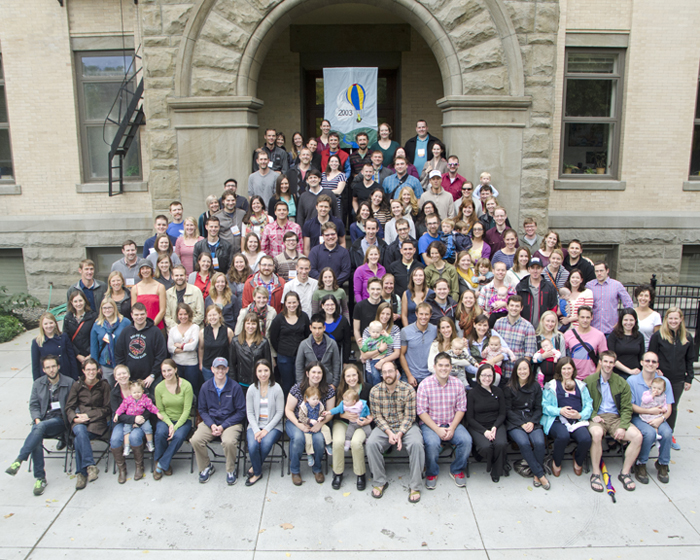 Class of 2003
10th Reunion - Fall 2013

Download the high resolution photo.
(Right click or option-click the link and choose "Save As..." to download this file.)
Row 1: Brent Schaeffer, Kennan Knudson, Leann White Adams (Kara Adams in arms), Andrea Freng, Rich Johnson '02, Amanda Young Johnson, Donan Everett Nealon (Moira Nealon in arms), Katie Villano Spellman (Isabelle Spellman in arms), Blaine Spellman, Graham Sumioka, Erica Emory Sumioka, Jana Seaman, Karen Lodine Bean (Eleanor Bean in arms), Joshua Bean, Josh Wnuk (Rina Wnuk in arms).
Row 2: Maria Roth, Emily Doe, Nicole Kristek, Josh Adams, Lara Giordano '13, Jordon Bell, Carrie Beck, Hector Maldonado, Cameron Kiest Mace (Maximilian mace in arms), John Goldmark, Anna Pepper (Colton Sky Goldmark in arms), Kate Imwalle Belchers (Josephine Audrey in arms), Graham Belchers, Erin Gates (Avery Dies in arms), Bob Dies, Danice Wnuk, Rachel Nord.
Row 3: Ben Beasley, Lindsey Hayes, Sarah Gilman, Alex Nugent, Allee Willhite, Lindsay Bull Braun, Kristen Leep, Maureece "Reecie" Levin, Alexander Mace, Julia Makowski, Emily Courtney, Joe Randall, Beth Irwin Randall, Bryan Hamilton (Eleanor Hamilton in arms), Billy Fuld, Erin Wallace (Ewan McCullough in arms), Ian McCullough, Laura Barker.
Row 4: Jake Rosenberg, Meredith Johnson, Heather Backus Rosenberg, Zandra Cole, Abra Cooper, Riley Nagler, Soren Klingsporn, Rilke Bushey Klingsporn, Stephanie Lien Latimer, Andy Knapp, Megan Mackenzie, Jesse Cowling (Sam Otero in arms), Alaina Smith Fuld, Annie Petersen.
Row 5: Jeremy Wood, Amelia Holeman Cook, Daniel Westfahl, Shannon Comyns Westfahl, Garrett Bayrd, Rob Martin, Jared Schoening, Neil Hoff (Abe Hoff in arms), Emily Locke (Mei Li Hoff in arms), Dan Cushing, Leah Wilson-Velasco, Michael Simon '02, Sara Stephenson Soland, Jim Soland.
Row 6: Benjamin Adrian, Jeff Ferguson, Abby Mitchell Ferguson, Jon Hallstrom, Robert M. Peachey, Cherie Stabel, Jillian Hernandez, Caitlin Taylor Johnson, Lauren Grote Stradford, Meghan Mowery, Vanessa Calvert Kroman, Amelia Jones Huntsberger.
Row 7: Alison Gayne-Hill, Derch Hill, Kerry Shaw, Eric Jacks, Andrew "Iz" Moore, Peter Jostrom, Brent Stradford, Scott Pattison, Calanna Schmidt, Vince Huntsberger (Luke Huntsberger in arms).
Row 8: Michael Kalk, Oliver Friendly, Alex Boulé-Buckley Friendly, Calder Hughes, Allison Clark, Randi Boykoff Bagley.
Row 9: Ben Weir, Susanne Hallowell Weir, Loren Sackett?, Lyndsay Buckingham Brewer, Megan Kanaga Creutzburg, Nolan Brewer, Spruce Schoenemann, Liz Holmes, Brandon Bagley.