Transfer Credit
This page contains information regarding transfer credit. Additional information can be found in the College Catalog. If you have any questions, please refer to the FAQ link below and/or contact Pam Fowler at 509-527-5982.
Acceptance of Online Coursework completed during Spring 2020 (COVID-19) and Beyond:
As of Summer 2021, the Board of Review has elected to permanently lift the restriction of a maximum amount of 10-online credits which may be counted toward a Whitman degree. From Fall 2021 and later, online labs will be considered as Whitman lab course equivalents on a case by case basis. Please be aware there is a limit of 70 transfer credits (62 from a 2-year college) which can be applied toward a Whitman degree.
The Biology department currently does accept online labs for transfer credit towards a Biology major. However, if your interests include the health professions, we strongly recommend discussing your plans with Health Professions advisor Kimberly Mueller. Some advanced degree programs in the health professions do not accept online labs, other than those taken during the height of the Covid pandemic.
Transfer Credit FAQs
Transfer Rights and Responsibilities
The electronic Transfer Guide is only to be used as a tool. The guide is a compilation of what has historically been accepted at Whitman College and does not guarantee transferability, as each request is evaluated on an individual basis. You will need to work with your advisor and submit the RATC.
Information on how to read a Transfer Equivalency Report. For information on AP and/or IB credit, check the Academics section of the online catalog.
Transfer Credit Policy
Work satisfactorily completed at an accredited collegiate institution is accepted for transfer provided it is academic in nature and is generally applicable toward a liberal arts program of study. In general, professional or vocationally oriented courses are not accepted for transfer.
A record of all academic work undertaken in other collegiate institutions, including a record of correspondence and distance learning work and registration in summer sessions, must be presented to the Registrar by every student who has undertaken such work. Students who fail to provide such transcripts may be guilty of unethical conduct and may be subject to disciplinary action including suspension or dismissal from the college.
No credit will be granted for course work, including correspondence and distance learning courses, taken in another collegiate institution while the student is in residence at Whitman College unless written permission to register for such courses is obtained in advance by the student from his or her advisor and from the Registrar. Nothing in this rule makes mandatory the granting of any credit by Whitman College.
A total of 70 credits of advanced standing transferred from other accredited collegiate institutions is the maximum non-Whitman work creditable toward a bachelor's degree. This includes credit allowed on the basis of scores made on the Advanced Placement Test of the College Board, higher-level courses for the International Baccalaureate, Running Start courses, or certain military service. Credit earned exclusively from two-year colleges is limited to 62 semester credits applicable toward a bachelor's degree.
No transfer credit is applied toward a Whitman degree unless it is of average (C- or 1.7 on a numerical grade scale) or better quality. Grades awarded by other institutions are not made a part of the student's Whitman record.
Running Start and Similar Programs Courses
Whitman will review credit earned through the Running Start Program and similar dual enrollment programs on a course-by-course basis. Course work is eligible for credit only if the class(es) are taught on the college campus by college faculty, and no more than one-third of the participants consists of high school students. Credits awarded will be for classes at a commensurate level and in subject matter relevant to the Whitman College liberal arts curriculum.
Students who earned credits from Running Start (either Washington's Running Start or a similar program from another state) will choose one of the following two options: (1) transfer all Running Start credits so as to be enrolled at Whitman at the class level and with the financial aid availability consistent with the number of credits (Running Start and any post-secondary) transferred to the college. Those transferring fewer than 58 credits to Whitman must complete General Studies 175 and 176 in their initial year of enrollment. (2) Transfer no more than 14 Running Start semester credits and be considered first-year students for purposes of financial aid availability if they complete General Studies 175 and 176 (i.e. "First Year Seminars") during their initial year of enrollment at Whitman (See Financial Aid Web page).
Students must declare to the Registrar whether they plan to choose between option 1 or 2 during their initial registration at Whitman. However, to give students a chance to reconsider their decision in light of their Whitman experience, the choice will not become official until the end of the student's second semester of coursework. Should a student choose option 2 at this point, they will be required to complete General Studies 175 and 176 (i.e. "First Year Seminars") within their next two semesters of enrollment at Whitman.
College Courses Offered in the High School
Whitman does not award credit for course work completed in a high school classroom and appearing on a transcript from a college or university.
Two-Year Colleges
A maximum of 62 semester hours of credit may be transferred from accredited two-year colleges. Whitman will accept credit on a course-by-course basis from the Associate of Arts or Sciences degree programs.
Transferring Credits
Whitman students who want to transfer credit from another institution to Whitman should always seek pre-approval for transfer credit. If you have questions, contact the Whitman Registrar at registrar@whitman.edu or Off-Campus Studies at offcampusstudies@whitman.edu.
Please use the following chart to determine which form you should use.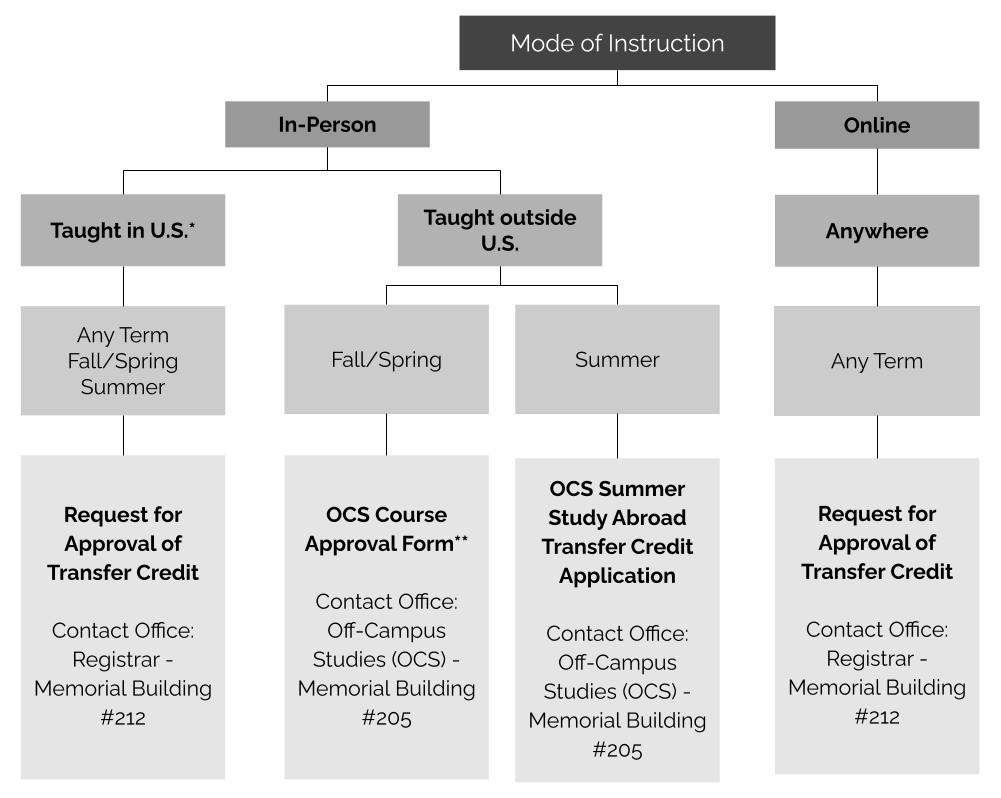 * Exceptions are OCS semester Partner programs that are US-based and handled through OCS not the Registrar. Currently this includes the following programs: National Theatre Institution (NTI), American University Washington Semester Program, and SEA Semester.
** The OCS Course Approval Form is part of the OCS Application process and is available from an OCS adviser after at least one OCS advising appointment. Email offcampusstudies@whitman.edu to request an appointment.
Tips
1. Note that "Location Where Course is Taught" means where the student will physically be located when taking the in-person course. Ex. A course taught in Ghana through the University of Washington and transcripted on a UW transcript is considered "Taught outside the US" and must be vetted by OCS.
2. Students should submit the transfer credit request prior to enrollment in any course and prior to paying any fees for the transfer credit course. Approval of transfer of credit is not guaranteed, so students should wait for transfer credit approval from the Registrar or OCS before paying fees for non-Whitman courses.