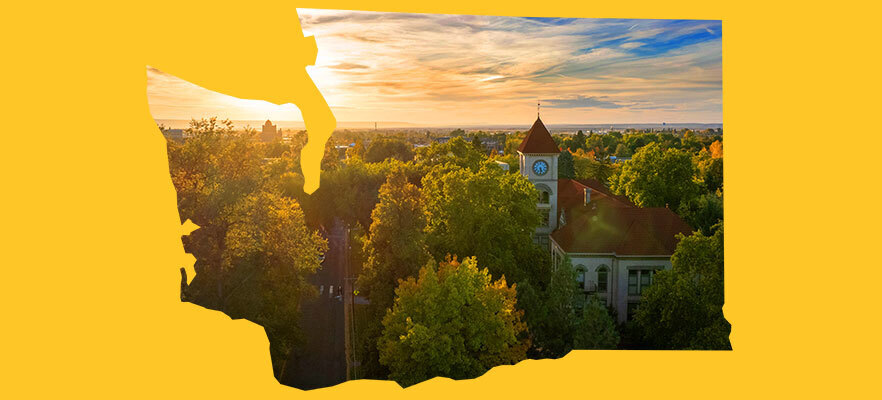 5 Reasons Washington Students Choose Whitman
Whitman College attracts many students from our home state of Washington. Here are five reasons to consider Whitman if you are from Washington.
1. You're close to home ... and gain independence. College is a time of transition for everyone. At Whitman, you can have the best of both worlds. Live on our beautiful campus and still be within easy driving distance of home. Book a direct shuttle from campus or carpool with friends for holidays or trips home.

Invite your family to visit or attend your art show, soccer match, piano recital, theater performance— and, of course, Commencement!

2. You focus on learning instead of finances. With special scholarship funds, Whitman meets the full financial need for students from Washington state.
Hard to believe? We'll show you! With our Early Financial Aid Guarantee, you can find out what merit and need-based scholarships you will receive before you even apply. Plus, with an 83% 4-year graduation rate, you won't have to pay for any extra time on campus.
3. You're set up for success. You'll learn to ask the right questions and make persuasive arguments and will graduate with the writing and critical thinking skills that will allow you to succeed in any field you choose. No matter what your major, you learn to think critically about the complex issues facing our world during First Year Seminars.
Plus, each Whitman student is assigned their own career counselor—someone to guide you every step of the way. Whether you're ready to find a job you love, go to graduate school, or launch your own venture, your Whitman experience will prepare you to forge your own path.

4. You're more than a number. At Whitman, we know you're more than your test scores. Whitman's holistic application review process lets us get to know the real you. We consider high school coursework, application essays and recommendation letters, but we also care about your involvement in school and community activities, work history, leadership positions and many other factors. Did you take a gap year? Are you the first in your family to go to college? Let us know!
And once you're here, you'll have access to our caring staff and your amazing professors—who will all know your name and be invested in your success in and out of the classroom. (The Princeton Review recently ranked Whitman No. 4 in the nation for most accessible faculty!)

5. You get to live in Walla Walla. There's a reason they named it twice! Walla Walla has so much to offer. Local organizations love to partner with Whitman's Career & Community Engagement Center to provide internships, fellowships, and other opportunities that help our students make a real difference right now. In addition to a vibrant arts community, foodie scene and easy access to outdoor adventures, Walla Walla has something for everyone.
Bonus! You can ditch the umbrella. Did we mention Walla Walla gets all four seasons and plenty of sunshine? It also consistently ranks among the friendliest towns in the country.
Tell Me More
We'd love to stay connected and share more about everything Whitman.
;