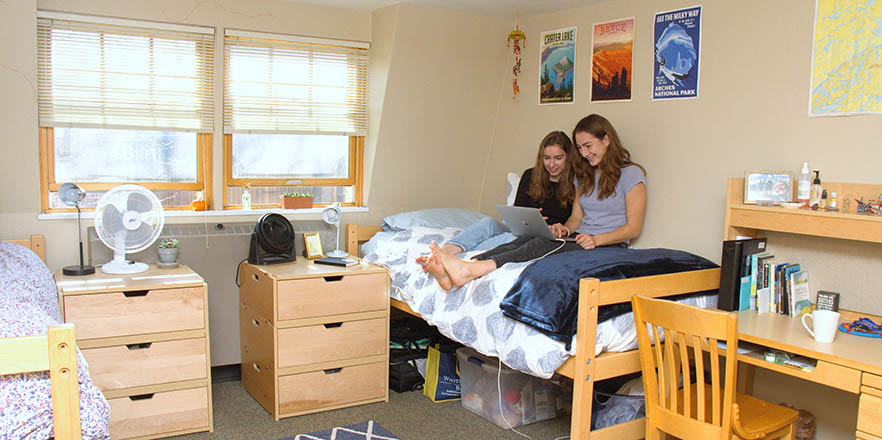 Living at Whitman encourages close-knit friendships and lots of them. From the first day, you become an integral part of the Whitman community.

Living on the Whitman campus is a rich and varied experience full of opportunities to learn more about yourself, get to know people whose backgrounds are different from your own, and grow intellectually.
Whether you live in a residence hall, a sorority section, or an interest house, you will be part of a close community that makes it easy to form lifelong friendships. The people you live with - your roommate, the talented guitarist down the hall, the student from China - will probably become your best friends. With them, you will share exciting ideas generated in the classroom, different points of view, social activities, and just plain fun.
Living in the College community is an essential part of a Whitman education. All single undergraduate students who are under 21 years of age at the start of each semester and have not yet lived on campus for four semesters are required to live on campus.
Whitman has seven residence halls and 11 special interest houses. All housing is coed with the exception of Prentiss Hall. Prentiss is an all women hall and houses four national sorority chapters and three sections of first-year and returning students. If you join a sorority or fraternity, you may live in one of the four fraternity houses or the sorority sections of Prentiss Hall after your first year. Wherever you live on campus, you will be close to academic buildings, extracurricular activities, and local shopping areas.
Each residence hall has its own hall council. Residence committees organize activities ranging from volleyball tournaments and progressive parties to trips to the College's mountain cabin. New students are encouraged to plan recreational, social, and educational activities (with guidance from Residence Life staff) to develop leadership and organizational skills.
Professors are often invited to participate in informal discussions. Guest speakers, including alumni and local business and professional people, often share their educational and work experiences. Seminars and discussion groups will provide you with many chances to explore contemporary issues and intellectual subjects.