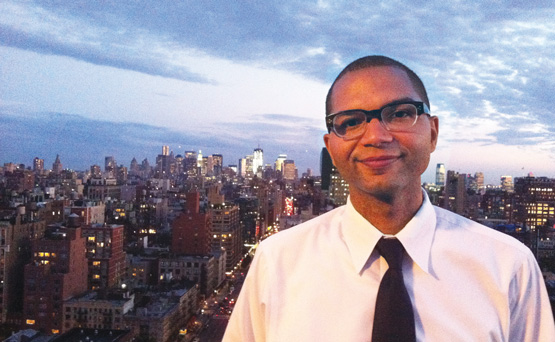 Drew Shoals '05 has played drums in all sorts of jazz joints. Now he's on his way to New York City; not to become a star, but to practice law.
By Edward Weinman
He's jammed with Portland blues legend Curtis Salgado. He's rocked sold-out shows with Pat Monahan of Train and Tony Furtado. He's even recorded his own jazz album, "The Greatest Haven't Been Born Yet," released on Diatic Records.
After living the "rock 'n' roll lifestyle," what does Drew Shoals '05 do for an encore?
He graduates from the Ivy League's University of Pennsylvania Law School. And this September, he will start as an associate at Shearman & Sterling LLP, a global law firm headquartered in New York City.
So why did a professional jazz musician forgo a successful music career for a life of mergers and acquisitions?
"I've always been a bit of a nerd. In high school, I was involved with the Constitution team, band and choir," said Shoals, who attended Whitman as a Garrett Scholar – Whitman's most prestigious scholarship – and graduated cum laude with a major in African American studies.
"I had done everything I wanted to do in music. I was flying to Cancun, Mexico, for gigs and played in front of 14,000 people in Chicago. I got to do that rock star thing, but law school was always in the back of my mind since college. I figured if I waited too long it would be hard to transition from my music life to graduate school."
"When you graduate, it's hard to see how African American studies or gender studies, philosophy or politics degrees will help your career. But it works out, because Whitman gives you the confidence, curiosity and intellectual wherewithal to excel."
— Drew Shoals '05
Because Shoals didn't want to go straight from "the fancy tour bus" to the law-school classroom, he first worked as a court advocate in the Bronx for The Fortune Society, a nonprofit that offers troubled youth an alternative to incarceration. During this stint, Shoals experienced the power of the law while representing first-time offenders, mostly young adults, who were looking at jail time.
"I was in charge of representing these clients, trying to get them into community-based programs to help them learn life skills and get jobs rather than serve time," Shoals said. "I worked with amazing lawyers and judges, as well as the youth that had come from really rough backgrounds but were willing to work hard to get their lives back on track through our program."
From his position as court advocate, it was an easy segue into law school. But once at Penn, Shoals didn't settle for being just another student. He took law school by storm, as he did at Whitman, where he immersed himself in such extracurricular activities as theatre and student government, while also volunteering at Green Park Elementary School in Walla Walla. At Penn, he served as editor-in-chief of the University of Pennsylvania Journal of International Law.
Continuing his commitment to public service, Shoals also served as Community Service Chair for Penn's Black Law Students Association and initiated Project Peace, a pro bono venture where BLSA members worked in Philadelphia classrooms with fifth- and sixth-graders on developing conflict resolution and peer mediation skills.
"It was rewarding to mentor students in West Philadelphia," Shoals said. "In law school you sometimes can get tunnel vision. You know where the library is. And it's easy to stay on campus and learn the cerebral issues of law, but you also need to remember that lawyers, whether you are working for a big firm or not, are public servants."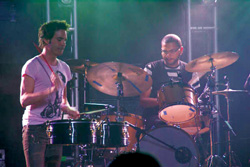 Shoals performs with Pat Monahan, the lead singer of the band Train.
It's this selfless ethic that drove Shoals to return to Whitman in May where he participated in the 2012-2013 Garrett Scholarship selection process, demonstrating the type of engagement that makes Whitman's alumni body so strong.
"As a Garrett scholar, I had the opportunity to go to New York as a senior and work with successful Whitman alumni. This made me believe I had what it took to be successful. So I decided to help interview potential Garrett Scholars in order to give back to Whitman," Shoals said.
A former musician turned lawyer, Shoals is perfectly stationed to serve as a role model for Whitman students trying to figure out how to travel from point A, a liberal arts education, to point B, a rewarding career.
"When you graduate, it's hard to see how African American studies or gender studies, philosophy or politics degrees will help your career. But it works out, because Whitman gives you the confidence, curiosity and intellectual wherewithal to excel," Shoals said.
"Law firms are looking for graduates with liberal arts backgrounds because firms know liberal arts students can write, ask important questions, work in teams, and be cooperative and collegial."
Shoals also credits his liberal arts education for imbuing him with the requisite skills to survive the cutthroat music industry by teaching him to thrive in diverse environments, communicate with older, more weathered musicians and make a compelling case as to why bands should hire him. He also used his Whitman writing skills to apply for a grant, the money from which allowed him to produce his album.
"Liberal arts education is dynamic. And we live in a dynamic world," Shoals said. "This is why I decided to become a class representative for Whitman's Annual Fund.
"Giving back to Whitman is a top priority to me. I want to help expand the Whitman network and our imprint on the world."