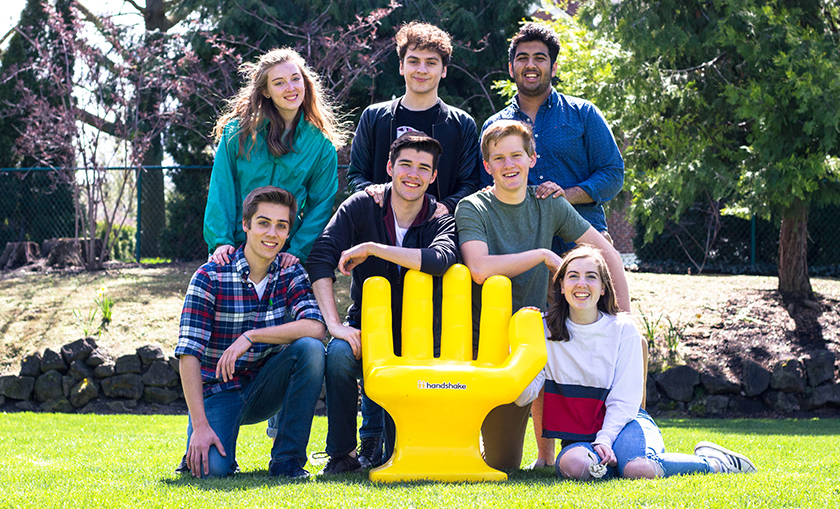 Handshake Login for Students/Alumni
Handshake
Handshake is a social-media style job and internship platform for undergraduates and young alumni. Handshake aims to democratize access to opportunity by helping every college student find the right job for them, no matter where they go to school, what they're majoring in, or who they know. Built to transform the recruiting experience, Handshake connects college students and young alumni to a comprehensive national network of employers.
Current Students
Click "Handshake Login for Students/Alumni" above and then click "Whitman Student Sign On" and log in using your CAS (Central Authentication Service) credentials. Please do not use a non-Whitman email address to create an account.
Class of 2017 and Older
Click "Handshake Login for Students/Alumni" above and put your personal (non-Whitman) email into the box and click 'Next.' On the following page, click 'I'm a student or Alumni.' DO NOT use your whitman.edu email address (even though Handshake will prompt you do so, this is wrong!) because Whitman removes student accounts after graduation. Fill out the information requested and click "Create Account."
Creating an Account
Create your employer account. The page will ask you to enter your name and email address (use your Whitman email), and to create a password. Handshake will then ask you some questions that aren't necessarily relevant to on-campus jobs (it's designed for national recruiters), but you should still complete the questions so that you can set up your profile.
Job Posting
Click the blue "Post a Job" button. Under "Job Type," please select "On Campus Student Employment." Choose your office's division from the pull-down list so it's coded correctly. Please consider checking 'Work Study,' so that work-study students see your opening more easily.
If your organization already has a Handshake profile, click the "Handshake Login for Employers" button above, log in, and connect with Whitman College. Create a new employer profile profile.
Posting a Position So That Whitman Students Apply
To post a position on Handshake, click the blue "Post a Job" button once you've logged in. On the "Basics," please note that under "Duration," selecting "Temporal/Seasonal" allows you to include a timeframe for your position with any dates you choose.
On the "Details" page, add multiple "Job functions" so that students can find your posting using various search filters.
On the "Preferences" page, consider leaving the "Majors" boxes unchecked or click the link toward the bottom by the text that reads, "To choose a specific major by individual school..." and then select Whitman from the drop-down menu. Because Whitman is a liberal arts school where students learn in many disciplines, a student from any major could potentially be qualified for a position in any field. Our offered majors do not align very well with the categories suggested by Handshake, so we recommend choosing from our list or not limiting your applicant pool by major.
This document contains suggestions for information that an internship posting might include.
Additional Resources
If you're still having trouble, please read this article about posting a position provided by Handshake or check out their additional information for employers. For technical assistance you may also contact ccec_info@whitman.edu or call 509-527-5183