Graduate & Professional School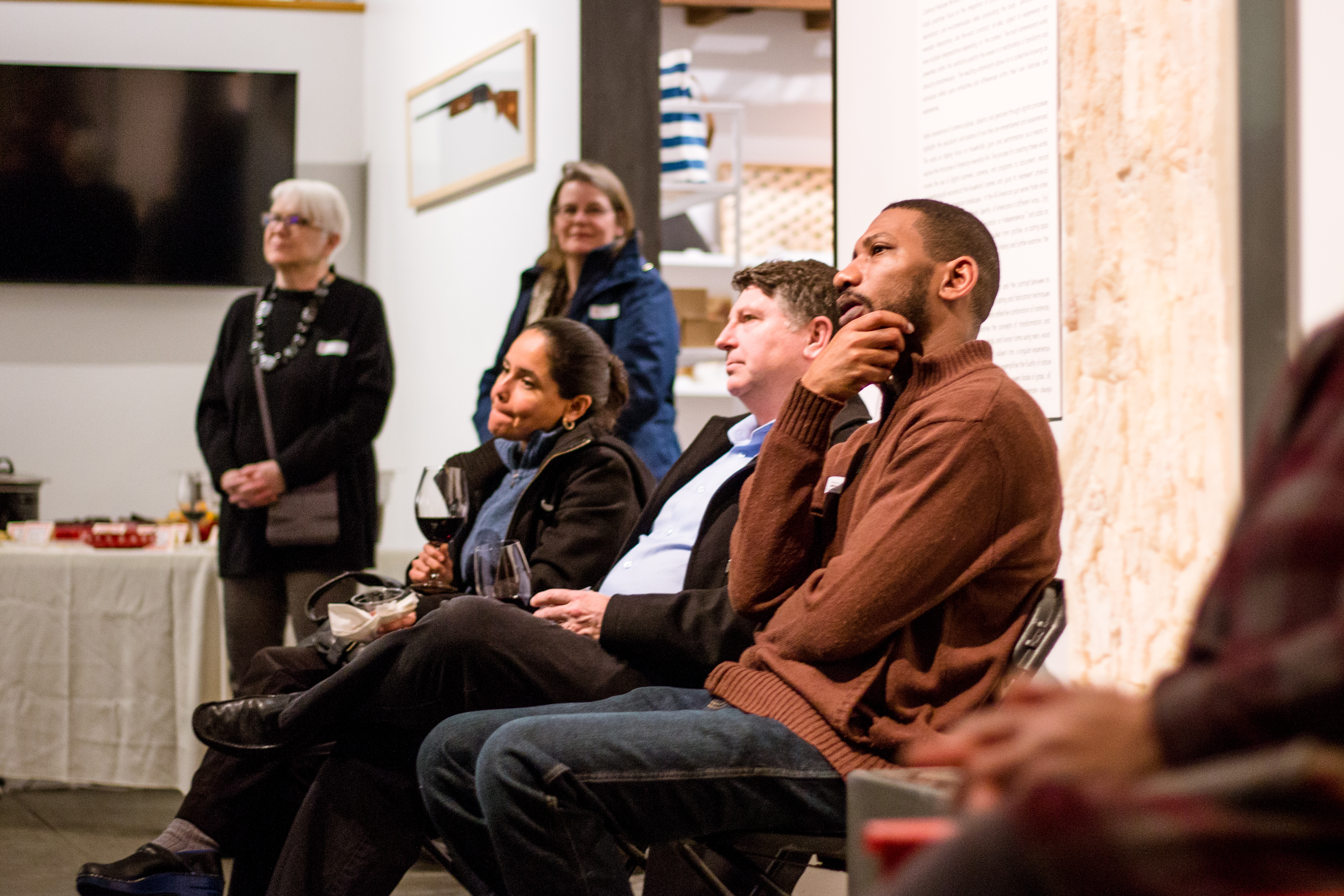 The CCEC can support you in your exploration of graduate school.
Our office is excited to help you explore your options for graduate school. Before you schedule a time to speak with us, we ask that you speak to faculty members, identify your programs of interest and understand why you want to pursue graduate study. We can support you with your applications to master's and Ph.D. programs.
However, if you are interested in medical school, please contact Kimberley Mueller, Director of Health Professions Advising (muelleka@whitman.edu). If you are interested in law school, please contact Pre-law advisor, Noah Leavitt (leavitns@whitman.edu).
Deciding on Graduate School
The decision to go to graduate school is one that should not be taken lightly. While there are many benefits from attending graduate school, it is also a big time, energy, and monetary commitment. Graduate degrees can open new doors but they can't be classified as a "golden ticket" to skip over jobs or experiences. Make sure you understand why you want to pursue graduate study.
If you are considering graduate school for career-based interests, first research if you need the degree. For some fields, a graduate degree is essential. In others, experience may be more important. The best way to learn if you need a graduate degree is by speaking to people who work in the field and your professors. Investment in graduate school may not pay-off unless it will aid in achieving goals related to your career and life.
Consider your timelines. Think through when you want to attend graduate school and what your timing will look like. For example, it can be difficult to take a career break after finishing a Ph.D. or M.Sc. Instead it is worth considering taking a break (by working, traveling, participating in a Fulbright or other Fellowship) after finishing your B.A. to avoid burnout and exploring different career trajectories prior to committing to the grad school application process.
Here are Key Questions to Ask Yourself When Deciding to Attend Graduate School:
What is my reason for attending graduate school?
Is the timing right to attend graduate school?
Is it financially viable to attend graduate school immediately after college?
Do I need a graduate degree for my career of choice?
For more information and questions to consider, check out this source: Ask 7 Questions Before Attending Graduate School or take a look at Should you go to Graduate School? A guide for potential grad students contemplating the decision to attend graduate school.
Beginning Your Search for Graduate School
Speak to your professors about options within your field of study. They are experts in the field and might know which programs may be the best for you.
Ask alumni who are farther along in your intended career path about their education and the reputations of graduate programs they've learned during their search process.
Especially for Ph.D. programs, find research papers that interest you and investigate the authors' institutions.
Peterson's Education Center - A great resource for identifying graduate programs.
GradSchools.com - General information for researching graduate programs.
Princeton Review's Guide to Grad Schools - Explore careers, research schools, and review practice graduate exams.
U.S. News and World Report Graduate School Rankings - U.S. News analyzed more than 12,000 programs for this year's rankings. (Keep in mind that a high ranking does not mean that the school is the best opportunity for you.)
The Black Collegian Online - Information about graduate study and fellowship opportunities, graduate admissions, resources for African American Masters and Ph.D. students, and more.
Business Degrees Online - A comprehensive directory of both online and campus-based professional degrees and certificate programs from accredited colleges and universities across the U.S.
Online Ph.D. Programs - A comprehensive web directory of doctorate programs around the country.
Timelines
There is no single timeline for applying to graduate school. However, you should plan ahead so you can ensure you have selected the right program for you, have all your materials submitted on time, and have applied to outside funding if needed. The Princeton Review has a great example timeline to use as a guide for graduate school timelines.
Finances
Graduate school is a big financial commitment. While some programs may offer funding, it is ultimately the responsibility of the graduate student to secure funding. While you are considering finances, be sure to include any financial responsibilities you will have during graduate study. It is also important to ask professors and alumni about funding in your field.
Here are some questions you can ask:
How common is funding for graduate study in this field?
What are some hidden costs I should be aware of?
Does not receiving funding signal that I shouldn't pursue this kind of degree?
Is the debt incurred offset by salaries typical in this field?
School/Program Funding
Your institution or program may offer full or partial funding to graduate students. As you are researching programs, be sure to inquire about institutional funding opportunities. These can typically be found on the department's website or by contacting the Financial Aid Office and/or the Graduate School Admissions Office.
Fellowships and Grants
There may be fellowships and grants available within your field that support graduate study. To find these opportunities it is important that you know your field. You can ask professors at your undergraduate institution and prospective programs about fellowship and grant options and teaching assistantships, or conduct an online search. For more information, please visit the Office of Fellowships and Grants website here and/or schedule an appointment with the office's Director, Jess Hernandez, via Handshake.
Loans
Most graduate students will take out loans to pay for their education. You can learn more about government funding here.
Other Resources for funding:
Once you decide that graduate school is right for you it is time to start contacting potential programs. This can be done in a variety of ways.
Talk to your professors. They all attended graduate school at some point and will have some good suggestions for you.
Attend a conference in your field that has a graduate school fair. This is an excellent place to get a feel for what programs are available and looking for students.
Reach out to any Whitman alumni that are in your chosen field and are currently/recently in graduate school.
Arrange a campus visit with the office of the program you are thinking about applying for.
Contact a potential advisor in the program you are interested in.
Once you have researched what professors/programs you are interested in applying to the next step is to make initial contact. This is typically done via an email to a potential advisor. Contacting someone at the potential program is important because they will typically be involved in the admission decision. Below are some links that may be useful for composing your message.
Application Items for Graduate Schools
Each graduate program will have different documents they require of their applicants. Some programs may request a Statement of Purpose/Research Statement and a Personal Statement. Others may only request one of them, while others might also ask for additional documents like writing samples or diversity statements. Each program is different, so make sure you pay close attention to their requirements and use your space wisely.
Also called a CV or vita, in the United States the curriculum vitae is used almost exclusively for academic professions and applying to graduate school. For in-person guidance regarding your CV, make an appointment with a Center staff member via Handshake.
"The most noticeable difference between CVs and most resumes is the length. Entry-level resumes are usually limited to a page. CVs, however, often run to three or more pages. (Remember, however, that length is not the determinant of a successful CV. You should try to present your information concisely.) A more subtle but equally important distinction is that whereas the goal of a resume is to establish a professional identity, the goal of a CV is to create a scholarly one. Thus your CV will need to reflect your abilities as a teacher, researcher, and publishing scholar within your discipline."
-Source: Purdue OWL (10.28.2010)
Here are some examples to use as templates or guides:
While every Personal Statement is unique in style, its purpose is the same. It is your introduction to a selection committee. A Personal Statement is the heart of your application.
Most importantly, the Personal Statement is authentic. Because personal statements are personal, there's no one type or style of writing that is set out as a model. However, there are a number of questions that Personal Statements typically answer:
Who am I?
Who do I want to be?
What kind of contribution do I want to make, and how?
Why does it make sense for me to study at X school?
For more information about Personal Statements, please review this document.
In your Statement of Purpose/Research Statement, you will be asked to write about your research plans, your previous work in the field and how you plan to use this degree. Discuss how you plan to improve the field. Propose realistic research that you can accomplish in the program. Questions may include: Why are you interested in this particular program, faculty member(s) and their research? What are your research plans? What are your post-grad career goals? Be specific, but know that it's okay to outline more than one idea.
Different schools require different numbers of letters; some put a limit on the number of letters you can submit, some require only academic letters, while others strongly encourage you to submit at least one from a work supervisor or other "non-traditional" letter writers (your coach, music teacher, volunteer organizer, etc.) Each school has different requirements, so pay close attention to the details!
What to avoid:
Asking for letters from people who barely know you and who have not had the opportunity to assess your work.
Asking for letters from high-status individuals who are friends of a parent just to "show off".
Asking someone to write you a letter in a short period of time (giving someone 1-2 weeks is not enough time!)
Asking someone to write a letter without providing them with information about the program/ school / fellowship, etc. and without providing them with your resume/CV.
What to do instead:
Ask for a letter from people who have had the opportunity to gauge your skills in a meaningful way over an extended period of time. The critical aspect is that person's ability to address, in a detailed manner, the sorts of skills, qualities, and characteristics that are relevant to performance in (law/other discipline) school and in this profession.
Include at least one letter from an academic context; this can provide particularly valuable insights for an admissions office.
Provide your recommender enough time in advance (at least 4-6 weeks, even better: 6-8 weeks) to write the letter; give them a deadline before the actual deadline.
Include information about the program/school/fellowship you are applying to and WHY - be specific!
Provide a resume/CV and maybe a copy of your draft personal statement. This will help the recommender know more about your professional and extra/co-curricular experiences and reasons to apply for the program.
Actually making "The Ask"
Make it really easy for someone to say no.
In most cases, if you give the letter-writer an out, they will not jump at it. But if they do? That tells you that in all likelihood, twisting their arm would not result in a letter you would want.
Give them plenty of time
Well in advance of when you need the letter, draft an email and tell them your plan of applying to XX school; if this information will be news to them, consider including some supporting documentation (your resume/CV or a draft personal statement).
Provide a "recollection-refresher"
If you're writing to a professor or employer who you haven't kept in regular touch with, it is helpful to include some recollection-refresher, like a paper you wrote, or a reminder of interactions you had, or even just a prompt such as, "I sat on the right side of the class in the front row in your Fall 2021 American History class."
Ask if they would feel able to write a strong letter of recommendation
If possible, explain what made you want to approach them—what do they know about you that others may not be able to speak to? Offer to provide them with any additional information they would find useful; offer to come in (or call) to discuss.
Communicate a clear timeline.
Then explain that you know the person is busy, and that you'll certainly understand if they are unable to write a letter for you. Assure them that your prospects are not ruined if they do not feel capable of writing a letter for you.
Source: February 4, 2019 https://michigan.law.umich.edu/admissions-a2z-blog/snagging-perfect-letter-recommendation
Graduate Record Examination (GRE)
Graduate programs and business schools use GRE scores to evaluate your readiness for graduate-level work. The GRE General Test measures verbal reasoning, quantitative reasoning, critical thinking and analytical writing skills that are not related to any specific field of study.
Analytical Writing — Measures critical thinking and analytical writing skills, specifically the test taker's ability to articulate complex ideas clearly and effectively
Verbal Reasoning — Measures reading comprehension skills and verbal and analogical reasoning skills, focusing on the test taker's ability to analyze and evaluate written material
Quantitative Reasoning — Measures problem-solving ability, focusing on basic concepts of arithmetic, algebra, geometry and data analysis
Visit the official GRE homepage.
Graduate Management Admission Test (GMAT)
The GMAT exam is a standardized assessment that helps business schools assess applicants. Schools use the test as one predictor of academic performance in an MBA or other graduate management program.
Three parts comprise the GMAT exam.
Analytical Writing Assessment (AWA) - The AWA consists of two separate writing tasks—Analysis of an Issue and Analysis of an Argument. You are allowed 30 minutes to complete each one.
Quantitative Section - This section contains 37 multiple-choice questions of two question types—Data Sufficiency and Problem Solving. You are allowed a maximum of 75 minutes.
Verbal Section - This section contains 41 multiple choice questions of three question types—Reading Comprehension, Critical Reasoning, and Sentence Correction. You are allowed up to 75 minutes for this section.
Law School Admission Test (LSAT)
The Law School Admission Test (LSAT) is a half-day, standardized test administered four times each year, typically on a Saturday. All American Bar Association-approved law schools, most Canadian law schools, and many other law schools require applicants to take the LSAT as part of their admission process.
Many law schools require that the LSAT be taken by December for admission the following fall. However, taking the test earlier—in June or September—is often advised.
The test consists of five 35-minute sections of multiple-choice questions. Four of the five sections contribute to the test taker's score. The unscored section, commonly referred to as the variable section, typically is used to pretest new test questions or to prepare new test forms. The placement of this section will vary. A 35-minute writing sample is administered at the end of the test. LSAT does not score the writing sample, but copies of the writing sample are sent to all law schools to which you apply.
The LSAT is designed to measure reading comprehension of complex texts, the ability to draw reasonable inferences, critical thinking, and evaluation of the reasoning and arguments of others.
The three multiple-choice question types in the LSAT are:
Reading Comprehension - This section contains four sets of reading questions, each consisting of a selection of passages followed by five to eight questions that test reading and reasoning abilities.
Analytical Reasoning - These questions measure the ability to understand a structure of relationships and to draw logical conclusions about that structure. You are asked to reason deductively from a set of statements and rules or principles that describe relationships among persons, things, or events.
Logical Reasoning - Each of these questions requires the test taker to read and comprehend a short passage and respond using skills such as drawing well-supported conclusions, reasoning by analogy, determining how additional evidence affects an argument, applying principles or rules, and identifying argument flaws.
Medical College Admission Test (MCAT)
The Medical College Admission Test (MCAT) is a standardized, multiple-choice examination designed to assess the examinee's problem solving, critical thinking, writing, and knowledge of science concepts and principles prerequisite to the study of medicine. Scores are reported in Verbal Reasoning, Physical Sciences, Writing Sample, and Biological Sciences.
Almost all U.S. medical schools require applicants to submit MCAT exam scores. Many schools do not accept MCAT exam scores that are more than three years old.
Navigating Graduate School Offers
You were accepted into a Graduate Program(s), congratulations!
Here are some things to consider and reflect on while you are thinking about your final decision:
Does the location of the program make sense for your career goals? For example, if you want to work on the East coast but the program you like is on the West coast will you be hindered by not having an East coast network?
What do the people who graduate the program end up doing? Industry, research, teaching? Does it align with your career goals?
Do you need a graduate school degree to reach your career goal? Ask yourself if it is possible you will be considered overqualified for certain positions?
Will you be able to afford to live on what funds you will have?
Can you handle a few years in the city the school is located in? Is it too big, too small, too far away from the ocean or mountains?
Visit the institution. It is highly recommended that you take the time to visit the school before you commit.
Is the program the right fit for you and your goals?
At this point, you should have already talked to your potential advisor. If you haven't, schedule a meeting to talk about how you will work together if you were to attend the program. Your relationship with your advisor will heavily influence your experience in graduate school. We suggest taking the time to talk to some of their current students to find out more about how they are to work with. Be honest with yourself about what you want in an advisor. Consider personality, feedback style, accessibility, and relatability.
You should also gauge what kind of graduate school student culture your proposed program fosters and if it aligns with your sensibilities. For example, is it a high pressure, intense environment where students stick to themselves or a busy, collaborative team where students are encouraged to work together?
Learn about what a day is like in a program you're considering attending. Ask students how they balance classes, research, and life. What are the ways they interact with their advisor in a normal schedule? Then reflect on what they shared. Does the balance seem like something you can handle?
The CCEC is happy to talk about your reflections on these questions if you'd like to discuss them.
Resources for Undocumented & DACA Students
We understand that the experience of attending graduate school is not the same for everyone and that many individuals face barriers to entry, especially people who may be undocumented or DACA recipients. Below are some resources for entry to graduate school and our staff members will be happy to speak with you about options. We also recommend that you reach out to the institution and program you are interested in attending for advice on how to apply.
Resources for International Students
If you are considering graduate school outside of the United States of America, we are excited to support you. However, please be aware that different educational systems may have different requirements for entry. If you wish to study abroad, please research what graduate school is like in the country of application and what requirements you will need to apply before you meet with a CCEC staff member.
You can find more information about study abroad here: