Scholarships Create a Ripple Effect of Opportunity
By Stacie Jones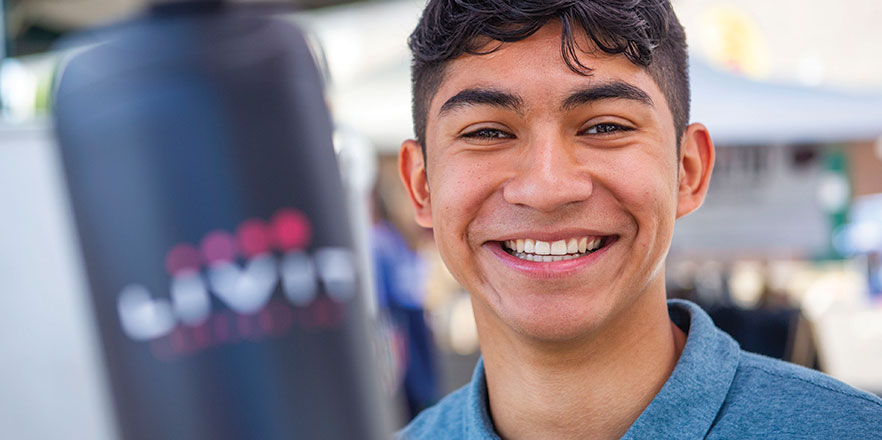 Growing up in Walla Walla, Miguel Baza '20 always admired Whitman College — it held a certain mystique.
"Whitman was kind of in its own bubble. I didn't know much about it except that it had this prestigious name and that it was a private liberal arts college rich in academics," he said. "To locals it's like the holy grail if you go to Whitman. I remember thinking that there was no way a kid like me will ever be able to go to a school like that. Just no way."
When it came time to apply for colleges, however, Baza brushed aside his doubts and took his chances on Whitman. The outcome shocked him.
"Being accepted to Whitman ... that was like — wow — I couldn't believe it," he said. "But I knew it was very expensive and that we probably wouldn't be able to afford it."
The son of immigrants who struggled financially, Baza was convinced that, even though he was admitted, Whitman remained beyond his reach. But then he was selected for the First Opportunity Scholarship, a need-based award for first-generation students, and his dreams of a college education - in his hometown to boot - materialized.
More than Me
For Baza, earning a degree isn't just about making a better future for himself. It's about something much bigger.
"I'm not at Whitman for selfish reasons; I'm here because I want to do what's best for my family," he said. "I want to get through college because I can't let down my parents and brother. I can't let down other first-generation students. I can't let down my culture."
Baza's sense of duty to succeed at Whitman likely stems from an understanding of the adversity his family endured to make an American higher education possible for him.
As a young couple, his parents came from Guerrero, Mexico, to the United States with little money and no more than a fifth-grade education.
Baza and his older brother were born in California. In search of steady work, his parents moved the family to Oregon and later settled in Walla Walla, where Baza began elementary school.
"It wasn't easy growing up in Walla Walla. I was always trying to figure out where I belonged," he said. "It was tough to relate to other kids I went to school with. It always felt like they had more. And there was a huge language barrier. I didn't really speak English until sixth grade."
His parents did their best to stay afloat financially. Baza's mother worked two jobs and was rarely home. His father, who worked as a car detailer, was depressed and turned to drugs and alcohol, becoming abusive toward the family. The mounting financial and emotional instability took a toll on Baza.
"My home life wasn't all that great. I saw and felt a lot of things that I don't wish anyone would ever see and feel," he said.
Despite the hardships, Baza managed to find the drive to create a better path for himself.
"It built a fire in my belly, a motivation that sparked in me," he said. "I had to mature at a young age and realize that I have to work twice as hard, and instead of whining and complaining about my life situations, I made it my motivation to become better."
For Baza, his betterment boiled down to one thing: excelling in school. In high school, he challenged himself with honors and Advanced Placement courses, and he enrolled in Running Start at Walla Walla Community College. He also found an outlet in sports, becoming a star athlete on his high school soccer, football, track and field, swimming and basketball teams.
"I worked really hard to get the best grades in the best classes — just so I could get into college and do something good for my family," he said. "I didn't know at the time what kind of doors would open."
Paying it Forward
Today, Baza is studying psychology with plans to become a counselor. He hopes to help kids who have childhoods that resemble his.
"I know I'm not the only kid who has gone through what I did growing up: the language barrier in school, cereal for every meal because that's all we had, long nights of crying," he said. "I want to be there for those kids and direct them on the right path to not only benefit them, but also their families."
Psychology Professor Melissa Clearfield's class on poverty and child development ignited his career aspirations.
"That class was a big spark for me. I just knew that this was it, this is what I wanted to do," he said. "I realized that I might not be able to fix poverty or have the best ideas for child development, but I can be a better person every day and help others be positive in the world instead of negative."
Clearfield said the class frequently discussed resiliency, the notion that being born into less than optimal circumstances doesn't mean a person can't succeed. This concept resonates deeply with Baza, and it's one of the reasons he wants to become a counselor.
"Miguel is incredibly bright and curious. I loved having him in my class," Clearfield said. "I think he's a great role model for kids and he'll be fantastic working with kids who are growing up in difficult circumstances."
Baza is already making a difference in young lives. He has volunteered through the Student Engagement Center's Bilingual United Program to help Spanish-speaking elementary students learn to read English. He also worked as a tutor in local schools.
"I especially enjoy working with middle school students. It's such a vulnerable age when you're just trying to figure things out," he said.
During his time at Whitman, Baza has played on the men's soccer team, helping them become the 2018 Northwest Conference co-champions. He also spent a semester studying abroad in Granada, Spain.
"Whitman has given me many great opportunities to expand my wings and discover so much about myself and what I want to do in life," he said. "Whitman helped me grow as an individual and become more professional. It helped me dive deeper into academics and explore my interests in ways I never imagined."
These life-changing experiences wouldn't have been possible for him without the First Opportunity Scholarship.
"The scholarship has been a huge blessing. It's not just helping me out, but it's also helping my family, my future family and all those kids I hope to help down the road," he said. "It's nice to know there are people out there who believe in students like me. It's an investment that's going to pay forward in many ways."