"Hamilton" Actor Shares Keys to Positivity at MLK Keynote Address
By Peter Szymczak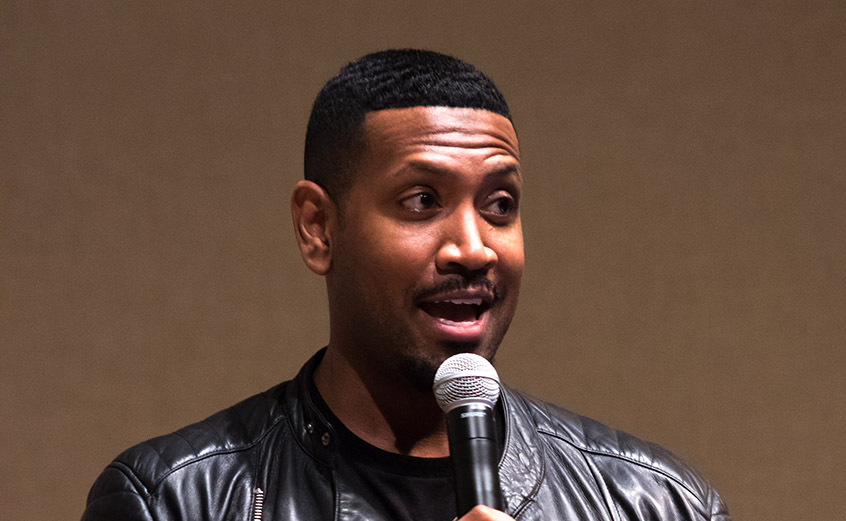 Stage and screen actor Bryan Terrell Clark auditioned seven times before landing the coveted role of George Washington in "Hamilton," the acclaimed Broadway production of Lin Manuel Miranda's hip-hop musical about the Founding Fathers.
"We as actors face more rejection than most," he said Jan. 22, 2019, during his keynote address for Whitman College's Martin Luther King Jr. Week activities.
So, how does Clark deal with the negativity as he pursues his acting dreams?
"The key to life is to not focus on the 'No' because you're always looking for the 'Yes,'" he said. "Rejection is direction."
Clark shared this and other keys to staying positive during the hourlong address. He charted his path from a challenging childhood growing up on the rough streets of Baltimore to his star-making role on Broadway.
The son of a church-going schoolteacher - "My mother believed in discipline, black excellence, culture, history and education" - and a blue collar, drug-addicted father, Clark learned important life lessons from both of his parents.
"They taught me to look at conflict not as roadblocks, but as opportunities," he said. "Instead of looking at things negatively, I learned to look at challenge as an opportunity."
Inspired by his father, who finally conquered his addiction after 22 visits to rehab, Clark overcame barriers at school. While majoring in theatre at Temple University in Philadelphia, Clark was discouraged by a teacher from trying out for more prestigious scholarships. He tried out anyway, and eventually graduated from the Yale School of Drama.
In addition to acting, Clark co-founded a clothing line in 2017 called "inDEFINED," which inspires people to use their voices to erase constrictive labels in our society, such as hate, fear and gender. The brand raises money for various charities and philanthropic organizations and supports arts education for at-risk youth.
"Passion for acting has been what's kept me moving down this road of life. My talent has been the vehicle, and purpose is my reason why. Keep moving forward," he said, paraphrasing the famous quote from Martin Luther King Jr.: "If you can't fly then run. If you can't run then walk. If you can't walk then crawl. But whatever you do, you have to keep moving forward."
Whitman celebrated the legacy of Martin Luther King Jr. with a week of activities, beginning Monday Jan. 21, 2019, with a community peace march and Freedom Songs concert. Additional events this week include a discussion facilitated by Professor Emeritus Bob Withycombe titled "Harassing the Harassers: Police Surveillance in Birmingham, 1963," as part of the Continuing the Conversation series at noon Friday in the Glover Alston Center.
For more information about the events, visit the Facebook page.
Published on Jan 24, 2019