Schaeffer confronts rain forest destruction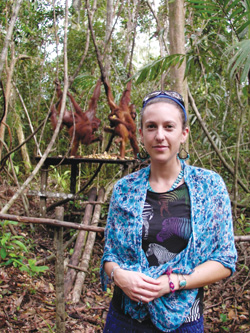 Above, Ashley Schaeffer '04 watches the orangutan feeding at the Pesalat Rehabilitation Center in Borneo's Tanjung Puting National Park. She attended the Roundtable on Sustainable Palm Oil (RSPO) meeting in Borneo. Photos: Rainforest Action Network / Ashley Schaeffer '04
Palm oil producers destroy ancient ecosystems. Ashley Schaeffer '04 doesn't take it sitting down, unless she's locked her neck to a banister.
By Edward Weinman
She has dressed up as an orangutan.
As an act of civil disobedience, Ashley Schaeffer '04 once locked herself to a banister inside the CEO's executive mansion at Cargill Inc., the largest privately owned company in the world.
The former environmental studies-politics major also got frostbite on two of her fingers when she marched on the Minneapolis Grain Exchange to issue a mock arrest warrant against Cargill.
All in a day's work for Schaeffer, a rainforest agribusiness campaigner at Rainforest Action Network.
"Ever since I went to Whitman, I wanted to do this type of work," said Schaeffer, describing herself as an activist.
Schaeffer first discovered environmental activism at Whitman during Semester in the West, an environmental studies program where students spend a semester exploring ecological, social and aesthetic dimensions of the American West.
"Semester in the West changed my life, because I was out in the field talking to real people and critically thinking about environmental issues affecting the West. I apply what I learned at Whitman every day in my job."
At RAN, Schaeffer focuses her activism on Cargill. But what does she have against a company describing itself as "an international producer and marketer of food, agricultural, financial and industrial products and services?"
Only the destruction of tropical rain forests in Indonesia and Malaysia; the displacement of indigenous peoples; and driving species like orangutans to the brink of extinction all in the name of producing palm oil.
"Palm oil is a symptom of our broken food system," said Schaeffer, referring to the consumption of heavily refined and processed foods that have helped spawn epidemic rates of heart disease, diabetes and some cancers in the U.S.
"We're eating these packaged foods that aren't good for us. We need to read labels and consider not buying products containing palm oil," Schaeffer said.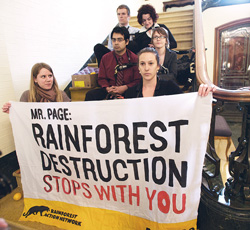 Left, Rain Forest Action Network activists, including Ashley (bottom, holding sign), occupied the executive offices of the nation's largest private agribusiness company, Cargill. The activists locked themselves to the staircase for more than two hours.
It's virtually impossible to avoid palm oil. The food we eat is laced with it, from breakfast cereal to baked goods to candy and baby food. It's concentrated in nonfood items like shampoo, soap, candles and lipstick. Roughly 50 percent of all products lining the shelves of grocery stores contain palm oil, according to RAN.
The palm oil industry is worth hundreds of millions of dollars. Cargill trades 25 percent of the world's supply, and 85 percent of the world's supply comes from Indonesia and Malaysia.
Palm oil is rich in antioxidants, increases good HDLs and lacks trans-fats. Its proponents say its health benefits are equal to olive oil.
The production of palm oil, however, degrades the environment and violates human rights, Schaeffer said.
"We're seeing millions of-years-old forests cleared to make way for palm oil plantations. This is problematic for climate change and causes habitat loss for key species. Plus, the U.S. Department of Labor has included palm oil cultivated in Indonesia and Malaysia on its red list of products coming from slave and/or child labor."
Chaining yourself to a banister may draw media attention to the cause in a cinematic way. However, the activism of Schaeffer and her RAN colleagues is slowly forcing the behemoth corporation to change some of its business practices.
Cargill has become a member of the Roundtable of Sustainable Palm Oil, an international organization setting standards and practices for sustainability in the palm oil business.
"I've been placed on this planet to do this work. I have an obligation to do it," Schaeffer said. "The small victories make it all worth it."