Celebration planned for Prof. Nancy Simon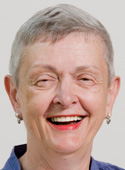 Nancy Simon '63, Garrett Professor of Dramatic Art, is retiring next year after five decades of teaching at Whitman College.
In honor of Simon's work and dedication to the college, Whitman alumni Aaron Blank '01 and Lezlie Cross '02 are hosting an event at Harper Joy Theatre during the Fall Reunion Weekend, Sept. 28-30, 2012.
Simon will attend the celebration, and photos of her productions will be displayed. Also, Blank and Cross have compiled a memory book for Simon, with contributions from colleagues and former students.
"She taught us to work hard and deliver art that was a test of our abilities, taking us above and beyond our comfort zones and limits," Blank said. "We want to honor the gift she gave to us – with hugely generous portions of humanity, kindness and humor."