Electric Vehicle Charging
Section Navigation
Office of Sustainability
Physical Plant
804 Penrose Ave
Walla Walla, WA 99362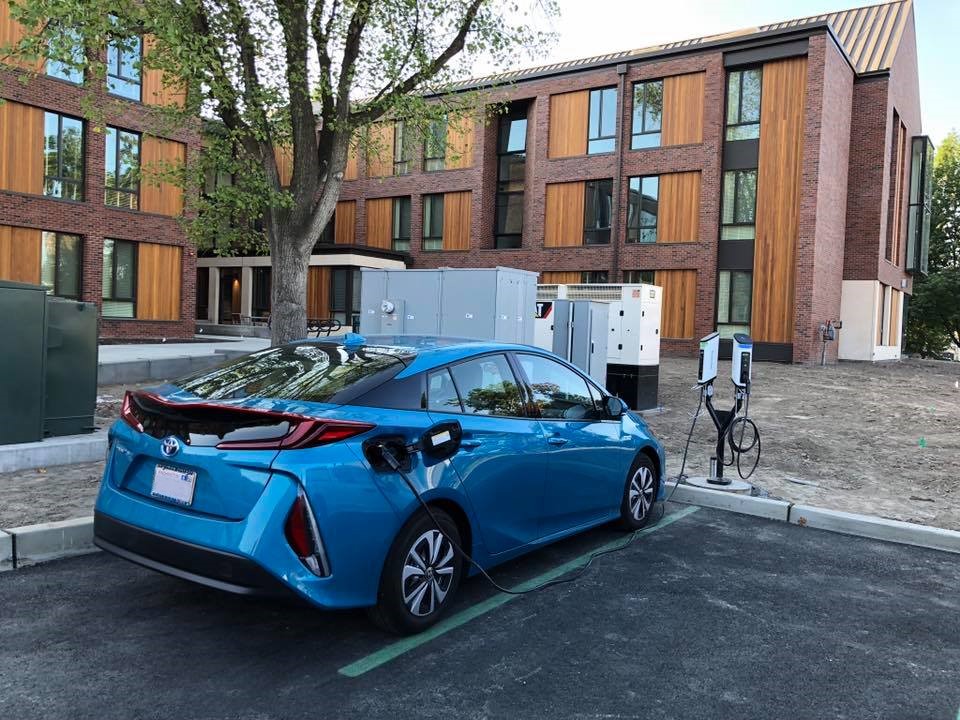 In Fall of 2018 Whitman College established our first electric vehicle charging stations in line with our carbon neutrality plan. These stations are partially fed by power generated by solar panels at Stanton Hall.
About the Charging Stations:
The SemaConnect charging stations are located at 147 S. Park St., Walla Walla, WA 99362. These stations are located in the parking lot next to Stanton Hall and the Hall of Music. There are two, type 2 stations with a J1772 hookup. There is a parking fee of $0.35 per hour required to utilize the stations. In order to start charging please follow the instructions below.
Ways to Start Charging:
In order to utilize the SemaConnect charging stations located at Stanton Hall you must utilize one of these methods:
SemaConnect app on your smartphone Search for "SemaConnect" in the Apple and Google Play Store
Pay with PlugShare and ChargeHub Download the PlugShare or ChargeHub apps, find our charging stations, and start charging directly through their app.
Network.semaconnect.com Open any mobile browser and go to network.semaconnect.com. Follow the prompts to begin charging.
Call 1-800-663-5633 Call 24/7/365 and follow the prompts to start charging by phone.
SemaConnect Pass Wave your card in front of our charging stations to start charging
For more information about Semaconnect please go to: www.semaconnect.com
Charging Station Rules:
Please note that "it is a parking infraction, with a monetary penalty of one-hundred twenty-four dollars, for any person to park a vehicle in an electric vehicle charging station provided on public or private property if the vehicle is not connected to charging equipment." RCW 46.08.185
Additional Parking:
Adjacent to our charging stations there is a parking space reserved for low emission vehicles.
If you have Questions, Comments, or Concerns please call 509-527-5999. If you have an issue with establishing a charging session please contact Semaconnect. If you have any other issues outside of normal office hours please call Whitman Security at 509-527-5777.