Bike Share
Section Navigation
Office of Sustainability
Physical Plant
804 Penrose Ave
Walla Walla, WA 99362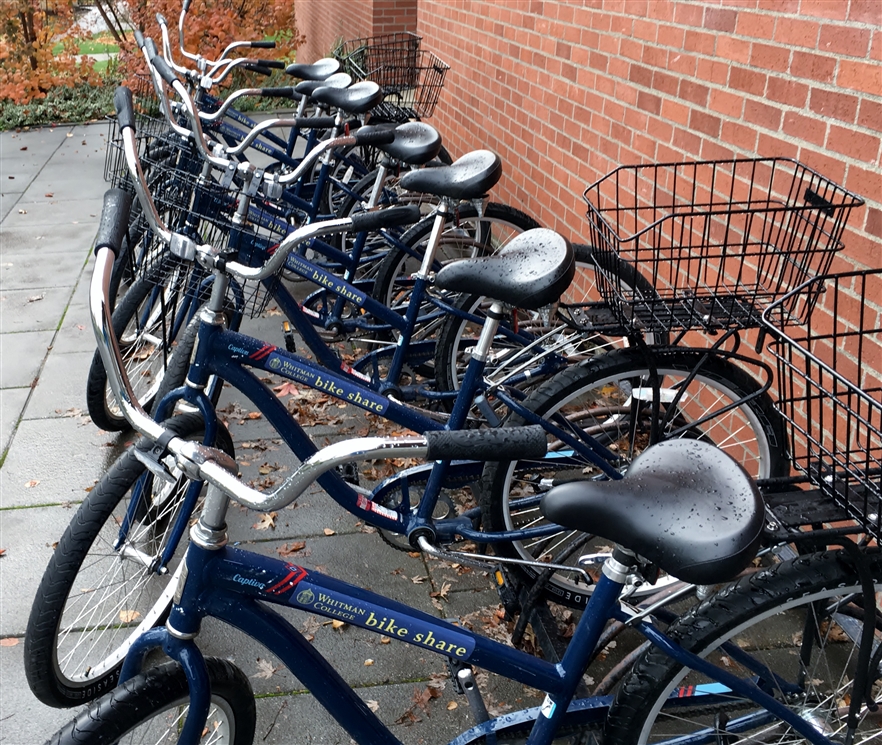 The Whitman College Bike Share Program was established as a student-led pilot program in the spring of 2012 by the Campus Climate Coalition. This initial program allowed students to check out a bike to do errands, get some exercise, or take a leisurely ride in the wheat fields. In Fall of 2016 with the help of the ASWC, OELF, the Outdoor Program, and Campus Security the campus Bike Share transitioned to the Office of Sustainability. In order to transition the pilot program into a fully functional campus Bike Share the Outdoor Environmental Leadership Fund provided a grant in 2016 for the purchase of 8 Captiva Cruiser Bicycles with baskets.
Currently, there are 8 Bike Share bikes available to check out for free. The program is coordinated through the Office of Sustainability and bikes are maintained by the office's Bike Share Assistant. Students, faculty, and staff can check out the bikes from the Penrose Library circulation desk 24 hours a day. It works a lot like a book, except with gears! Helmets and lights are also available for checkout; we want people to be safe while they're having a blast.
We are always eager for donations to keep the Bike Share program running! In other words, let's keep Whitman cycling!