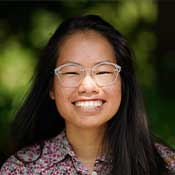 345 Boyer Avenue

509-527-5176
California (Far Northern CA, Marin, San Francisco)
Delaware
District of Columbia
Iowa
Indiana
Kansas
Missouri
Maryland
North Dakota
South Dakota
Washington (Peninsula - Southwest)
Virginia
West Virginia
Education: B.A. Whitman College, Neuroscience
Hometown: South Bend, Indiana
What I love about Whitman: The community. As a student at Whitman, I always found myself among a supportive community of peers, faculty, staff, and administrators alike. In any endeavor I pursued, from ensuring the marketing materials for the Outdoor Program highlighted the program's accessibility to advocating for higher education access for students with disabilties, I knew I had the support of my Whitman community. Both in and out of the classroom (and now, the office), I have been surrounded by fellow Whitties who share my penchant for adventure and passion for justice.
Why I enjoy working in Admission: When I began my college search, a small liberal arts college wasn't something I seriously considered; certainly not one that was 2,000 miles away from what I then called home. Whitman was the only liberal arts college I had applied to, and I did so on a whim. Four years and a B.A. later, I'm still here. I love to meet and connect with prospective students to learn about their interests and passions and to share my love of the liberal arts. I enjoy being a resource to help you find the right fit for your college experience, guide you through the admission process, answer questions, and to advocate for you.
Favorite activities in Walla Walla: Some of my favorite activities in Walla Walla revolve around food. Saturday mornings start downtown at the Walla Walla Farmer's Market. With a basket full of fresh fruits and veggies, I'm off to nearby Bennington lake for a mid-day picnic and walk. An evening on the town for me usually looks like a large order of "Tacos Al Pastor" from the Happy Wanderer, a scoop of hand-made chocolate ice cream from the Pine Cone Creamery, and a cool evening walk around downtown.
My favorite place on campus: Reid Campus Center. In the early mornings, Reid is a quiet place to study, catch up on emails, and soak in the morning light. By mid-day Reid is the hub for social life on campus. And in the evenings, Reid Market is my go-to for study breaks, snacks, and soft-serve ice cream.
Fun fact(s) about me: I'm a huge fan of puzzles. I'm much slower now, but I was able to solve a 3x3x3 Rubik's cube in 32 seconds in middle school.