Whitman Receives $1.5 Million Alumni Gift for Scholarships & Aid
Gordon '68 and Kathy Britt Keane '67 increase their generous support of the college and future Whitties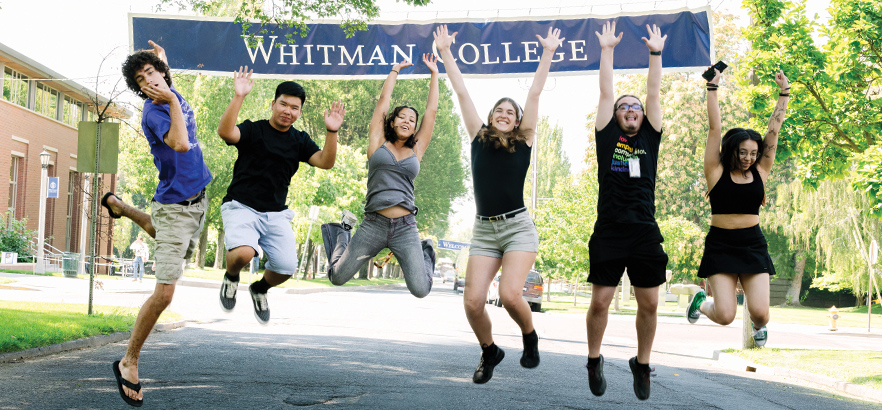 Whitman College received a gift of $1.5 million for student scholarships and aid from Gordon '68 and Kathy Britt Keane '67 to support the recently launched Upward Together campaign.
"We are deeply grateful to Gordon and Kathy Keane for their stalwart loyalty and exceptional generosity for Whitman College and our students," says President Sarah Bolton. "This wonderful gift helps us move ever closer to our campaign objective of meeting the full financial need of all students."
Whitman announced a $200 million goal for the Upward Together campaign earlier this month on its Walla Walla campus. To date, more than $50 million has already been raised to endow scholarships and aid—making a high-quality Whitman liberal arts education accessible to more talented students.
"This is just what we're supposed to do," says Gordon Keane, who is also a member of the college's Board of Trustees. "Kathy and I feel a responsibility to help make the opportunities of a Whitman education available to current and future generations of young people. And we're inspired by the Weingart gift and by so many others who are stepping up."
A $10 million gift announced in May 2022 from the late emeritus professor of history J. Walter "Walt" Weingart and Kathie Weingart enabled the college to begin meeting the full financial need of all Washington state students beginning with new students in the fall of 2023. The Upward Together campaign aims to extend this promise to all students.
This most recent gift from Gordon and Kathy Keane brings their total Upward Together campaign commitments to $5 million, building on earlier gifts to the Keane Family Endowed Scholarship, which provides support for students from Oregon and California, as well as Harvey Hall and The Whitman Fund.
Making a Difference for Current Students
"Receiving this scholarship means more to me than anyone will ever realize," says Garrett Runyan '24, a Keane Scholar and senior economics major from Huntington Beach, California. "It gives me the opportunity to pursue my dreams and have a memorable experience while doing so. I am very thankful to the Keanes … and hope to one day pass this generosity forward!"
Kathy Britt Keane graduated from Whitman in 1967 with a major in English and Gordon graduated the following year in 1968 with a major in mathematics. The Keanes are the co-owners of Portland-based Digital Vision, Inc. Gordon has served on the Board of Trustees since 2017 and was previously a member of the Board of Overseers (now the President's Advisory Board) beginning in 2002.
Published on Oct 26, 2023