Whitman College Announces Upward Together Campaign
A $200 million goal focuses on the needs of current and future generations of Whitman students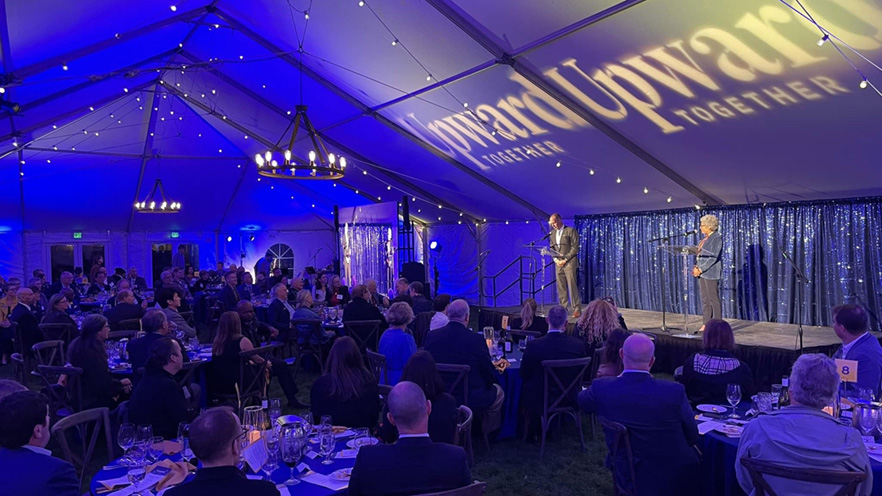 Whitman College has announced the largest comprehensive fundraising campaign in its 164-year history. The goal for Upward Together: The Campaign for Whitman College is $200 million.
"Whitman has always been known as a place of community, care and collective action," said campaign Chair Nancy Serrurier, the parent of a 2011 Whitman graduate, at the event celebrating the launch. "Successfully completing this ambitious campaign will meaningfully transform how Whitman students live and learn and prepare for lives of success and purpose."
The Whitman Campaign Launches on Campus
On the evening of Oct. 12, 2023, alumni and friends from across the country joined students, faculty and staff on Ankeny Field in the heart of the College's campus to celebrate the launch of the campaign, which includes a goal of becoming one of a small group of colleges that meet the full financial need of all students.
"The world is changing extraordinarily fast—societally, technologically, economically," said Whitman President Sarah Bolton. "We have been thinking together about the ways we need to evolve and invest, so that students now and in generations to come can expand their horizons and prepare for their futures at Whitman."
6 Priorities for Upward Together
President Bolton spoke to the crowd about the vision for Whitman's future after the campaign and shared a video (see below) introducing Upward Together. Campaign Chair Nancy Serrurier and Vice Chair Aaron Perrine then took the stage to outline the bold priorities:
Access and Affordability: A bold pledge to meet the full financial need of all Whitman students—opening our doors wider to the most talented, motivated and deserving.
Academic Excellence and Distinction: A commitment to advancing academic programs, student-faculty research and experiential learning that will inspire students to choose Whitman and prepare them for great futures.
Vibrant Campus Community: A historic investment in residential life, community-building, wellness and athletics to ensure that students connect and flourish.
Advancing Diversity, Equity and Inclusion: A dedicated focus on programs that foster diversity, inclusion and belonging so that all members of our community thrive.
Strong Graduate Launches for All Students: A heightened effort to help students explore careers, find their passions and create opportunities for post-graduate success and impact.
The Whitman Fund: Collective annual giving to help meet our students' immediate needs.
Delivering on Big Goals for Generations of Whitties
While Upward Together publicly launched this week, more than $138 million is already raised— thanks to more than 13,500 donors. Serrurier and Perrine took a moment to celebrate the success of the campaign so far, including more than $50 million in gifts for scholarships and aid and $15 million toward building a junior-senior residential village for a vibrant community of connection and support for students.
"That sense of accomplishment, that feeling of having delivered on big goals for our future students—those are the moments and those are the impacts we will create and deliver with this campaign," said Perrine.
Additional gifts include $10 million from Kathie Weingart and the late emeritus professor Walt Weingart for need-based financial aid enabling Whitman College to begin meeting the full financial need of all Washington state first-year students. Nancy and Greg Serrurier (Parents '11) provided a $5 million gift to strengthen Whitman's Career and Community Engagement Center, including funding career coaching staff and internships to enhance students' preparation for successful and meaningful graduate outcomes.
Whitman has also seen nearly $18 million in gifts and pledges for faculty support, academic programs and student-faculty research.
"Faculty at Whitman have always been dedicated to creating a transformative experience for students," said Sharon Alker, the Mary A. Denny Professor of English and General Studies, who serves as a faculty representative on the campaign committee.
"Investments in the academic program from the campaign will assist us to sustain and strengthen vital existing programs and to build powerful new programs so that students will carry the transformative intellectual impact of a Whitman education into the world. We are also excited at being able to extend the reach of that experience to a broader range of students," Alker said.
Alker joined fellow members of the campaign committee at the Thursday evening launch event including President Bolton, Chair of the Whitman College Board of Trustees Joe Davis '80, former board Chair John Stanton '77, Trustee Gordon Keane '68, Trustee Charley Rosenberry '81, Trustee Drew Shoals '05 and Trustee Jonathan Sposato '89.
Students and young alumni were also part of the program and spoke about the profound effect their Whitman education has had on them.
"My time at Whitman was transformative—since the moment I walked onto Ankeny field as an anxious 19-year-old," said Klaudia Kyjovska '22. "I learned from the best professors across several departments, captained the soccer team and built relationships that will last a lifetime. Now at work, I'm surrounded by Whitties helping others build businesses—I hope to build one myself some day."
Going Upward: Collaborative and Collective Effort
The theme of the campaign—Upward Together—references the collective effort to rise to meet the needs of the talented students of today as well as the rapidly changing needs of tomorrow's students. It's also a nod to one of the core attributes that connects students of today to alumni for generations—the collaborative nature and sense of community that is so strong at Whitman.
"Our campaign name reflects our shared aspirations, and the ways this campaign will elevate the heart of our mission, a mission that has been carried by a strong community across generations and that is felt in the bonds among students and colleagues today," said President Bolton.
Upward Together is just Whitman's second major campaign launch in the last forty years and the first in memory to kickoff on campus in Walla Walla. The campus campaign launch will be followed by regional event celebrations at T-Mobile Park in Seattle and in San Francisco, Portland, Pasadena (Southern California), Denver, New York and Washington D.C. Learn more and register for a regional campaign event.
Campaign Chair Serrurier ended the evening with a call to action for attendees, alumni, parents and friends.
"With this campaign, we create our legacy," Serruier said. "Now we, together, will write the story of the next volume of Whitman's history. We stand with those college leaders who have come before us, and we take another ambitious step forward, with new leaders, in service of a new generation of students."
To make a donation and learn more about the campaign, visit whitman.edu/upwardtogether.
Photography by Kim Fetrow '96 of Kim Fetrow Photography
Published on Oct 13, 2023