Seeing Stories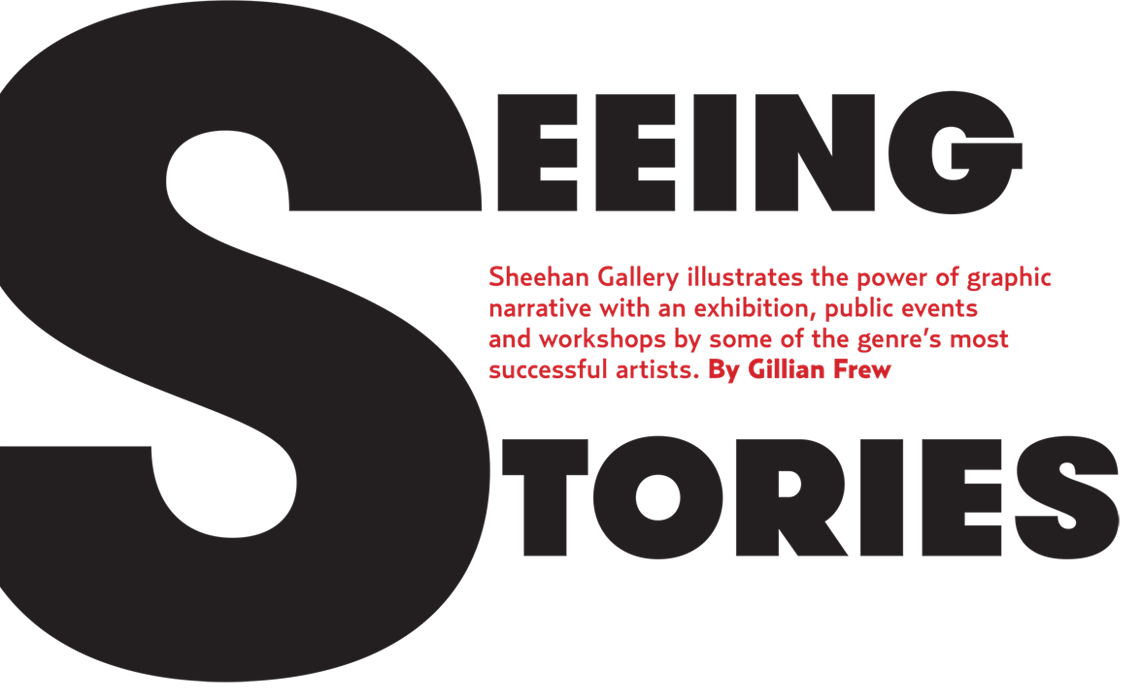 Sheehan Gallery illustrates the power of graphic narrative with an exhibition, public events and workshops by some of the genre's most successful artists. By Gillian Frew
Comics is one of the few literary mediums that's not only growing, but it's taking everyone along with it.
These are the words artist Jason Rodriguez used to describe why he's drawn to graphic storytelling in general, and comics in particular. His work was among that of more than 25 artists showcased in a groundbreaking exhibition at Whitman's Sheehan Gallery, Seeing Stories: Traversing the Graphic Narrative.
Several years in the making, the three-month long installation set new attendance records this past fall and involved students and faculty members from nine different academic departments. Sheehan Director Daniel Forbes and Exhibitions and Collections Manager Kynde Kiefel worked with faculty curators Robert Sickels, professor of film and media studies, and Sarah Hurlburt, associate professor of French, to create an immersive space for visitors.
"With these giant versions of the featured texts, spaces you could literally and figuratively step inside of, we wanted to reproduce that hypnotic state you fall into when simultaneously reading and looking at a story, until you're in a kind of trance," Kiefel said.
The interdisciplinary series also included public lectures, on-campus workshops and a drawing concert dubbed "Jazz Hands: Live Jazz Meets Live Drawing," in which the audience experienced firsthand the creation of a comic strip, set to music. Funding for visiting educators was provided by the Ashton J. and Virginia Graham O'Donnell Endowment in Global Studies and Mabel Groseclose Endowed Lecture Fund.
"I asked everyone questions about their work history," said art major Kelsey Lund '15, who met with Rodriguez and cartoonist Joe Sacco. "How did you start drawing comics? Where do you want to go next? And process—what size do you work in? What's your drafting like? Do you script first or just dive into drawing?"
In his comics workshop, Rodriguez taught students about sequencing by asking them to collaborate on a spread about astronauts journeying into other space, then slowly eliminate panels until only a single frame remained.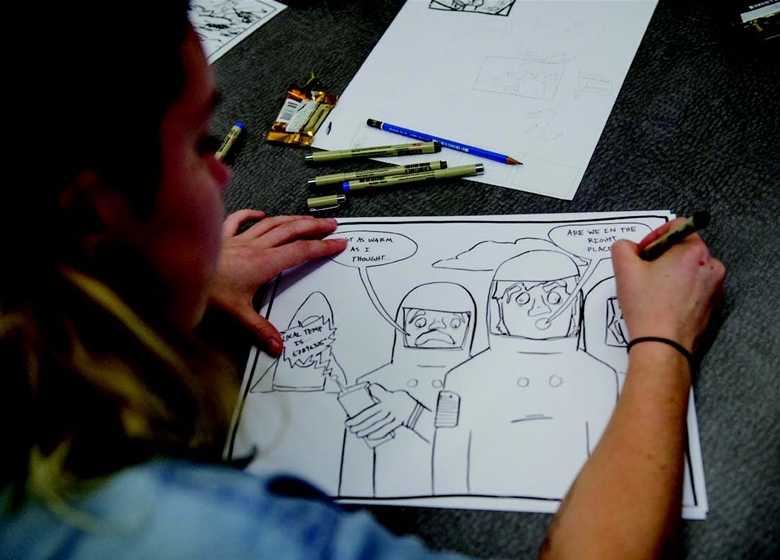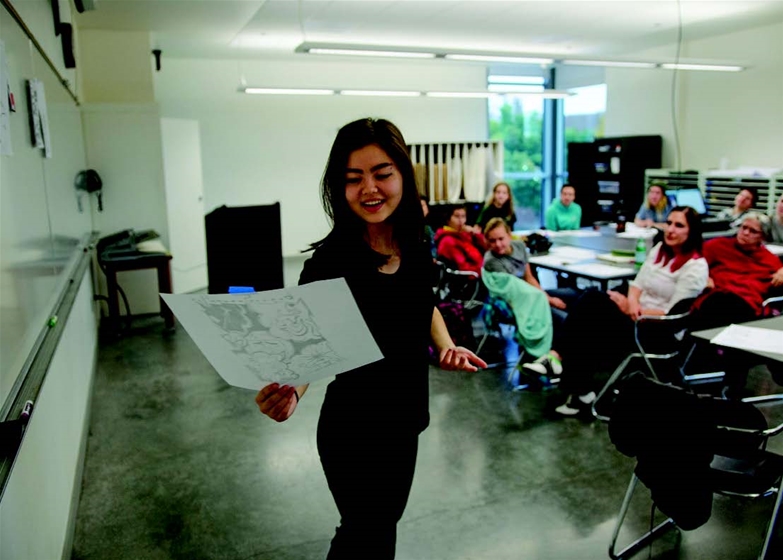 "People are taking risks in comics these days, telling stories about personal struggles, injustices and unconventional histories," he said. "We're seeing more and more work published by women and people of color that tell stories beyond two guys in tights fighting each other. And they're being enjoyed by a wider audience—the marriage of text and art builds critical comprehension skills while also having a coolness to it that makes kids more likely to pack a comic book in their school bag."
Fittingly, then, Seeing Stories attracted not just Whitman crowds, but throngs of local primary and secondary schoolers, along with an array of students from nearby colleges and universities.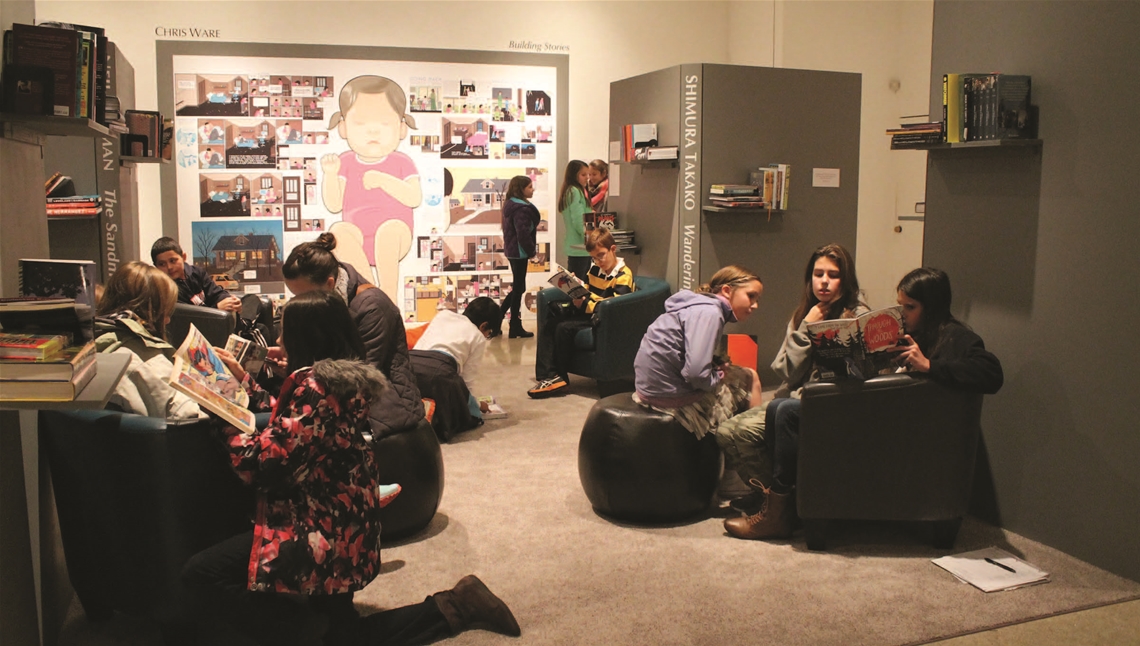 "All that youthful energy made the space feel so vital," said Forbes. "Never have so many children of all ages attended one of our exhibitions, as well as the lectures and drawing concert."
Kiefel added that Sickels' superhero corner won for "most selfies taken" in the gallery and "brought out a palpable joy in a large variety of visitors, from electricians to academics to elementary school kids."
Childhood and the outsize influence of memory on imagination were recurrent themes for many of the graphic novels in the show, from Eighth Grade by illustrator Sam Alden '12 to the works of more prominent names like Craig Thompson and Alison Bechdel. Thompson's Eisner Award-winning autobiographical tale Blankets grapples with the author's coming of age in a repressive, religious household where comics were a reprieve. For Bechdel, whose surname serves as a popular threshold by which to judge gender parity in media ("passing the Bechdel Test"), the impulse to express herself through comics also began in early childhood.
"I grew up in a house where there were secrets and where appearances were extremely important," said Bechdel, who is best known for her 1983 to 2008 comic Dykes to Watch Out For. "I was used to this sense that there was something going on that I didn't understand, that there was a disjuncture between appearance and reality. Things didn't quite line up, and I really wanted them to line up. But what I found as I went along through life is that nothing ever really lines up. The slippage is everywhere, and even when you try to tell the exact truth, you can't, because life itself has a slippery relationship to reality."
Bechdel mined her formative years, especially her relationship with her father, in writing her graphic memoir Fun Home. She said growing up with such unease about that line between appearance and reality is in part what led her to become a cartoonist.
"I feel like I sussed on some level that if language was unreliable and appearances were deceiving, then maybe somehow I could triangulate between those two modes to get a little closer to the truth."
Another aspect of comics that appealed to her? "Cartoons were considered lowbrow. They were accessible and populist," she said, echoing Rodriguez.
"There's an old saying that cartooning is a field for people who are mediocre artists and mediocre writers. And I'd say in my case those things are pretty much true. But what this maxim fails to take into account is that writing and drawing together—telling stories visually— is a third thing, and it's another form altogether."
Read more about Seeing Stories