Ringing in a New Year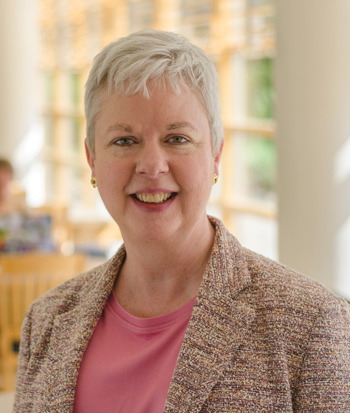 I am writing this column from a little cabin in the snowy pine forest of northeastern Wisconsin. It is New Year's Eve, which seems like a fitting time to reflect on my first six months as Whitman's president and to look ahead to 2016. Since July 1, I have had the privilege of meeting with alumni, governing board members, parents and friends in 11 cities across the country. At Sherwood House, I have hosted six faculty gatherings, where I have had a chance to begin to get to know faculty members and hear about what excites and concerns them. I have met with staff members in their individual departments, and we have talked about all the ways in which their work supports student learning. I spent an evening with the ASWC Senate, providing them with an update and answering their questions on a wide variety of topics. More informally, I have enjoyed engaging in the life of Whitman at theater and music events, athletic events and via spontaneous conversations on the sidewalks and in the hallways around campus.
I am very pleased that, starting this summer, I will be able to work in partnership with Dr. Alzada Tipton, our newly appointed provost and dean of the faculty. You can read more about Dr. Tipton's background in the Campus News section of this magazine. Let me just say that she excelled during every stage of the search and interview process, and she earned widespread approval from the college community. She brings a wealth of experience to the position, which I am confident will serve us very well as we launch our strategic planning process and strive to move Whitman forward. Until that time, I am pleased to have Pat Spencer's experience and expertise in the position; Pat will return to a senior position in the geology department after this year, but his work as interim provost over the past two years has been instrumental to the college's progress.
Our strategic planning process is moving forward. I have engaged Susan Resneck Pierce, president of SRP Consulting, LLC, and president emerita of the University of Puget Sound, to assist us as a consultant. She will join our governing boards for their February meetings, visit campus to meet with various constituent groups over the course of the spring semester, be part of a retreat involving the Board of Trustees and faculty and staff leadership in June, and then join in a campus-wide discussion over the course of the 2016-17 academic year.
Diversity, in all of its forms, will be one focus of our planning work. I have listened this fall as Whitman students, faculty and staff members have shared their concerns about issues of diversity. We need to continue and redouble our efforts to make Whitman a welcoming and inclusive community that engages and embraces all students. Along that line and in response to emphatic interest expressed by a large number of students as well as some others, I have appointed a mascot working group to study the issue of whether or not the Fighting Missionary mascot/nickname is appropriate for Whitman today. Chaired by Tricia Putnam Montgomery '90, a member of our Board of Overseers, this group is gathering input from the broader Whitman community and will make a recommendation to me this spring. The results of a survey of alumni, faculty, staff, students and W Club members will inform that group's deliberations and recommendation. The survey will be released in early February.
Thanks to the work of last year's Residence Life Working Group, we are preparing a bold plan to build an even stronger sense of community on campus. Our Living at Whitman Initiative is focused on developing new housing and dining options for our students. It has been 45 years since a new residence hall has been built and the student population has grown from roughly 1,100 to 1,500. Our dining facilities are also in need of modernization and re-orientation so that they bring students together more often outside the classroom. I am convinced that this is the next right building project for Whitman.
The year ahead is looking very bright. By the time you read this, the days will be getting longer and, hopefully, the temperatures will be on the rise. I love the sense of renewal that spring brings each year and look forward to my first spring in Walla Walla and at Whitman.