The Wolf Returns
In Their Words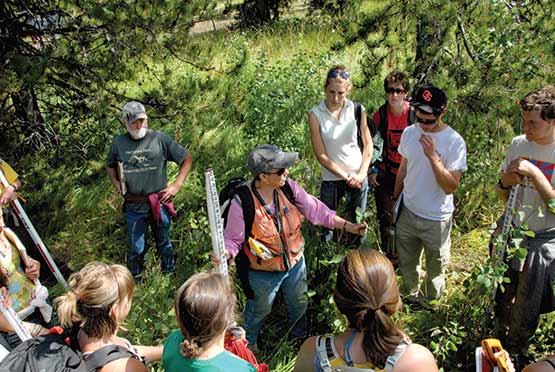 Suzanne Fouty, a hydrologist with the U.S. Forest Service, in orange vest, talks to 2010 Semester in the West students at a young aspen stand in the Wallowa-Whitman National Forest. Behind Fouty to the left is wolf activist Wally Sykes.
By Phil Brick, Miles C. Moore Professor of Politics, Director of Environmental Studies
Deep in the night and somewhere below our 2010 Semester in the West camp near Salt Creek Summit in northeastern Oregon, wolves gather and howl. As I lie alone in the open, I can tell the pack is still quite far away, but it's no less unsettling considering I have 21 students in my care. The howls grow louder, nearer, then only silence and darkness. Such situations call for decisive action.
I pull my sleeping bag over my head and go back to sleep.
If there is a readily available testament to the value of field-based education, these podcasts might be it. Whereas most public discussions about the wolf's return seem to gravitate toward polar extremes, the podcasts communicate humility, a search for common ground, and an embrace of complexity and paradox.
The gray wolf, however, won't be so easily ignored. Since their reintroduction in 1995 to central Idaho and Yellowstone National Park, wolves have spread out like spokes on a wagon wheel, one animal arriving in northeastern Oregon as early as 1999. Northeastern Oregon now boasts two breeding colonies, the Wenaha and Imnaha packs, and offshoots from these packs have been documented in the Mill Creek watershed, the source of Walla Walla's drinking water. The wolves are back, a remarkable and rare endangered species recovery story. But with this success has come a politics of resentment not seen since the highly polarized spotted owl/ancient forest controversy of the 1990s.
Through 10 years of Semester in the West trips, we've consistently placed ourselves in the middle of highly polarized and symbolic political struggles like the owl and wolf. The goal is not to take sides, but rather to merge coursework in ecology, politics and writing to explore the deeper contours of such conflicts. With the West as our classroom, we're on the road, looking not for answers, but for an epiphany or two.
Perhaps the most famous epiphany in conservation history also involved the wolf. As a young forest ranger in New Mexico, Aldo Leopold shot a wolf and approached it as it lay dying. He recounted his experience in an essay later published in A Sand County Almanac, "Thinking Like a Mountain:" "We reached the old wolf in time to watch a fierce green fire dying in her eyes. I realized then, and I have known ever since, that there was something new to me in those eyes — something known only to her and to the mountain."
Today we are in the field with Forest Service hydrologist Suzanne Fouty, about a hundred miles west of our Salt Creek Summit camp. Suzanne's energy and charisma seems to put Leopold's "thinking like a mountain" into motion. We gather at the edge of Gimlet Creek, now dry, deeply incised and utterly lifeless.
"This stream used to run year-round, now look at it, totally depressing. But we can get streams like this one back, and with climate change coming, we'll need places like this to provide cool, late-season water to increasingly thirsty farms and cities," Fouty said.
Listen to Semester in the West student podcasts

To listen to student podcasts from the 2010-11 Semester in the West program, visit National Public Lands Radio. The author would like to acknowledge Sarah Koenigsberg '02, SITW '02, for her remarkable work with students on their podcasts.
To restore this steam, she explains, we will need three things: beaver, willow and wolves. Beaver, nature's great engineers, will gladly re-inhabit and restore this waterway and floodplain, but they will need willow to eat and to build their dams. Even if we excluded domestic livestock, Suzanne explains, the willow won't recover unless a top predator is present to keep elk from lingering in and over-browsing riparian areas. Studies in Yellowstone National Park show the wolf may indeed be forcing ungulates — hooved animals — to behave differently, with cascading effects on vegetation and many other species, including beaver.
Could this be what Leopold meant by "thinking like a mountain?" Certainly, glimpsing the complexity and interconnectedness of natural systems is essential, but Leopold had a much bigger mountain in mind. In his later writings, Leopold made it clear that human interests, particularly those of rural farmers and ranchers, are integral to any coherent, landscape-scale conservation vision. Back at our Salt Creek Summit camp, a group of ranchers with the Wallowa County Stockgrowers Association has come out to explain why they strongly oppose the wolf's return. Frustrated and angry, the stockmen tell us how wolves have created havoc in their operations and economic losses they can ill afford. The wolf, they explain, must be seen in the context of a long list of economic and social forces that threaten rural, agrarian communities with extinction.
Initially, the ranchers were wary and perhaps even a little hostile. They posed questions that seemed to bait the students into responses that would produce more heat than light. Students didn't take the bait, but instead began asking probing but respectful questions. The stockmen seemed almost surprised that a group of young college students were genuinely interested in exploring their point of view. Similarly, students were surprised by how little they knew about agriculture and rural life-ways, and the paradoxes one might have to embrace if wolves and people are to co-exist in close proximity. As one rancher told us, "if you want to live with wolves, you have to kill wolves, it is as simple as that. I say that because I have profound respect for the wolf, it is an amazing animal and I want to see it survive."
After our season in the field, each "Westie" is required to create and produce a podcast, an NPR-style dispatch, incorporating voices encountered in the field into a widely accessible narrative. Several students chose to do their podcast projects on the wolf. If there is a readily available testament to the value of field-based education, these podcasts might be it. Whereas most public discussions about the wolf's return seem to gravitate toward polar extremes, the podcasts communicate humility, a search for common ground, and an embrace of complexity and paradox. After the program finished in December, we put the podcasts up on our website, and I invited Holly Akenson, a wolf biologist in Wallowa County who helped organize our meetings with the stockmen, to listen to them. She called me right back. Would the students be interested in coming down for another meeting in February with the stockmen, who would like to listen to the podcasts and discuss them?
Although the wolf issue remains divisive in Wallowa County, new conversations are forming that acknowledge both the ecological importance of the wolf and local concerns about living in such close proximity to them. As I write this, another group of Whitman students with our new Whitman in the Wallowas summer program will soon visit the stockmen to continue the conversation on the wolf. Ranchers Todd and Angie Nash have invited students to participate in cattle branding and a Rocky Mountain Oyster feed. Times like this call for decisive action. I look forward to listening in on the wolf conversations, but I'm now officially vegetarian.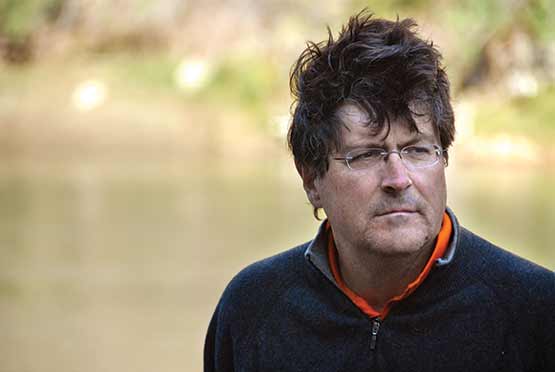 About the author: Phil Brick earned a bachelor's degree in government at Lawrence University, and a master's degree and doctorate in political science at the University of California, Berkeley. He joined the Whitman faculty in 1990. With a grant from the Andrew Mellon Foundation, Brick launched Semester in the West in 2002. SITW ventures out in the field every other fall semester and remains an environmental studies field program unique to Whitman.