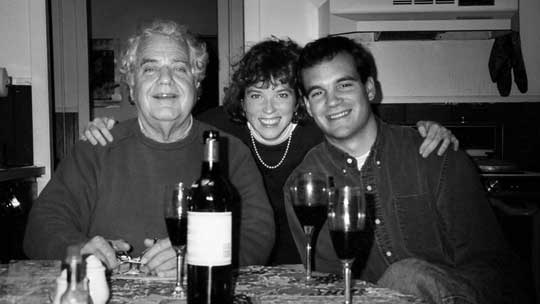 Professor David Stevens '47 visited Nancy and Rob Hinnen '91 when they were in law school in Cambridge, Mass., in 1993.
Hinnen gift stretches student experience, honors David Stevens
Rob Hinnen '91 remembers many standard deviations, so to speak, about his economics professor, mentor and friend, the late David Stevens '47, who taught at Whitman College for nearly 50 years.
There was Stevens' gastronomic invention — hamburgers paired with Moët & Chandon — and his Thorstein Veblen Wine Room of "Conspicuous Consumption" that housed his wine and music collections. There were his anecdotes about "the strange parade of characters," including Veblen, who formulated economic theories for the ages. Most of all, there was Stevens' insistence that his students stretch their thinking, in the classroom and throughout their daily lives.
It's important to carry forward the tradition of extending ourselves — to stretch financially so that the college will grow academically.
— Rob Hinnen '91
"David wouldn't let you settle for anything less than your fullest potential," said Hinnen. "He wanted you to think deeply, critically, about everything. He was impatient with intellectual idleness."
Just as Stevens encouraged expansive thinking at every turn, Hinnen believes it is crucial for Whitman's alumni to extend themselves through donations to the college for "the advancement of learning that David insisted on."
"My experience at Whitman, especially through David, is with me from the decisions I make at work to my choice of food and wine at night," said Hinnen, now senior managing director of Trammell Crow Residential, the largest apartment development firm in the country. "It's important to carry forward the tradition of extending ourselves — to stretch financially so that the college will grow academically."
For the past three years Hinnen and his wife, Nancy, gave to the David Stevens Scholarship Endowment for economics students. This year they've expanded their philanthropy, pledging a major gift to the David Stevens Internship Endowment established in 2007 by overseer emeritus Robert Young '55. The Hinnens hope other alumni will follow suit.
To date, nearly $900,000 has been raised through gifts from friends and students of Stevens as well as dozens of parents of Whitman students. (See Parents Fund summary, Page 44.) The endowment provides Whitman with its first permanent source of funds for student internships.
Hinnen, a member of the alumni board for three years, was an economics major, student academic adviser and Beta Theta Pi fraternity member at Whitman. He earned a law degree from Harvard University before turning his attention again to business, choosing a field in which generalists thrive in large part because of what Stevens and other professors conveyed in his classrooms at Whitman.
"The college prepared us to handle many issues comfortably," said Hinnen. "The faculty created a whole life sense of learning, and David served as the intellectual conscience for many people whom he mentored, guided and befriended. As alumni, we need to give to Whitman so that future students can enjoy the rich, personal education that we did."