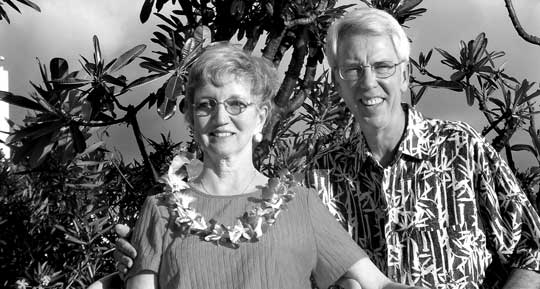 Estate plan endows excellence in teaching
When longtime overseer Darrell Baggs '67 created the Frances Jane Ford Baggs Scholarship Endowment at Whitman almost 20 years ago, the gift honored his late mother and her encouragement to him to pursue a college education, an opportunity that she never had.
Darrell's most recent commitment to Whitman — a bequest to endow a chair in economics — honors the other significant woman in his life, his beloved wife, Jane, whom he lost to cancer more than a year ago.
The Darrell W. and Katherine Jane Baggs Chair in Economics Endowment will provide annual funding for a teacher/scholar in the economics department, as well as supplies and equipment, research expenses and professional development.
The couple planned the endowment gift before Jane's death because they wanted to promote "excellence in the study and teaching of economics, and to enhance the learning experience," Darrell said.
An economics major at Whitman, Darrell earned his master's degree in business administration from Harvard and built a career as a financial manager and chief financial officer for a number of different companies. Jane used her expertise as a paralegal to keep her longtime employer, Franklin Templeton Investments, in compliance with state and federal securities regulations. After Jane's death, Darrell pursued their mutual goal to support Whitman's strategic plan to recruit and retain excellent faculty through the creation of one of what he hopes will be several new permanent teaching positions.
Darrell's commitment to make Whitman ever better comes from both his experience at the college — economics classes with Professor David Stevens and camaraderie among his Sigma Chi brothers — and the knowledge that his mother would have loved to go to college.
Frances Jane Ford Baggs "was a very smart person who grew up in a very small town," Darrell said. She was the high school valedictorian in Troy, Mont., but she graduated in 1928, the daughter of a "poor family in an era when women didn't go to college." She wanted to get out of that small town, Darrell said. She did manage two years at a business (secretarial) school in Spokane, Wash., before the Depression hit, and she had to return home.
Despite her setbacks, Frances' answer to all her son's questions about his own future was always "but, of course, you can." With a scholarship created in her name, Darrell wanted to send the same message to high school graduates in Montana. "My goal was to encourage kids from small towns — much like my mother — to come to Whitman," he said.
For Darrell, Whitman was a springboard for a stint in the Navy, where he was a division officer on a destroyer and an intelligence officer on the Pacific Fleet commander's staff. He met Jane, a graduate of the University of Colorado, when he was stationed in Hawaii, and the couple married in 1971. They moved to Boston, where Darrell entered the MBA program at Harvard. After his graduation in 1973, they settled in the San Francisco Bay area, where they built careers and remained loyal supporters of Darrell's undergraduate alma mater.
Darrell believes, as Jane did, that it is more important than ever for students at liberal arts colleges to understand the economic forces that affect the global community. Their gift fulfills their desire to foster this important component of a Whitman education by bolstering the economics department and the college.
The Darrell W. and Katherine Jane Baggs Chair in Economics also fulfills Darrell's personal wish: to honor the memory of his wife and their love for each other.
Editor's note: In conjunction with the planned gift to create the Darrell W. and Katherine Jane Baggs Chair in Economics, Darrell Baggs modified the terms of the existing Frances Jane Ford Baggs Scholarship Endowment to give priority to Montana students applying for the scholarship while opening it to others.