Deshler gift creates new faculty chair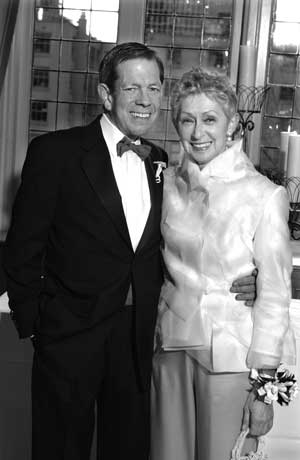 Bill '64 and Dinah Sharp Deshler '64
Service was always a synonym for passion in the life of the late William Deshler '64.
In his four years at Whitman, Deshler was a member of the decorated debate team; elected to Phi Beta Kappa and the Order of Waiilatpu; assistant marshal at Commencement; president of Phi Delta Theta and chair of homecoming. For his indomitable spirit, he was voted "yell king" by his peers.
After Whitman, Bill was avid in his service to the college, from admission volunteer to alumni board member, from reunion chair to overseer and then trustee. "Bill was passionate about everything he did," said his wife, Diana (Dinah) Sharp Deshler '64. "The commitment came from his upbringing, and Whitman allowed it to flourish."
When Bill passed away in February 2008, the Bill Deshler Scholarship was established with a gift from the couple and memorial contributions from their family, friends, classmates and fellow Governing Board members. The scholarship aids students who want to experience Whitman's Semester in the West program but lack the financial means to participate.
Soon after the scholarship was in place, Dinah decided to make an early disbursement of the portion of her husband's estate pledged to Whitman. The gift will establish the William K. and Diana R. Deshler Faculty Chair.
"I wanted to help out sooner rather than later," Dinah said. "The endowment was always a provision in his will, and Bill would have wanted it done this way for Whitman."
The endowment provides annual funding to support a tenured faculty member at the college. The chair will be selected "to meet a significant and pressing academic need," with first consideration given to the disciplines of art, history and mathematics in keeping with the Deshlers' abiding interests. The chair is likely to move among departments after a holder of the chair retires.
The Deshlers were juniors at Whitman when they met. She was a history major and vice president of the junior class. He was a math major immersed in everything from ASWC to debate.
He invited her to a Phi Delta Theta dance. She, in turn, asked him to the Delta Delta Delta dance on the same weekend. She spent all week making a dress for the event, only to learn at the eleventh hour that her date was ill. They missed the dance but made the wedding; Bill and Dinah were married in August 1965 and had two children, Tana Deshler Carpita '89 and Alexander Deshler.
Whitman made a lasting difference for both Deshlers. Dinah, who grew up in Walla Walla, allows that she "would have been lost at a big school." The college exposed her to "intellectual disciplines" that required introspective thinking and opened "a new world of cultural ideas" to her. The Whitman experience led her to pursue several interests, including teaching, interior design and antiques.
Bill, from Butte, Mont., found a deep-thinking mentor in Professor of Mathematics William Hutchings and a role model for life in George Ball, Weyerhaeuser Professor of Biblical Literature, Emeritus. "(Dr. Ball's) course 'Religions of the World' was a great mind expander and opened my eyes to a wider world," Bill once wrote. "It was of immense value professionally later on when I had to deal with various cultures in conducting international business."
Bill graduated magna cum laude from Whitman and earned a master's degree in business administration from Stanford University in 1966. He went on to become president and chief executive officer of Pacific Pearl Seafoods, president and CEO of Jonah Seafoods and finally chairman and chief executive officer of Electrical Construction Company in Portland, Ore. True to Whitman form, he was tireless in his service to the greater Northwest community as chair of the Business Youth Exchange in Portland, president of the Oregon Stanford Business Association, a board member of Children at Risk in Seattle and a member of the International North Pacific Fisheries Commission.
"The Whitman environment," Bill once said, "taught me what commitment means, that when you sign on for something you're good for the long haul, not just when it benefits you or when it makes a good bullet point on your resumé. To really succeed you have to have passion about what you're doing. It's easy to go through the motions, but you have to genuinely live the motions."
Tana recalled how her father's passionate approach to life extended to his family. "He was fully involved as a father," she said. "He related to us at all stages of our lives. At the same time, he was extremely playful. He was our yell king."
Dinah remembered how her husband's passion even played out on the tennis court. "He'd horse around in a doubles match, and we'd be down 0-5," she said. "Then he'd turn to me and say, 'Come on, Dinah, we can still win this thing. Suck it up.'
"Bill was full of fun and humor, but when it was time to work, he was absolutely focused on the task. Like everything in his life, there wasn't a problem that he felt he couldn't solve. He wouldn't have been interested in something that didn't involve personal commitment."
Whitman and its leaders are the beneficiaries of the Deshlers' personal commitment. The Deshler Scholarship and Deshler Faculty Chair are two of many examples of a lifelong — and passionate — relationship with the college.