On the Cover
Dean, mother, mentor, adviser and teacher. Clare Carson, associate dean of students for academic support services, has played some or all of these roles to thousands of students since she was hired as a part-time resident director in 1976.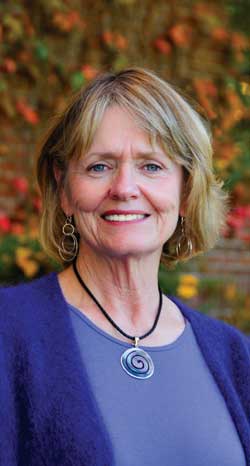 In her role as associate dean, she oversees the Academic Resource Center (ARC), the Career Center and Center for Community Service, serves as an academic adviser, and acts as judicial coordinator when a student violates the college's code of conduct.
In practice, she is a calm, willing listener with an uncanny sense of the heart of an issue and a wise counselor with a terrific sense of humor, say colleagues and former students.
"Sometimes she plays the dean's role and gives 'deanly' advice or plays it a little bit tougher with students," said Chuck Cleveland, dean of students and Carson's longtime colleague.
"Other times Clare will play the mother role, and she'll talk to a young man about what it was like to raise three boys … It kind of changes their perspective, because they're not used to that," Cleveland said.
As a mentor, she doesn't necessarily give students advice or tell them what to do, but "listens to them and interacts with them and discusses with them," he said.
As an adviser, "she has a listening ear and a rational solution," and is a "calm force in the world," said Calandra Childers '04, a student academic adviser (SA) who worked with Carson. Cleveland calls Carson an advising guru because "she understands what it takes to get through Whitman College successfully, and what it means to major in something versus something else and what the pathways are to that."
And, always, Carson plays the role of teacher. Whether dealing with a student struggling with academics or one who has made bad choices, she approaches each situation as an opportunity for education and growth. "We help students make decisions so they can help themselves," she said. "We use our experience to inform their good judgment."
1970s exciting time to start career in student services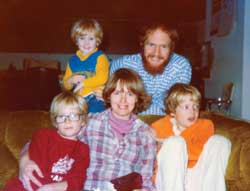 This Carson family photo was taken in the resident director apartment in Jewett Hall in 1979, when Clare was the RD. From left to right in the front row are Christopher, Clare and Benjamin. Henry and Bob are in the back row.
Although Carson arrived at Whitman with a bachelor's degree in biology, her education began in earnest when she signed on as a resident director (RD). She came to Whitman in 1975 with her husband, geology and environmental studies Professor Bob Carson. Clare planned to work in biotech or, perhaps, in the biology department while they raised their three boys. Instead she took a part-time job working as an RD, and found the students so engaging and delightful that she applied to be the director of the new Student Learning Center.
Inspired by the "resilience and determination of the students," Carson immersed herself in Whitman classes to learn more about cognitive psychology. "I was fascinated with the learning process. In the whole field of student services, it was a renaissance at that time," she said. After the rebellious 1960s, the fields of intellectual and social development were emerging as educators struggled to understand how students learn. "The 1970s was an exciting time to start a career in student services."
And Carson immersed herself in the study of learning and of student development theory. She read, she networked with other professionals in her field, and she attended conferences, including a summer institute with William Perry, one of the most prominent theorists at that time on the intellectual development of students.
While Carson learned about how students learned, she also encountered her first student with an identified learning disability: dyslexia. The Americans with Disabilities Act (ADA) did not become law until 1990. However, Whitman, with its reputation of caring about students' success, leveled the playing field so this student could demonstrate that he had mastered the material.
"It is just Whitman's way," Carson said. "We just say: 'You're smart. We're a great college. Let's figure out a way to make this work.' That student and others that followed taught me so much about learning differences," she said.
As learning disabilities such as dyslexia became clearly defined by medical and educational professionals, Whitman began to see more students who needed accommodations, and the Student Learning Center became the Academic Resource Center.
"By the time the ADA passed in 1990, we already had a program in place," Carson said.
"Clare has been the primary mover at Whitman College over the last 15 years in the area of disability services. She not only provides these services for students — through support, mentorship and technology — but she's also pushed the college to make the right decisions with accessibility and equipment," said Cleveland. "When she eventually leaves the college, I think one of her legacies here will be her work with students with disabilities."
Helping students feel "confident they belong here"
The Academic Resource Center staff works with all students who want to improve their study skills or academic performance; students seeking academic advice or who need help choosing a major; and students with physical disabilities, whether permanent or temporary.
Carson's self-guiding principle is to help students "feel competent and confident in their ability to succeed here. For students who struggle, my goal for them is to feel good about themselves as students rather than aspiring to get all A's. If they know that I know they're smart, students of all learning abilities do better," Carson said.
When she chats with alumni at reunion events or on Facebook, they concur: What made a difference was her confidence in them. "They got a sense that I knew they could make it here," Carson said. "That belief brought them back to a space where they could start again, sometimes through tears over a failed test, but they sensed an underlying belief that they should be here."
A case in point is the young man who came to Carson for help after a low biology test score. "He was down in the dumps because he thought he knew this stuff so well," she said. The student described his answers to Carson (who remember, has a passion for biology), and she felt he really knew the material. Carson e-mailed the professor to ask him to consider giving an oral exam. The professor was doubtful it would help, but agreed. The following week, Carson received from the professor this three-word e-mail: "He is brilliant."
For some students, Carson works to isolate their challenges, and then zeros in on study skills that work best for them. She recalls one student who had failed a multiple-choice psychology test. Carson helped him learn the technique of concept mapping — remembering things from the general to the specific to increase ability to retrieve information from memory. He learned how to make concept maps for each chapter of the book and went from getting the worst grade on the multiple-choice questions to getting them all right on the final.
Carson is quick to point out that student success begins with the student. "We provide access, not success," she said. "We try to remove barriers." To that end, she works closely with Cleveland and Donna Cummins, assistant to the dean, to give students the best support and strategies to help them navigate challenges.
"That's the neat thing about Whitman," Carson said. "If we don't have something in place to address a student's challenges, we step up to find ways to help them make it happen."
Crucial to the equation, she said, is supportive faculty who find creative ways within their own disciplines to overcome barriers and maintain access to learning, such as astronomy professors who created raised-relief maps to help a blind student understand the material.
Carson encounters a few students a year whose learning difficulties went unnoticed in high school but became more noticeable in the college academic environment. In these cases, she partners with Rich Jacks, associate dean of students for health and wellness, who is qualified to do an inventory to identify the disability so Carson can create a strategy to support the student. Jacks and Carson also team up to help students who are struggling academically because of psychological issues.
"We're all on the same page at Whitman. We have the same goals," she said. "Professors want to test someone on knowledge learned in their class; we (in student services) want to make sure students have fair avenues toward success."
Professors in turn appreciate the work of Carson and the academic services support staff. Carson's "practical advice and concrete suggestions have set several of my struggling students on the road to academic success," said Walter Wyman, Weyerhaeuser Professor of Biblical Literature and Professor of Religion. "I know I can always turn to Clare for wise counsel."
Because of Clare and the Academic Resource Center's work, "we have a higher retention rate, and students are more satisfied with their experience at Whitman," Cleveland said. And the students with disabilities tend to graduate. "They persist and become committed alumni, so I think we are very, very successful with them."
Some of that success may be attributed to Carson's first meeting with a student and his or her parents, even before they arrive at Whitman. "She is honest with them. If she doesn't think we can adequately support what they need, she tells the parents that," Cleveland said. "She also will tell them where and how they might get that particular support."
On the other hand, he said, there have been very few students Clare has met that she didn't think she could help.
"We set that environment at Whitman," Carson said, a fact that's confirmed by the many students and alumni who tell her about someone on the staff or faculty who made a difference to them.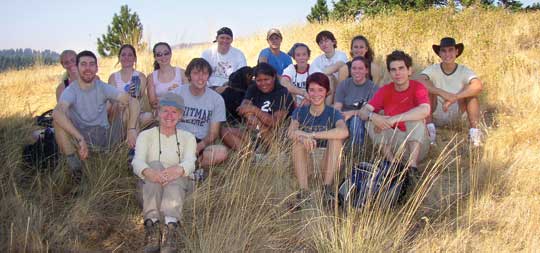 Clare Carson (front row) and the 2005 student academic advisers take time out from a training session at the Johnston Wilderness Campus to gather for this picture. Although she has relinquished some of her SA training duties in recent years, the program is still dear to her heart, and she sees it as one of her greatest professional accomplishments.
What is an SA?
Student academic advisers, or SAs, are sophomore, junior or senior students who are peer advisers in the residence halls. Selected for academic and personal accomplishments, they receive extensive training. SAs live in first-year student sections, are involved in residence life, serve as academic orientation aides and model good academic behavior.
"The SA program is unique in its academic focus," said former SA Calandra Childers '04. "So many other schools use this type of position to just build social community, and I think having a role that solely focuses on students' academic development is key," she said. "I also think it's great to have two leadership positions in each residential section. It gives the students the opportunity to get two different perspectives and make more connections with upper-level students and their activities."
Students selected as SAs benefit, too. "Many tell me it's a life-changing experience," said Clare Carson, dean of students for academic support services.
"Whitman is a very forgiving place"
"If you were the college, what would you do?" Carson often asks students who run afoul of the code of conduct. Students in trouble usually encounter someone from residence life or security staff first.
If the problem is serious enough, the student may meet with Carson, or for an even more serious offense, with the Council on Student Affairs.
While Carson admits to sometimes feeling the "weight of the world" on her shoulders when working with a student in trouble, she does not see failure in their bad decisions. "Sometimes you just have to let it play out and build on a sense of trust in the students. It isn't about me; it's about what happens next for them."
Cleveland agreed. "It's not about punishment per se — although sometimes to the students it feels like punishment — but ultimately it's about what they can learn from this experience, how they can learn from their poor choice and how they can move forward positively," he said.
One of Carson's strengths is "her ability to be firm without alienating students," said Ella Braden '04, a former SA and intern in the Academic Resource Center. "Clare's an excellent listener and very knowledgeable, and she helps students arrive at answers on their own rather than feeding them theinformation."
"I let the student know that I believe that they are going to be able to meet our expectations," Carson said. "Whitman is a very forgiving place, and we're proud of that. But we're also very serious about safety and dangerous behavior," she said. "We let students know when they potentially put other people at risk, and we work together to come to good terms so that we're not concerned about the student making this mistake again."
When she sees these students at Commencement and they stop to thank her, "We're both happy they're walking across the stage."
Narnia was the Carson children's front yard
The source of Carson's instinct and ability to relate to students may spring from her childhood: She is the fourth of 10 siblings in a military family on the move. She spent the first 14 years of her life living in locations in the United States and around the world, including Panama, Okinawa, Germany and France. Her best friends were often from other cultures and many spoke little English.
Her family also lived for a time in Eastern Washington, where her father was raised, and Carson was happy to return to the area with her husband and children.
"I have wonderful memories of being an RD (resident director) twice," Clare said. "I lived with my family in the residence halls. My children grew up playing in the amphitheater, and Narnia was their front yard.
"When they got older, they went to the geology lab after school with friends and played at the 'stream table,' building villages and flooding them."
The Carsons' sons are grown now — all three are trained in the teaching profession, two in biology and one in music. While the couple remains passionate about their favorite hobbies, travel and meeting new people — together they have visited 70 countries — their enthusiasm for Whitman and campus life hasn't dimmed in 30-plus years. Bob still leads his students, sometimes with Clare, on geology excursions around the Northwest and the world. Clare is still the announcer at Whitman women's basketball games (a volunteer job she's held for many years), while Bob runs the music during time outs.
"If you look at what defines a Whitman faculty member or staff member, it's their immersion in the college," Cleveland said. "They're immersed in either their academic discipline or their staff position. They're immersed with students inside and outside the classroom. They're immersed in Whitman.
"That's Bob and Clare."
— Lana Brown