Q and A with Coach Bridgeland, men's basketball coach

Q: Why Whitman? What is it about the college and/or basketball program that prompted you to make this move?
A: The administration and the people I will work with. You can't put a price tag on integrity and Whitman is oozing with it. This, combined with the obvious commitment to equal on the court the elite standard Whitman has achieved in the classroom, made it an easy decision for my wife, Brie, and me.
Q: You have coached both NCAA Division I and Division III. What appeals to you about both?
A. I'm not sure there is anything that specifically appeals to me at the Division I level. I left Puget Sound to go to Pepperdine to learn from one of my mentors. I didn't go to Pepperdine for Division I. At the Division III level, you can do things the right way and keep the emphasis on what matters: relationships and education.
Q: What can Whitman basketball fans expect to see from your team at the defensive and offensive ends of the court?
A: We hope to give the Whitman community a product to be proud of. I would hope that anyone who comes to watch our student- athletes play would leave saying, "Those guys play hard and are TOGETHER!" Technically, we will pressure defensively and attack offensively. Our style of play will generally put our game scores into the 90s and 100s.
Q: How will you incorporate your basketball program into the academic and residential life of the college?
A: Our program is about leadership. Our core values are integrity, trust and respect. Our core ideology is to breed leaders and build leadership skills. We will do this by focusing on the fundamentals of effort and teamwork, both on the court and in the classroom. After all, team athletics is a training ground for success in life.
Q: Is there a role for Whitman alumni and friends to play in your program?
A: Just being there for our student-athletes. Being able to help in terms of internships and job opportunities. More than anything else, just to be there. After all, Whitman alumni know the challenges of being a student-athlete at Whitman.
Q: What has been the most treasured moment of your own sports or coaching career?
A: There are a lot of ways to define success. My most treasured moments come from creating cultures that breed leaders and brotherhoods. We found a way to do this at Puget Sound. I hope we can manufacture a similar culture that breeds confidence in young men and gives them tools through our program to be successful in life.
Q: What lessons are there to be learned from basketball?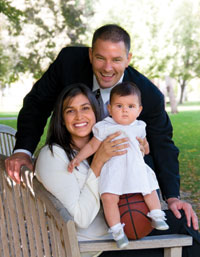 About Coach Bridgeland
Hometown: Rockford, Ill.
Education: Bachelor's degree, University of Manitoba; currently working on a master's degree
Career: Recruiting coordinator/interim head basketball coach, NCAA Division I Pepperdine University; coach, University of Puget Sound
Family: (Pictured) Wife, Brie, and 9-month-old daughter, Sydney (6 months old at the time of this photo)
For more about Coach Bridgeland, and sports schedules and scores, see the Whitman Athletics Web site
A: Every lesson conducive to being a success in life, personally and professionally. What makes team athletics so unique is that the athlete's role and challenges change year to year. Where else do you get an opportunity to accept different roles for the good of the team BEFORE you get into the real world? Teamwork is the CRITICAL component of ANY successful business. Team athletics is a tremendous stage on which to learn to handle both adversity and success, and it trains and teaches you how to devote yourself to something larger than you, while sacrificing individually.
Q: What led you to coaching?
A: Basketball and the lessons team athletics gave me. God put me on this earth to build the confidence of young people and to give them the gifts that basketball and other coaches gave to me.
Q: How would you describe your coaching style?
A: Relationship-based and from the heart. Technically, we try and create a very intense and challenging atmosphere while bringing it together with being POSITIVE. We coach effort, not the end result. There is no greater weapon on planet Earth than the human soul on fire, and we coach that. We try to create a brotherhood where our guys do not want to let each other down. We spend an inordinate amount of time together and enjoy the journey as much as possible.
Q: Whom do you admire most in the world?
A: I admire two people most in the world. The first is my wife. She is the most amazing person I have ever met. She makes everyone smile and feel good about themselves. The second is my stepfather. He made me. He believed in me and taught me how to be a man.