When the Class of 2021 gathers—at six feet apart—at Whitman College's 135th Commencement this Sunday, they'll not only hear words of wisdom from Commencement Speaker Jena Griswold '06, Colorado Secretary of State, but also from one of their own classmates.
Each year, one member of the senior class is chosen to deliver a brief speech just before diplomas are awarded. This year, Lauren Rhodes was selected as class speaker.
"It's such a huge honor to be able to speak for a class," says Rhodes, adding that, as a rhetoric, writing and public discourse major, she was partly motivated to apply for the honor because she hoped it would make her professors proud. "I also wanted to put my skills to the test … can I make something that's powerful and can be imprinted on for years to come for my class."
Rhodes has been a member of Kappa Alpha Theta, the Panhellenic Association and the Senior Fund Committee. A participant in Whitman's Crossroads: Shanghai, China: Second Language Acquisition in China and the USA program in 2018, she plans to continue her studies by enrolling in a Chinese language program after graduation. Rhodes' other post-Whitman plans include interning at a law firm before applying to graduate school. Born in Guangzhou, China, and raised overseas in several different countries, she says her international upbringing has inspired her to one day join the Foreign Service.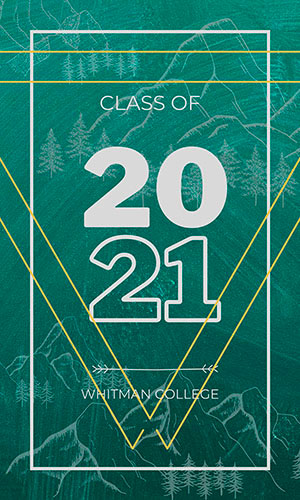 A Banner Year
Rhodes also was chosen to design the Class of 2021 banner, which will precede the seniors in their procession to Memorial Building for the commencement ceremony.
The design, which incorporates a subtle pattern of chalky white mountain peaks and pine trees on an emerald green field, nods to the natural beauty that surrounds Whitman.
"I know my class year very well, and we're really outdoorsy," she says. "So I knew that I wanted it to represent nature, hence the green, and the mountains, which are also [the college's] mascot."
Rhodes says she had wanted to design her class's banner since she was a sophomore and learned through her job as a social media and events intern for Alumni Relations that the banners are displayed every time a class comes back for a reunion.
"I was really happy when I found out my design was chosen," she says. "Maybe even happier than when I found out I'd be class speaker! It's something that I'd wanted since so early on."
Watch the livestream of the 2021 commencement—including Rhodes' speech—starting at 10 a.m. on Sunday, May 23.