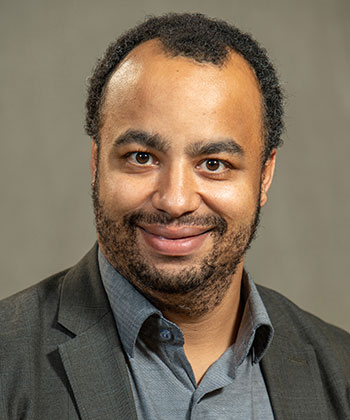 Whitman students considering pursuing graduate school and careers in academia got real-world advice from Visiting Educator in Philosophy James Garrison '04.
During a visit to Whitman in October, Garrison gave two talks. "Black Bodies that Matter," his public lecture, focused on his current philosophical work and writing on race, which ties back to ideas he originally pursued at Whitman. He plans to release a book of the same title in 2021.
The other was a lunchtime session hosted by the Student Engagement Center (SEC). Garrison walked students through his own academic and cosmopolitan journey, and offered tips and insights on how to navigate what can be intimidating and daunting processes.
At Whitman, Garrison majored in philosophy with a minor in German studies. He went on to receive a Master of Arts from the University of Hawaiʻi at Mānoa, studying East-West comparative philosophy and Chinese, before completing his doctorate in philosophy at the University of Vienna. He is currently an assistant professor of philosophy at Baldwin Wallace University in Berea, Ohio.
In his career, he continues to see the value of the liberal arts skills that he developed at Whitman.
"At Whitman, I was able to have a certain level of autonomy. I was able to pursue academic work and develop my own point of view," Garrison said. "With a liberal arts education, you gain the ability to generate your own way of thinking and your own projects. For me, that came by in large from my time at Whitman."
Garrison's advice for graduate school focused on practical tips, such as what undergrads should consider when deciding where to apply, advantages of an urban setting for secondary degrees, and also considering international schools for both the rich experience and the potential cost-savings.
Garrison also offered strategies to make the most of graduate school and to standout in the job market. He urged students to put themselves out there — to network, participate in conferences, publish papers, get specialty certifications and pursue "side gigs" using their education and skills.
In his own international experience, Garrison's varied language skills, including in German and Chinese, played a role in numerous opportunities.
When the conversation turned to pursuing higher education teaching jobs, Garrison wanted the students to know they should call on both their tenacity and resilience. During his job searches, Garrison averaged 150 to 200 job applications a year, he told the group.
"One of my talking points is 'Get used to rejection,'" he said. "Rising above the din is incredibly difficult." That said, Garrison also encouraged the group to protect their mental health with self-care. "Don't allow yourself to spiral. That's really important."
He mentioned tai chi and yoga as practices that helped him cope.
"James did a fantastic job walking students through the many steps of an academic job search, highlighting many seemingly small, but in reality, highly significant opportunities for increasing success in that arena," said Noah Leavitt, director of the SEC. "I know that attendees left feeling much more informed on the complexities of the process."