Whitman College graduates have been joining the Peace Corps since it was founded in 1961. More than 330 Whitties have joined the agency that works across the globe to create sustainable solutions to a multitude of issues. There are nine Whitman alumni serving in countries around the world - and this summer, new graduates will join their ranks.

Hannah Ferguson '19 and Shannon Zander '19 are among them. The classics majors are both joining - Ferguson will serve in Ukraine and Zander is heading to South Africa. How the Peace Corps became the trajectory for the women has to do with the structure, linguistics and cultural knowledge that the Classics Department develops.
"Classics has so much more to do with Peace Corps than your average person thinks. It really stems from a misunderstanding of what classics is," said Zander, who is double majoring in classics and philosophy. "It's an interest in other cultures and how other cultures shape where we are today and it's also an interest in language. The classics major requires that you get to an advanced level in both Latin and ancient Greek."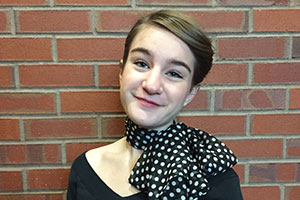 During her service, Zander will study one of South Africa's 11 national languages while living in the rural northeastern part of the country. Ferguson will continue learning Russian, a language that she began studying last year through an intensive summer program at Arizona State University. Ferguson is involved in the America Reads America Counts program and this year began working with the children of a Ukrainian family in Walla Walla.
"I really wanted to go somewhere in Eastern Europe and it just seemed like the perfect opportunity to apply to the Ukraine and have that connection with my students," Ferguson said.
The Peace Corps offers two options for choosing a country of service: Either applying directly to a country's program, or letting the Peace Corps place you based on your application. Ferguson applied directly to Ukraine after her experience in the Russian immersion program and working with the Ukrainian children. Zander choose the other option and after having her application reviewed was excited to learn about her placement in South Africa.
Ferguson and Zander will be teaching English in their communities at elementary and middle schools. They said the Classics Department at Whitman prepared them well to teach English as a second language.
"The classics major has set me up to teach English because of the way that both Latin and Greek flow into the English language," Zander said. "I feel that because I have had experience translating two other languages and working back and forth between the particularities of English and ancient Greek, it gives me a window to see what unusual parts of the English language that I might take for granted."
Ferguson is excited to use her linguistic skills in a modern setting.
"Going into the Peace Corps allows us to learn a modern language, which is not something we are necessarily used to. It's a big jump," she said.
Ferguson and Zander have taken many classes together within the Classics Department and encouraged each other throughout the Peace Corps application process. Ferguson was introduced to the Peace Corps during her first year at Whitman - a senior in one of her classes was applying and encouraged her to look into the program. Ferguson encouraged Zander to also apply.
"Hannah was the one who turned me on to the idea of Peace Corps. She said, 'Well, what about Peace Corps? I think that you'd be phenomenal in it and I think that you'd love teaching English,'" Zander said.
This spring, Whitman was ranked 23rd among small schools on the Peace Corps' 2019 roster. Whitman is one of nine top schools in Washington this year. Schools are ranked by the Peace Corps according to the size of their student body.
"I think that providing an opportunity for Americans to go abroad and experience other cultures is really valuable and I think that it's not only about serving the country you are in, but I think it is about the understanding that you take away from that experience and can apply when you get back to the States," Ferguson said.
For Zander, questioning the ethics of the living abroad experience is central to understanding her role as a future Peace Corps volunteer. It's another thing she learned to think about while studying at Whitman.
"How do you ethically engage as on outsider in another culture? How do you ethically make change, and effectively make change?" she said. "And how do you evaluate what kind of changes you ought to be making or whether you should be making any at all?"