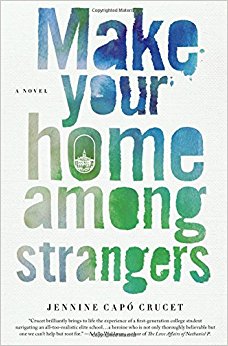 Special events and a visit from the author scheduled for fall 2017
(Walla Walla, Washington) — Whitman College has chosen "Make Your Home Among Strangers," an award-winning novel by Jennine Capo Crucet, for the 2017 Summer Read Program.
Whitman College's annual Summer Read Program is an academic tradition that provides a platform for intellectual discussion and debate for the college's newest students as soon as they arrive on campus. As part of the program, Whitman's incoming class is asked to read that year's Summer Read book in advance of their arrival and be prepared to discuss it with faculty members and fellow students during their first week on campus.
Crucet's debut novel, "Make Your Home Among Strangers," centers on Lizet, the daughter of Cuban immigrants and the first in her family to graduate from high school. Her parents are infuriated when Lizet is accepted to an elite college, since it would mean her having to leave Miami. Adding to her troubles, Lizet's parents divorce just weeks before she starts school, leaving her, her sister and her mother without steady income and scrambling for a place to live.
Amid the turmoil, Lizet begins her first semester of college. But the privileged world of the campus feels foreign, as does her new awareness of herself as a minority. She struggles socially and academically. Her Thanksgiving visit home to Miami is overshadowed by the arrival of Ariel Hernandez, a young boy whose mother died fleeing with him from Cuba on a raft. The ensuing immigration battle puts Miami in a glaring spotlight, captivating the nation and entangling Lizet's entire family.
"Make Your Home Among Strangers" is the winner of the International Latino Book Award for Best Latino-themed Fiction 2016, a New York Times Book Review Editor's Choice and was longlisted for the 2015 Center for Fiction First Novel Prize. It was also named a best book of the season by Cosmopolitan, Vanity Fair, Harper's Bazaar, Redbook, Bustle, NBC Latino and Men's Journal.

"This book is an excellent choice for our incoming students and the entire community," said President Kathleen Murray. "It highlights the complexities that come with attending a college like Whitman for many of our students, especially first-generation students. Many are trying to navigate cultural, generational and political differences, all while being away from home and trying to perform academically. Discussion surrounding this book will give us all a chance to think critically about how we can be the most welcoming community for students of all backgrounds."
The Summer Read Program includes several events. Author Jennine Capo Crucet will also attend several classes, have lunch with students and speak to the campus community on Sept. 7 at 7 p.m. in Cordiner Hall on Whitman's campus. Her lecture is free and open to the public. Additional special events, including guest lectures, concerts and art projects reflecting major themes from "Make Your Home Among Strangers," will take place throughout the fall.
To encourage participation beyond the Whitman College campus, the college has purchased copies of the book for Walla Walla-area libraries. "Make Your Home Among Strangers" is already available for purchase at the Whitman College Bookstore.