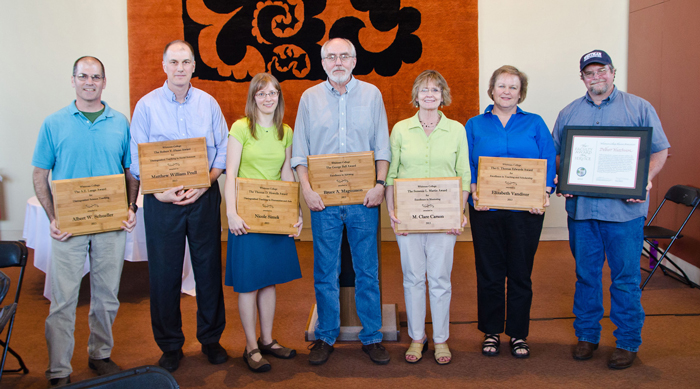 From left: Albert Schueller, Matthew Prull, Nicole Simek, Bruce Magnusson, Clare Carson, Elizabeth Vandiver and Delbert Hutchison received Distinguished Faculty Awards at last week's reception.
Staff and faculty gathered in Cordiner Hall Foyer for the annual end-of-the-year faculty reception and awards presentation. In his opening remarks, President Bridges thanked the faculty for their many contributions to the intellectual life of the college. Tim Kaufman-Osborn, provost and dean of the faculty, commended award recipients for their commitment and expressed his appreciation for the caliber of the Whitman faculty as a whole.
"At this ceremony, we recognize specific faculty members for their sustained records of excellence in their contributions to Whitman," he said. "I would ask, though, that we also think of this event as a celebration of the Whitman College faculty in its entirety. And I would ask that we consider the virtues of those we recognize today as emblematic of the virtues of the Whitman faculty as a whole."
Also honored at the reception were retiring faculty members Irvin Hashimoto, associate professor of English, and Nancy Simon, Garrett Professor of Dramatic Arts; Roberta Davidson, professor of English, was recognized for her 25 years of service. In addition, special tribute was paid to beloved long-time staffers Sally Hooker, associate to the provost and dean of faculty, and Ron Urban, registrar, who will both retire at the end of this academic year.
The Distinguished Faculty Award recipients, who also will be recognized at the Commencement ceremony, are:
Matthew Prull, associate professor of psychology – Robert Y. Fluno Award for Distinguished Teaching in Social Sciences

Nicole Simek, associate professor of foreign languages and literatures, French – Thomas D. Howells Award for Distinguished Teaching in Humanities and Arts

Albert Schueller, associate professor of mathematics – A.E. Lange Award for Distinguished Science Teaching

Elizabeth Vandiver, associate professor of classics – G. Thomas Edwards Award for Excellence in Teaching and Scholarship

Bruce Magnusson, associate professor of politics – George Ball Award for Excellence in Advising

Clare Carson, associate dean of students: academic support services – Suzanne L. Martin Award for Excellence in Mentoring

Delbert Hutchison, associate professor of biology – Award for Distinguished Service to the Alumni Association