Over 60 academic leaders met on July 19 at The Evergreen State College in Olympia, Wash., to explore the idea of creating a new coalition of colleges that can communicate the importance of a liberal arts education.
"Higher education is more than a credentialing process," said Michael Zimmerman, academic vice president and provost of The Evergreen State College. "Liberal arts graduates strengthen Washington's economy and help transform communities."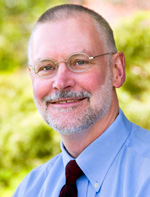 Timothy Kaufman-Osborn
Washington state Rep. Mary Helen Roberts was the keynote speaker at the event, and provided her observations on the value and importance of the liberal arts, as well as the state of education in Washington.
At the one-day event, academic leaders determined that a coalition is necessary to develop a unique voice in order to advocate for liberal arts education in the public sphere.
"More and more pundits and authors are disparaging the liberal arts as useless, as anachronistic, as no longer appropriate to the 21st century. At the same time, more and more people are questioning the value of higher education, especially in terms of what you get and how much you're paying for it," said Timothy Kaufman-Osborn, Whitman's provost and dean of the faculty.
"So what we really need in the state of Washington at this point in time is an informal organization that can secure a voice for promoting the liberal arts and sciences in our state," he said.
Kaufman-Osborn, who attended the conference, noted that leaders of non-governmental organizations, non-profits, and corporations have said repeatedly that "what they want are not undergraduates who have become specialized experts in field x, y, or z. Instead, what they want are creative problem solvers who can think outside the box, who can see connections between different aspects of a problem; and that, of course, is precisely what we're teaching our students to do."
At Whitman, students learn to be creative problem solvers.
"The kinds of skills and intellectual aptitudes that students learn at a place like Whitman are precisely the kinds of skills and intellectual aptitudes that are most necessary and most helpful in a globalized economy where everything appears to be connected to everything else," Kaufman-Osborn said.
While the specifics on what the coalition would look like have yet to be determined, Kaufman-Osborn was excited about the project and believes Whitman certainly has a place in this loose coalition.
"If you seek to identify the institutional type that best advances the cause of the liberal arts education, you will identify institutions like Whitman, so I think we have a very special role to play in this informal organization."