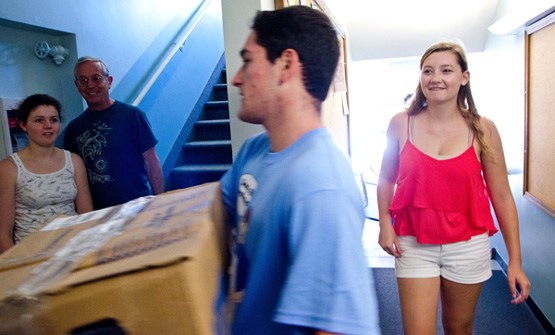 A Whitman student volunteer helps Katie Steen '16 move in.
More than 400 nervous but enthusiastic students from the Class of 2016 moved into Whitman College today in preparation for the start of school on Tuesday, Aug. 28.
The entering class is full of down-to-earth high achievers. The class is especially diverse this year, with students coming from 30 states (as well as Washington D.C. and Puerto Rico) and 14 foreign countries. Together, the class of 2016 speaks 19 foreign languages.
Typical of most Whitman students, these first year students have a tremendous record of volunteering, with upwards of 87 percent having participated in community service while in high school.
Katie Steen '16 of Boulder, Colo., is one such student who spent many hours volunteering before enrolling at Whitman. For instance, she recently traveled on a mission trip to the Bahamas where she worked at a camp set up to benefit people living with AIDS.
Before moving into Anderson Hall the probable English major spent a week doing community service in Walla Walla as part of Whitman's SCORE program, where she volunteered for organizations like the Christian Aid Center and Habitat for Humanity.
"It's so awesome how friendly and involved Whitman students are," Steen said. "I already feel at home. I'm just ready to go and get school started."
Katie has deep connections to Whitman. Her mother, Sara Steen, earned her Ph.D. from the University of Washington, where her thesis adviser was George Bridges, Whitman's current president.
"He's such an amazing guy. He knows all the students by their first names," said Sara Steen, who is a sociology professor at University of Colorado Boulder.
While Katie Steen unpacked her boxes, her mother explained one important reason she's so enthusiastic about her daughter matriculating at Whitman.

New roomies.
"Whitman is more than awesome. I would not have encouraged Katie to go to a big state school. Where I teach, my small classes have 50 students in them. Here, I don't think she'll have a class bigger than 30.
"This is such a friendly campus. I haven't walked by anyone who hasn't said, 'Hello, can I help you?' And it's such a good thing to have the fraternity guys volunteering to help us move in," said Sara Steen, revealing that her daughter Katie is her first child to go away to college.
"I'm desperately sad that she's going away, but I'm so excited for her."
Katie's new roommate, Julia Wood '16, who is from San Jose, Calif., is also excited. Wood chose Whitman because it's a liberal arts school that's very strong in sciences, perfect for her because she's interested in studying pre-med with a major in classics.
While Wood admits to experiencing some nervousness, she says her anticipation for school to start is blocking out any anxiousness, and she already feels as if she fits in. "We get our cross-country jerseys today," she said with a smile.
Margie Hinton is confident her son, Eric Underwood '16, will fit in at Whitman.
"Whitman is the perfect place for Eric. I can see that he looks like the other kids," Hinton said.
Eric, casually dressed in shorts and a button-down, short-sleeve shirt which he wears untucked, chose Whitman because every counselor he spoke to while researching colleges told him that Whitman would be the best fit for him.
"I heard so many good recommendations about Whitman that I decided to come," he said, unpacking his Nintendo 64, which he "can't go without," and his cruiser board, a cross between a skateboard and a long-board, as well as a box of books to keep him occupied when he has time away from his academic studies.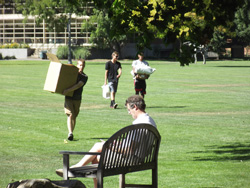 There was no shortage of veteran Whitman students on campus to help their newest classmates settle into the dorms. Scores of volunteers showed up to move boxes and luggage, to point parents in the right direction and to guide the newbies through their first days on campus.
One such student, psychology major Ethan Bergeson '13, who sat at a table handing out cookies and lemonade, offered sage advice on how these new students should approach their future at Whitman.
"Whitman has a lot to offer, so try everything, and see what fits for you," he said.

—Edward Weinman