The Whitman Institute for Scholastic Enrichment (WISE) is an all-expenses paid program that aims to introduce local middle school students to college life in an effort to generate excitement for pursuing a college education. Held on the Whitman campus Aug. 7-9, the program is now accepting applications from students currently in 7th or 8th grade. Apply online on the WISE web page. Applications are due May 20.

Spending three days and two nights on campus, students will attend classes taught by Whitman professors and various workshops. They also will receive a one-on-one advising session with an admissions officer. Also included in the program is a workshop for parents, providing guidance for financial aid, high school academic choices and other concerns about preparing for college. Studies show that pre-college counseling has a proportionally higher impact on students who are low-income or who will become first-generation college students. Students meeting those criteria will be given priority in selection for the WISE program.

"Over the three days of the program the kids become so much more comfortable with being on a college campus. They make personal connections with the Whitman students who are acting as role models and mentors, and this makes it a lot easier to visualize themselves as future college students. College becomes real to them," said Sonja Aikens, the Whitman staff member who coordinates the WISE program.

Now, in its fifth year, WISE will receive a financial boost. The program is the beneficiary of a special release wine from L'Ecole No. 41, a local winery owned and operated by a Whitman alumni family. The winery was established in 1983 by Baker Ferguson '39 and his wife, Jean. It is now owned and operated by the Ferguson's daughter and son-in-law, Megan '79 and Martin Clubb. In honor of Whitman and the six generations of their family that have graduated from the college, as well as a commitment to the youth in the Walla Walla community, L'Ecole has developed a special release: a 2008 Walla Walla Valley red wine called "L'Érudite," a French word that means "the scholar." Profits from the sale of "L'Érudite" will be donated to WISE, and it is hoped that the release will generate more than $100,000 for the program. Read more about L'Ecole's contribution in the March issue of the Whitman Magazine.

For more information, contact Sonja Aikens, WISE coordinator, at aikenssl@whitman.edu or call 509-527-5596.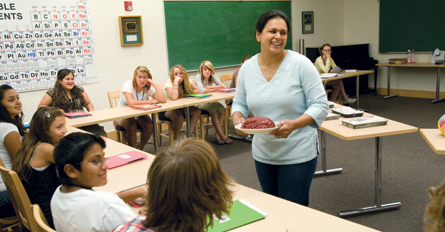 Students from 2010 Whitman Institute for Summer Enrichment (WISE) experience learning with visual aids during a biology class taught by Leena Knight, assistant professor of biology (pictured above), during the three-day college immersion program.