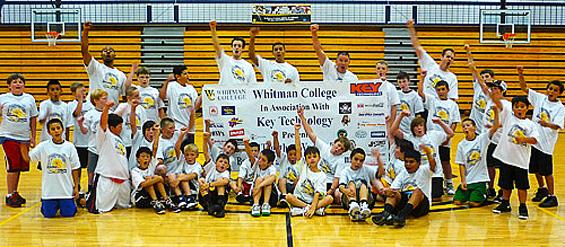 "Together We Can" Basketball Camps
WALLA WALLA, Wash. — Thanks to support from Key Technology and several other local sponsors, the Whitman College men's basketball program is providing a series of "free registration" summer camps for boys ages eight to 14.
Normal registration costs have been waived, leaving only a $20 administrative fee for each of the three camps.
The first of Whitman's "Together We Can" camps, held June 27-30, attracted about three dozen youngsters.
The next two camps are Aug. 11-13 and Aug. 16-18.
All camps take place at Whitman's Sherwood Center. Hours each day are 9 a.m. to noon.
The $20 administrative fee, which helps cover operating costs, includes a free camp t-shirt and free pizza lunch at the end of each daily session.
A camp brochure complete with camp details and registration form is available on the Whitman College men's basketball "Camps & Clinics" webpage.
The camp's local sponsors, in addition to title sponsor Key Technology and the Walla Walla Union-Bulletin, are Les Schwab, Clarette's Restaurant, Community Bank, Red Monkey Downtown Lounge,
Stone Hut Bar and Grill, Total Office Concepts, Bank of Whitman, Jacobi's Cafe, Dream Ride Charters,
Marcus Whitman Hotel, Swire Coca-Cola, Holiday Inn Express, Doyle Electric, Opp & Seibold, Crossroads Steakhouse, Clark/Arias Physical Therapy,
Sterling's Restaurant, Liz Conover - State Farm Insurance, Walla Walla Farmers Co-Op, Coldwell Banker, Hepler's Big Cheese Pizza, Staples, Advanced Sign Concepts, Tony's Sub Shop, and T-Walla Walla!
- 30 -
CONTACT: Dave Holden
Sports Information Director
Whitman College, Walla Walla, Wash.
holden@whitman.edu; (509) 527-5902