Greetings from Whitman College Athletics!
Athletics Director Dean Snider
Offers Thanksgiving Wishes
as Sports Seasons Change
Dear W Club Members - My best Thanksgiving wishes to all as we approach the holiday season. Before we pause next week to give thanks, it is my pleasure to offer an update on what has been a very busy few months for Whitman Athletics.
Now is also a good time for a brief glimpse into the winter sports season.
First, as many of you know, our men's and women's basketball and swim teams have taken their first few steps into competitive schedules that will extend well into the spring semester.
Dean Snider
The swim teams, under head coach Jenn Blomme and new assistant coach Anthony Russo, are off and running with two Northwest Conference dual meets already under their belts (the men won twice while the women split).
Both swim teams compete this weekend (Saturday and Sunday, Nov. 20-21) in the Northwest Invitational, which Pacific Lutheran is hosting in Tacoma. Please click here for a preseason look at our swim teams.
Our two basketball teams, after having been through a few early scrimmages and exhibitions, make their season debuts today (Friday, Nov. 19) and Saturday.
The women's team, under head coach Michelle Ferenz and new assistant coach Jessica Cox, are in Spokane, Wash., for a four-team tournament at Whitworth University. Whitman plays Northwest University at 4 p.m. today and UC-Santa Cruz at 2 p.m. Saturday.
Please click here for an early look at the women's basketball team.
Meanwhile, the men's basketball team with head coach Eric Bridgeland and assistant coach Matt Airy '04 at the helm are in Portland, Ore., for 7:30 p.m. games on tonight (Multnomah Bible College) and Saturday (Portland Bible College).
For a preseason look at the men's team, please click here.
And, now, please follow along as we hit the highlights from a fun and successful fall season.
Fall 2010 Athletics Recap

Cross Country, Soccer, Volleyball (plus Tennis & Golf)

Cross Country: Kristen Ballinger Qualifies for Nationals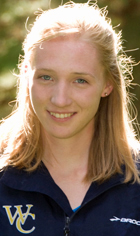 Kristen Ballinger
As I write this report, the only bit of fall sports history yet to be written unfolds this Saturday when senior Kristen Ballinger makes her third straight appearance at the NCAA Division III National Cross Country Championships in Waverly, Iowa.
Kristen qualified as an individual (as she did two years ago) by being one of the top finishers at the West Region championships. As you may remember, Kristen and the entire women's team qualified for nationals a year ago by placing second at regionals.
Despite losing much of last year's team to graduation, the Whitman women placed fourth in a 17-team field at this year's regional event. Both Kristen and sophomore Emilie Gilbert earned All-Region honors.
The men's team, led by freshman Spencer Corwin, finished 10th among 17 schools in the regional race. Whitman's top runner, Cory Rand, missed the race because of injury.
Volleyball: Jillian Davis Named West Region Freshman of Year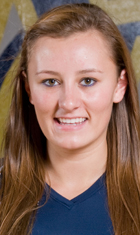 Jillian Davis

Jillian Davis, a first-year outside hitter on the women's volleyball team, was named NCAA Division III West Region "Freshman of the Year" by the American Volleyball Coaches Association.
Jillian, who was the only first-year player named to the AVCA's All-West Region Team, also received Honorable Mention recognition on the AVCA's All-America Team.
The AVCA has been giving its annual "Freshman of the Year" award since 1999. Jillian is the first Whitman player to be so honored. For a news release on her AVCA honors, please click here.
Jillian also was the only first-year player voted to this fall's All-Northwest Conference First Team. She led the NWC in total kills by a wide margin and also ranked among the conference leaders in digs per game.
Sophomore middle blocker Courtney Brewer received Honorable Mention kudos.

Men's Soccer: Whitman Falls Just Short of NWC Championship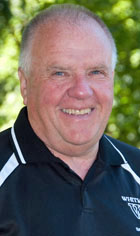 Mike Washington
For the second time in three seasons, the Whitman men's soccer team under head coach Mike Washington came within a single game this fall of winning a conference title.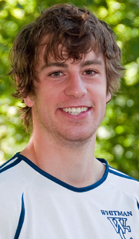 Cooper Crosby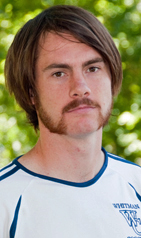 Conner Bottomly
The Missionaries finished second in the final standings after winning a school-record six straight games to end the season.
Winning a number of those games in dramatic fashion, Whitman posted seven victories and a double-overtime tie in its last eight games.
Washington, now in this 13th season at Whitman, received a well-deserved honor when coaches in the NWC named him "Coach of the Year".
Whitman also was well represented when the all-conference teams were announced. Our two senior captains, defender Cooper Crosby and midfielder Conner Bottomly, made the All-NWC First Team.
Junior midfielder Sam Freedman was voted to the Second Team. Junior defender Brian Percival and sophomore forward Leland Matthaeus received Honorable Mention.

Women's Soccer: Sophomore Trio Net All-Conference Honors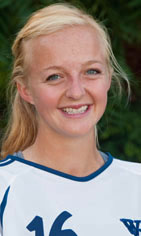 Erin Flannery
Three Whitman sophomores earned All-NWC honors this fall for a young Missionary team.
Erin Flannery, a sophomore defender, was voted to the All-NWC Second Team and, like so many of our athletes, deserves a special pat on the back for her ability to both excel and persevere.
Health woes limited Erin to just 25 minutes of playing time in two games last fall in her first season at Whitman. This fall Erin anchored the Whitman defense, playing all 19 games and seldom leaving the field. She was the only player on the women's roster to log more than 1,700 minutes on the pitch.
First-year coach Heather Cato said Flannery's tenacity, aggressiveness and intelligence made a big difference for Whitman throughout the season.
Two more Whitman sophomores, forward Julianne Masser and sophomore Marisa Poorboy, received Honorable Mention recognition.

Men's Tennis: Whitman Extends Fall Tournament Domination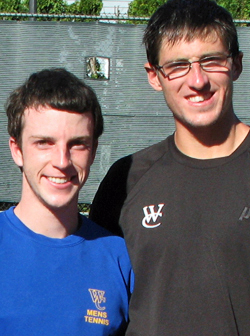 Andrew La Cava (l), Conor Holton-Burke
The tennis teams play their conference seasons in the spring, of course, but the Whitman men have a recent history of dominating the regional tournament sponsored each fall by the Intercollegiate Tennis Association (ITA).
This fall was no exception. After freshman Andrew La Cava edged junior teammate Conor Holton-Burke for the regional singles title, La Cava and Holton-Burke joined forces to beat two more Whitman players, senior Chris Bailey and sophomore Sam Sadeghi, for the doubles crown.
Whitman players have now won the last five regional titles in singles and four of the last five in doubles.
As Whitman's latest regional champs, Andrew and Conor advanced to the National Small College Championships in Mobile, Ala.
In their play-in match at nationals, Whitman's top doubles duo lost a razor-thin decision (6-7, 7-6, 10-6) to a doubles tandem from Trinity (Texas) that eventually won the tournament title. Andrew suffered the same tough luck in his singles play-in match, falling 6-3, 4-6, 7-5 in a back-and-forth three-set battle.
Look for Conor and Andrew to play key roles next spring when the men's team begins pursuit of its fourth consecutive NWC championship. The men's team is also working on a 66-match winning streak in the NWC regular season.

Women's Tennis: Whitman Duo Doubles Up at Nationals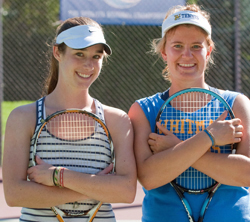 Alyssa Roberg (l), Elise Otto
Senior Elise Otto and sophomore Alyssa Roberg won the regional doubles title at the fall ITA tournament, which Whitman hosted, to earn a spot at the National Small College Championships in Mobile, Ala.
Elise, who missed the fall tournament a year ago while on foreign study, won the regional singles in 2008 and teamed with Katie Oost '09 to win that year's doubles title.
Elise and Alyssa got off to a great start at the national tournament in mid-October, winning a three-set thriller in their play-in match against a duo from the University of Texas-Tyler.
In their next match, however, Elise and Alyssa lost to the eventual tournament champions, an University of Chicago that has won the two previous NCAA Division III national titles.

Men's Golf: Freshman, Senior Pace Whits in Fall Tourneys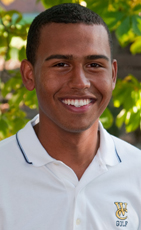 Brian Barton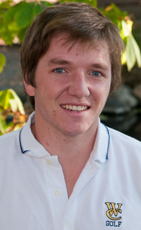 Andrew Welch
With freshman Andrew Welch placing fifth and senior Brian Barton taking seventh, the men's golf team held off two other teams to finish fifth at the NWC Fall Classic in late October in Redmond, Ore.
The tournament, which was played in cold, wet and windy conditions, is one of three competitions that count toward the conference championships.
The other two tournaments are in the spring.
Earlier in October, sophomore Geoff Burks placed seventh to lead the Missionaries to a fifth-place finish at the Whitman Invitational, which was held just outside of Walla Walla at the beautiful new Wine Valley Golf Club.
Other fall highlights saw Barton shoot 5-under par 67 in a dual match against North Idaho.
Whitman also made a strong team showing at the Linfield Invitational, finishing just four strokes off the pace. Barton and Burks led the way, but freshman Jon Standen and senior Max Rausch also shot in the 70s.

Women's Golf: Young Whits Take Fourth at NWC Fall Classic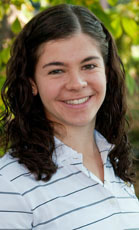 Katie Zajicek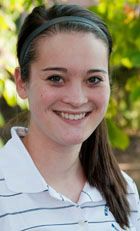 Catelyn Webber
Led by first-year golfer Katie Zajicek, a young women's golf team placed fourth at the NWC Fall Classic in late October in Bend, Ore.
Zajicek finished fifth in the individual scoring to pace a Whitman team comprised of four first-year players and two sophomores. The weather conditions in Bend, if anything, were more miserable than at the nearby men's tournament in Redmond.
Earlier in the fall, first-year Missionary Catelyn Webber was fourth and Zajicek sixth to power Whitman to a second-place showing at an eight-team tournament hosted by North Idaho.
Whitman also made a good showing this fall at the Pacific Invitational, placing third. Zajicek tied for fourth in the individual scoring, finishing two strokes in front of another of her first-year teammates, Elaine Whaley.