Senior Class Banner Designer Wants to Bring Benefits of Art Therapy to Others
By Savannah Tranchell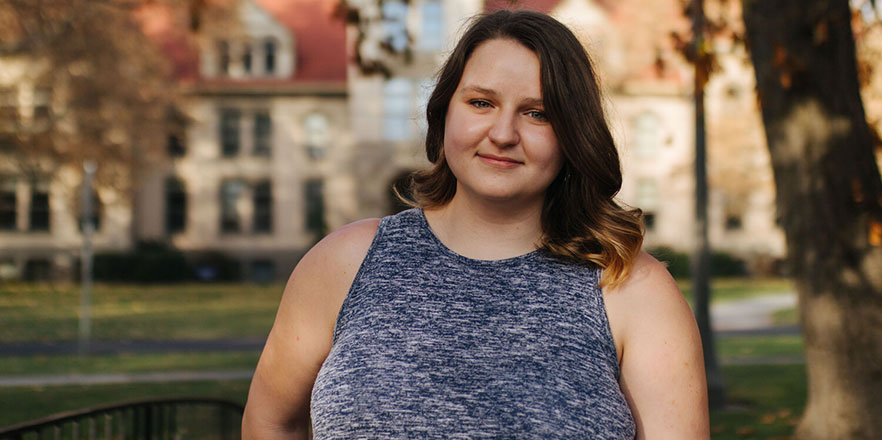 When she was about 12 years old, Whitman College senior Eliza Wyckoff '20 discovered the power of art therapy.
Wyckoff was diagnosed with a language-based learning disability and slower cognitive processing.
"It's more like it takes me a moment to process what has been said or asked, then respond in such a way that addresses the question fully," Wyckoff explained.
She found help in art therapy, she said, and it's a benefit that she wants to bring to other children.
A native of New York, Wyckoff graduates this month with a degree in psychology, a minor in art, and plans to explore work in educational settings before pursuing graduate work in art therapy.
"I know how I personally experienced the benefit of art therapy, and how much art impacts my life. I know for a lot of kids it can be extremely helpful," she said. "Children don't have a lot of the same language capabilities as adults. They don't have the understanding to express these complex emotions."
Wyckoff shared her passion for art as a mentor in Whitman's Eye-to-Eye club. Eye-to-Eye pairs college students with learning and attention issues with elementary and middle school students facing similar issues. They use art projects to build confidence and social-emotional learning skills.
A Banner Experience and Project
At Whitman, Wyckoff spent a lot of time in the Fouts Center for Visual Arts, where she worked this year as an arts lab assistant, organizing supplies and setting up classrooms. As an artist, she prefers working in 3D mediums, such as ceramics. But she delved into 2D work as the designer of this year's Senior Class Banner. The banner will be displayed by the Class of 2020 during reunions and other alumni events.
Wyckoff got connected with the project through her work as a member of the Senior Fund committee. She likes that the Senior Fund allows students to designate donations to an area of campus of their choosing.
"Seniors specifically donate to honor something they loved at Whitman. That really meant a lot to me, because there's a lot of things at Whitman that meant a lot to me," she said.
She also got to dig in more to the psychological aspects of children through the Whitman Internship Grant. She spent the summer of 2018 working in the Developing Minds Lab (DML) at Boston University. As a research assistant, Wyckoff helped recruit participants, organize paperwork and participated in running two studies.
"What I really appreciate about the DML's approach to child development research is that it is cognitive-based rather than developmental-based," Wyckoff wrote in a blog about her experience. "This approach allows for the research to be centered on the development of certain cognitive processes in children and pinpoint exactly at what age a child is cognitively capable of doing something."
And even though the impacts of COVID-19 mean she won't be able to see her designed banner being marched across the stage during commencement this year, Wyckoff is proud to reflect back on her time at Whitman.
"It's been a weird moment, trying to reflect back on my time at Whitman. It's hard to express," she said. "What I love, I think, is the community that's been created — that's something I know that will forever stay with me. The Pacific Northwest is so special. And Whitman is so special."
Published on May 21, 2020