French and Francophone Studies Department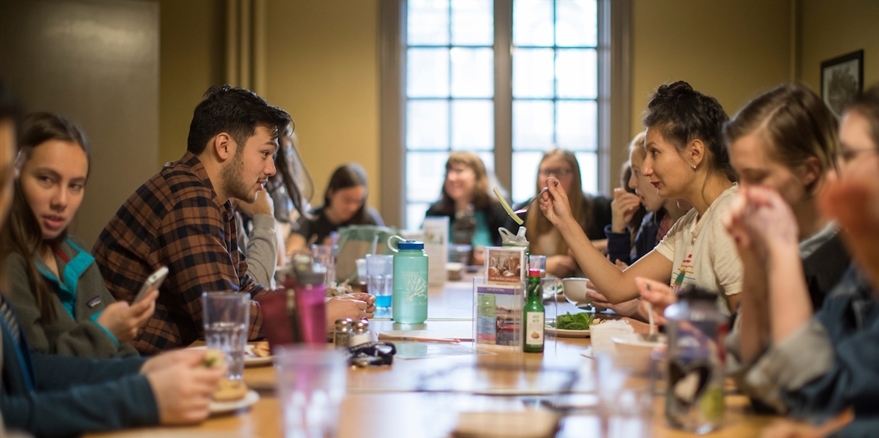 At every step in your study of French, whether you are just beginning the language or tackling literary analysis, you will think critically about global networks of knowledge, culture, commerce, technology, and environment. Small class sizes, coupled with a communicative, interactive approach to learning, mean that you will receive individualized attention and feedback while building close relationships with professors and classmates. Together, you will investigate the ways French-language cultures create meaning and express ideas, as well as how language itself, along with social and cultural contexts, influences our perspectives on the world.
What Will You Learn?
The French program offers intensive instruction in all levels of French language as well as advanced courses in French and Francophone literature, film and culture. Seminars span historical periods, geographic areas, and topics, from gender in medieval and Renaissance literature to French New Wave cinema, national identity in Québec, and contemporary West African and Caribbean aesthetics. In all French courses you will analyze a broad range of cultural production, from literary text to historical document to popular media, becoming a skilled, informed, and self-aware reader able to engage effectively with a range of aesthetic and social questions. You will learn to formulate your ideas clearly in both French and English, orally and in writing, displaying critical awareness of cultural specificity.
Additional opportunities
Study Abroad: Take advantage of Whitman's Off-Campus Studies program and spend a semester or a year studying in France, Senegal, Morocco, or Madagascar.
Campus community: Immerse yourself in the language and learn more about Francophone cultures by residing in La Maison interest house with other students who share your passion. You can also participate in one of the many Maison-organized social and cultural events open to the community (game nights, café nights, film screenings, and discussions of current events and issues of interest). Join the French Language Assistant at the French Table every Friday at Prentiss dining hall, or attend lectures by visiting speakers. In the Language Learning Center, you'll also find conversation spaces, voice recording and audio editing software, French-language games, magazines, newspapers, books, and more.
Faculty-student collaboration: French students work closely with professors, often participating actively in research projects. In some recent collaborations:
Nicole Day-Lucore '18, Jessica Day-Lucore '18, and Prof. Sarah Hurlburt investigated the history of Walla Walla's Frenchtown, a community of French-Canadian and indigenous families established in 1824
Emma Neslund '16 and Prof. Nicole Simek examined verbal and visual irony in Martinican photo-essays as part of a book project, Hunger and Irony in the French Caribbean
Theo Ciszewski '15 and Prof. Zahi Zalloua worked together on a chapter-length study of theorist Jacques Derrida, "The Double Bind of the Intellectual: Toward a Hermeneutics of Skepticism"
Aleah Jaeger '13 collaborated with Prof. Jack Iverson on a project titled "Pure Laine, Bouchard-Taylor, and the Intercultural Future of Québec"
After Whitman: French majors and minors have put their analytical, linguistic, and cross-cultural skills to work in a wide array of professions and fields of advanced study, from graduate work in literature, creative writing, education, international relations, or business to careers in speech pathology, environmental justice, youth outreach, editing, winemaking, communications, social work, and the arts, among many more. Check out what our alumni have to say about life after Whitman for a glimpse of the paths that the study of French can help open for you.
Many of our graduates also spend a year gaining work and life experience as language assistants in France through the Teaching Assistant Program in France (TAPIF). Contact a French professor for more information about this opportunity.